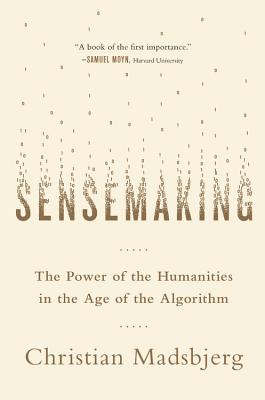 Sensemaking
The Power of the Humanities in the Age of the Algorithm
Hardcover

* Individual store prices may vary.
Other Editions of This Title:
Digital Audiobook (3/20/2017)
Compact Disc (3/21/2017)
Compact Disc (3/21/2017)
Description
Based on his work at some of the world's largest companies, including Ford, Adidas, and Chanel, Christian Madsbjerg's Sensemaking is a provocative stand against the tyranny of big data and scientism, and an urgent, overdue defense of human intelligence.

Humans have become subservient to algorithms. Every day brings a new Moneyball fix--a math whiz who will crack open an industry with clean fact-based analysis rather than human intuition and experience. As a result, we have stopped thinking. Machines do it for us.

Christian Madsbjerg argues that our fixation with data often masks stunning deficiencies, and the risks for humankind are enormous. Blind devotion to number crunching imperils our businesses, our educations, our governments, and our life savings. Too many companies have lost touch with the humanity of their customers, while marginalizing workers with liberal arts-based skills. Contrary to popular thinking, Madsbjerg shows how many of today's biggest success stories stem not from "quant" thinking but from deep, nuanced engagement with culture, language, and history. He calls his method sensemaking.

In this landmark book, Madsbjerg lays out five principles for how business leaders, entrepreneurs, and individuals can use it to solve their thorniest problems. He profiles companies using sensemaking to connect with new customers, and takes readers inside the work process of sensemaking "connoisseurs" like investor George Soros, architect Bjarke Ingels, and others.

Both practical and philosophical, Sensemaking is a powerful rejoinder to corporate groupthink and an indispensable resource for leaders and innovators who want to stand out from the pack.
Praise For Sensemaking: The Power of the Humanities in the Age of the Algorithm…
"At Ford, we believe the key to creating products and experiences that truly make people's lives better is to deeply understand our customers. Technology alone isn't enough. So we've changed our product development process to focus on the customer experience--and not just the vehicle itself. In
Sensemaking
, Christian Madsbjerg explains with depth and structure how this is done."—
Mark Fields, president and CEO, Ford Motor Company
"This book makes powerful sense. Madsbjerg is a fascinating fellow, philosophically astute and immensely business savvy. Packed with a rich array of concrete examples and thick data, Madsbjerg shows how the problems of the coming century are cultural and how we require the tools of the humanities
--
especially philosophy
--
in order to confront them successfully. This is essential reading for anyone in the world of business and everyone with a concern for how human beings make sense of their world. Highly recommended."—
Simon Critchley, Hans Jonas Professor of Philosophy, The New School
"Having helped some of the world's largest companies transition for the digital age, it's clear to me that those best positioned to win in today's marketplace possess a deep and human understanding of their customers. Companies must master not just big data, but thick data
--
insight into culture, history, and the social structures underlying human behavior.
Sensemaking
is the road map for how this works, and it is essential reading for anyone looking to thrive in a world of digital disruption."
—
Francisco D'Souza, CEO, Cognizant
"Almost twenty years ago, I wrote, 'To be qualified to be a chief executive officer, you must be broad-gauged, widely read, and have many diverse interests.' This remains just as true in today's world, where companies have become enthralled with quantitative analysis. Christian Madsbjerg's
Sensemaking
is a powerful defense of human intelligence to solve problems. Anyone who dreams of leading a company should read it
--
and heed his wonderfully contrarian advice."
—
Jeffrey Fox, bestselling author of How to Become CEO and How to Become a Rainmaker
"Many have decried the widespread conclusion that the humanities have lost relevance, but few have proposed how to respond. Offering neither a rearguard defense of the humanities as we have known them, nor an unrealistic plea to other fields simply to take them seriously, Christian Madsbjerg offers a ringing endorsement of how humanities knowledge is still critically necessary to make sense of the world and its problems. With roots in Aristotle,
Sensemaking
calls on humanists to reinterpret their contribution while showing others how they cannot do without it. It is a book of the first importance."—
Samuel Moyn, author of The Last Utopia: Human Rights in History and Jeremiah Smith, Jr. Professor of Law and Professor of History, Harvard University
"Producing a mixture of how-to text and trenchant
philosophy, Madsbjerg illustrates his formula for problem-solving with rich,
captivating anecdotes.... Madsbjerg is no Luddite-he fully understands the value
of data generated by algorithms-but he feels certain that one finely tuned
human mind can solve problems that are beyond the grasp of emotionless
computers."
—
Kirkus Reviews
"Madsbjerg thinks that if businesses accept pure data as the only truth,
they are in danger of losing their ability to understand people. But it is by
no means the author's aim to dismiss stem subjects. Through his particular
method, his intention is to help companies find the right balance. The best
CEOs can read a novel and a spreadsheet."
—
Financial Times
Hachette Books, 9780316393249, 240pp.
Publication Date: March 21, 2017
About the Author
Christian Madsbjerg is a founder of ReD Associates and the Director of its New York office. ReD is a strategy consulting company based in the human sciences and employs anthropologists, sociologists, art historians, and philosophers. Christian studied philosophy and political science in Copenhagen and London. He lives in New York City.
or
Not Currently Available for Direct Purchase