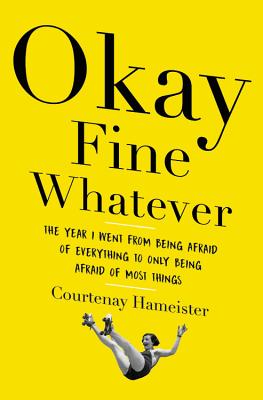 Okay Fine Whatever (Hardcover)
The Year I Went from Being Afraid of Everything to Only Being Afraid of Most Things
Little, Brown and Company, 9780316395700, 320pp.
Publication Date: July 31, 2018
Other Editions of This Title:
Digital Audiobook (7/30/2018)
Paperback (1/7/2020)
Compact Disc (7/31/2018)
Pre-Recorded Audio Player (10/1/2018)
Compact Disc (7/31/2018)
* Individual store prices may vary.
Description
The "hilarious and poignant" story of one chronically anxious woman's quest to become braver by seeking out the kinds of experiences she's spent her life avoiding (Cheryl Strayed).

For most of her life (and even during her years as the host of a popular radio show), Courtenay Hameister lived in a state of near-constant dread and anxiety. She fretted about everything. Her age. Her size. Her romantic prospects. How likely it was that she would get hit by a bus on the way home.

Until a couple years ago, when, in her mid-forties, she decided to fight back against her debilitating anxieties by spending a year doing little things that scared her -- things that the average person might consider doing for a half second before deciding: "nope."

Things like: attending a fellatio class. She did that. She also spent an afternoon in a sensory deprivation tank, got (legally) high in the middle of a workday, had a session with a professional cuddler, braved twenty-eight first dates, and (perhaps scariest of all) actually met someone who might possibly appreciate her for who she is.

Refreshing, relatable, and pee-your-pants funny, Okay Fine Whatever is Courtenay's hold-nothing-back account of her adventures on the front lines of Mere Human Woman vs. Fear, reminding us that even the tiniest amount of bravery is still bravery, and that no matter who you are, it's possible to fight complacency and become bold, or at least bold-ish, a little at a time.
About the Author
Courtenay Hameister is a professional nervous person. During her twelve years as host and head writer for Live Wire, a nationally-syndicated public radio show, she interviewed over 500 intimidating people and wrote 200 personal essays in bursts of anxiety-fueled inspiration at midnight the night before each show. Her work has also been featured in McSweeney's, APM's Marketplace, More Magazine, and some scathing emails to the customer service department at Macy's.
Praise For Okay Fine Whatever: The Year I Went from Being Afraid of Everything to Only Being Afraid of Most Things…
"It's a rare writer who is as frank, funny, and smart as Courtenay
Hameister is on the page, and in Okay Fine Whatever her talent for all
of these things is on full display. I was moved by Hameister's vulnerability as
she wrote about her long-time struggles with her weight, her anxiety, and her
search for love, and I was gobsmacked by the fearlessness with which she set
out to do the varied, wild, strange things she thought would cure her of her
deepest sorrows. I never wanted to put down Okay Fine Whatever. It's one
of those books that takes you into its grips. It reads like an adventure novel
and a secret whispered into your ear. It felt true to me and alive and real,
like on every page I was witnessing someone who finally made good on an ancient
dare. I loved this book."—Cheryl Strayed, New York Times bestselling author of Wild and Tiny Beautiful Things

"This bitingly funny memoir chronicles the year the author faced her
fears. A smart, inspiring read."—People

"A witty, wise call-to-arms for the anxiety-ridden in a
period when we're more anxious than ever. A timely book for these end-of-times
times."—John Hodgman, New York Times bestselling author of Vacationland



"You guys,
this book is f*cking funny."—Chelsea Handler

"Inspiring
from the first pages. Courtenay fearlessly lets us into her head; she
didn't clean up in there before company came over, and I am so glad. Her
risk-taking adventures in career and love are more stirring to me than any daring
physical feat." —Jen Kirkman, New York Times bestselling author of I Can Barely Take Care of Myself

"I loved this book so hard. Courtenay Hameister
makes me feel thrilled to be alive-even though most things in life scare the
crap out of me so much it's hard for me to walk out of my own front door. Okay
Fine Whatever is a brilliant testament to the fire of the spirit for
misfits and scaredy pants everywhere. A soul triumph. A reason to live."—Lidia Yuknavitch, author of The Book of Joan and The Small Backs of Children

"Courtenay deftly
executes one of the most difficult feats for a writer: she makes the smallest
moments vivid, meaningful, and laugh-out-loud funny. You'll be rooting for her
the whole way, and she'll surprise you at every turn with her fortitude, her
sparkling feats of fearlessness preserved in riotous detail, and her joie
de anxiety."—Annabelle Gurwitch, New York Times bestselling author of Wherever You Go, There They Are and I See You Made an Effort

"Hameister details her experiences with brutal honesty and sidesplitting
hilarity...Okay Fine Whatever manages
expertly to blend adventure, romance, mental illness and an extra helping of
humor for an entertaining memoir that reminds the reader, 'At certain moments, "No
one gives a s***" is one of the nicest things you can say to yourself.'"—Shelf Awareness

"Courtenay Hameister's frank, hilarious chronicle of
facing her fears promises hope and laughs while staying real."—Paste (The 10 Best Books of July 2018)

"When was the last time a book made you
giggle out loud repeatedly in public? Also, when was the last time a book made
you feel totally and completely seen? Courtenay Hameister's
memoir accomplishes both. Read it in public at your own
risk."—HelloGiggles

"The book you need to read."—Bustle

"Inspiring, poignant, and laugh-out-loud funny."—Booklist

"Courtenay
Hameister wrote the following sentence and for this sentence alone she should
be world famous: 'Like the snowflake of the genital world, no two vaginas are
ever alike.' Her stories are honest, funny and touching. I love her work and so
will you."—Mike Sacks, author of Poking a Dead Frog: Conversations with Today's Top Comedy Writers

"Courtenay Hameister is one of the funniest, sharpest writers I know. Her work is confessional, witty, and laugh-out-loud hilarious. I love her."—Chelsea Cain, New York Times bestselling author of Heartsick and One Kick


"Vaguely embarrassed posers who think they know from humiliation, step aside - the somewhat intrepid yet thoroughly original and hilarious Courtenay Hameister is our new patron saint of the bizarre life experience. Readers everywhere will be super grateful to her for doing all this awkward stuff so they don't have to. Thanks, Courtenay!"—Karen Karbo, author of In Praise of Difficult Women