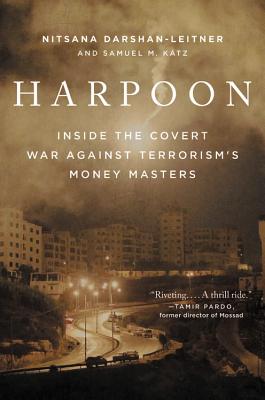 Harpoon (Hardcover)
Inside the Covert War Against Terrorism's Money Masters
Hachette Books, 9780316399050, 352pp.
Publication Date: November 7, 2017
Other Editions of This Title:
Digital Audiobook (11/6/2017)
Compact Disc (11/7/2017)
Pre-Recorded Audio Player (1/7/2018)
* Individual store prices may vary.
Description
NATIONAL BESTSELLER

A revelatory account of the cloak-and-dagger Israeli campaign to target the finances fueling terror organizations--an effort that became the blueprint for U.S. efforts to combat threats like ISIS and drug cartels.

ISIS boasted $2.4 billion of revenue in 2015, yet for too long the global war on terror overlooked financial warfare as an offensive strategy. "Harpoon," the creation of Mossad legend Meir Dagan, directed spies, soldiers, and attorneys to disrupt and destroy money pipelines and financial institutions that paid for the bloodshed perpetrated by Hamas, Hezbollah, and other groups. Written by an attorney who worked with Harpoon and a bestselling journalist, Harpoon offers a gripping story of the Israeli-led effort, now joined by the Americans, to choke off the terrorists' oxygen supply, money, via unconventional warfare.
About the Author
Nitsana Darshan-Leitner is an Israeli activist and attorney. As the founder and director of the Israel Law Center, Shurat Ha'Din, based outside Tel Aviv, she has represented hundreds of terror victims in lawsuits.

Samuel M. Katz is the co-author of the New York Times bestseller Under Fire: The Untold Story of the Attack in Benghazi and author of The Ghost Warriors. He is based in New York.
Praise For Harpoon: Inside the Covert War Against Terrorism's Money Masters…
"It's a cliché after Watergate that the key
investigation in most circumstances is to 'follow the money' (in the words of
Deep Throat). This is the story of how Mossad led this movement and
substantially effected investigations of terrorism and similarly important
matters and how this influenced the CIA's later work in the same field. Bravo
Mossad! Thanks for leading the way."—R. James Woolsey, CIA Director (1993-95)

"The riveting and untold story of
the intelligence task force that launched a dynamic new front in the war on
terror. A thrill ride with one of the most important Israeli start-ups of them
all."—Tamir Pardo, Director of the Mossad (2011-1016)

"Money drives terrorism. If funding is cut, terrorism is
reduced. A groundbreaking look at how spies, soldiers, statesmen, and lawyers
waged a relentless campaign to dry up the financial streams that funded
terrorism against Israel and the United States. A great read about a compelling
issue."—Professor Alan Dershowitz, leading civil rights attorney

"Harpoon is
interesting and insightful. It is a deep dive into the world of espionage and
covert operations that takes the reader from the streets of Israel to the
finance district of New York City. One of Harpoon's best aspects is giving us a look at
the leaders inside the unit. Instead of simply reading about the incidents, we
get to feel connected to the men and women who put their lives on the line in
the battle against radical Islam."—Daily Wire

"Harpoon reads like a fast-paced thriller novel.... Harpoon
superbly outlines how Israel became the preeminent authority in fighting
terrorism by attacking its sources of income.... This book must be considered
required reading for anyone considering a career in counter-terrorism--or for anyone wanting real insight into
how our world works, and what can be done about it."—The American Spectator

"This book is Start
Up Nation all over again, only this time the ingenuity, innovation and
flexibility of mind is not about technology but about fighting terror."—Jewish Journal

"Highly revealing....
One of the best books on best practices in countering terrorists."—Washington Times

"A fascinating read."—The Tower

"Gripping.... This
fascinating book about the intelligence and legal war against terror is a
must-read."—Jewish Press