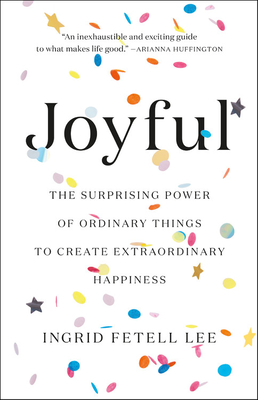 Joyful (Hardcover)
The Surprising Power of Ordinary Things to Create Extraordinary Happiness
Little, Brown Spark, 9780316399265, 368pp.
Publication Date: September 4, 2018
Other Editions of This Title:
Digital Audiobook (9/3/2018)
CD-Audio (9/4/2018)
Pre-Recorded Audio Player (10/4/2018)
* Individual store prices may vary.
Description
Designer and TED star Ingrid Fetell Lee presents groundbreaking research to explain how making small changes to your surroundings can create extraordinary happiness in your life.

Have you ever wondered why we stop to watch the orange glow that arrives before sunset, or why we flock to see cherry blossoms bloom in spring? Is there a reason that people -- regardless of gender, age, culture, or ethnicity -- are mesmerized by baby animals, and can't help but smile when they see a burst of confetti or a cluster of colorful balloons.

We are often made to feel that the physical world has little or no impact on our inner joy. Increasingly, experts urge us to find balance and calm by looking inward -- through mindfulness or meditation -- and muting the outside world. But what if the natural vibrancy of our surroundings is actually our most renewable and easily accessible source of joy?

In Joyful, designer Ingrid Fetell Lee explores how the seemingly mundane spaces and objects we interact with every day have surprising and powerful effects on our mood. Drawing on insights from neuroscience and psychology, she explains why one setting makes us feel anxious or competitive, while another fosters acceptance and delight -- and, most importantly, she reveals how we can harness the power of our surroundings to live fuller, healthier, and truly joyful lives.

About the Author
Ingrid Fetell Lee is a designer and the founder of the blog The Aesthetics of Joy. She has been featured as an expert on design and joy by outlets such as the New York Times, Wired, PRI's Studio 360, CBC's Spark, and Fast Company, and her 2018 TED talk received a standing ovation. Lee was formerly Design Director at global innovation firm IDEO, and was a founding faculty member in the Products of Design program at the School of Visual Arts in New York City. She holds a Master's in Industrial Design from Pratt Institute and a Bachelor's in English and Creative Writing from Princeton University.

Praise For Joyful: The Surprising Power of Ordinary Things to Create Extraordinary Happiness…
"Joy is the most basic building block of happiness, and this mesmerizing book reveals where to find it -- and how to create it. Ingrid Fetell Lee's blockbuster debut will open your eyes to all the places where joy is hiding in plain sight. And it just might cause you to become more joyful too."—Adam Grant, New York Times bestselling author of Originals, Give and Take, and Option B with Sheryl Sandberg

"A completely original treatment of a completely new and original idea: we all have within the power to design joy into our lives. Joyful is an inexhaustible and exciting guide to what makes life good."—Arianna Huffington, New York Times bestselling author of Thrive, founder and CEO of Thrive Global, and founder of The Huffington Post

"I've never reached out to an author to request their permission to endorse their book...until now. Ingrid Fetell Lee invites us into a dimension of the human experience that was, ironically, hidden to most of us. She shows us how we can mindfully see joy in the simple aesthetics of our surroundings --and it has already changed my everyday life. If I'm feeling blue, I remember to look at the new leaves on the tree outside my window. It is simple but profound. Joyful is irresistibly compelling. The idea of Joyful fills me with joy."—Amy Cuddy, New York Times bestselling author of Presence

"This book has the power to change everything! Writing with depth, wit, and insight, Ingrid Fetell Lee shares all you need to know in order to create external environments that give rise to inner joy."—Susan Cain, author of Quiet and founder of Quiet Revolution

"Joyful overturns conventional wisdom about happiness: that it comes from within, and that experiences -- not things -- make us happier. Ingrid Fetell Lee's delightful book evokes the same positive feelings she describes. It is full of whimsy, wonder, energy, and joy. I loved it."
—Sonja Lyubomirsky, Professor of Psychology, University of California, Riverside, and author of The How of Happiness

"Joyful is a delightful book with a powerful message: joy is easy to find if you know where to look. In Joyful, designer Ingrid Fetell Lee explains why some experiences are laden with joy, explores how we can cultivate these experiences every day, and shows us how to identify the most joy-inspiring people, places, and objects in our lives."

—Adam Alter, New York Times bestselling author of Irresistible and Drunk Tank Pink


"Joyful reveals the powerful notion that joy can be cultivated to flourish within all of us. This idea can change the world."—David Kelley, founder of the design and innovation company IDEO

"Joyful is an invaluable field guide to discovering delight in all its forms. It's hard to look at the world -- and your place in it -- quite the same way again."
—Bianca Bosker, New York Times bestselling author of Cork Dork

"A tender and moving book about one of our most important feelings -- joy."—Johann Hari, New York Times bestselling author of Lost Connections

"Blending science and tips, Lee shows readers that looking outward -- at flowers in a vase or fireworks in the sky -- can brighten our days."—Elizabeth Siles, Real Simple