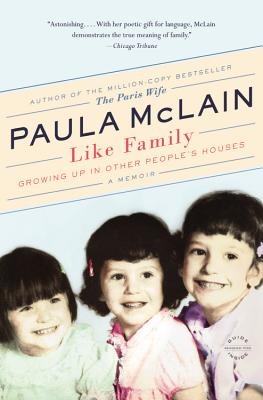 Like Family (Paperback)
Growing Up in Other People's Houses, a Memoir
Back Bay Books, 9780316400602, 288pp.
Publication Date: August 6, 2013
* Individual store prices may vary.
Description
This powerful and haunting memoir details the years Paula McLain and her two sisters spent as foster children after being abandoned by both parents in California in the early 1970s.
As wards of the State, the sisters spent the next 14 years moving from foster home to foster home. The dislocations, confusions, and odd pleasures of an unrooted life form the basis of one of the most compelling memoirs in recent years--a book the tradition of Jo Ann Beard's The Boys of My Youth and Mary Karr's The Liar's Club.
McLain's beautiful writing and limber voice capture the intense loneliness, sadness, and determination of a young girl both on her own and responsible, with her siblings, for staying together as a family.
About the Author
Paula McLain, author of the bestselling novel The Paris Wife, received her MFA in poetry from the University of Michigan in 1996. Her other books include two volumes of poems, Less of Her and Stumble, Gorgeous, and the novel A Ticket to Ride. She teaches in the MFA Program in Poetry at New England College, and lives with her family in Cleveland.
Praise For Like Family: Growing Up in Other People's Houses, a Memoir…
"Astonishing....With her poetic gift for language, McLain demonstrates the true meaning of family."—Chicago Tribune

"Ms. McLain's close observation of the sisters' perils jumps with life and wry merriment. They take their pleasures and their sorrows as they arrive; even their times of desolation are narrated in language that conveys a kind of ragged glory - the tattered flag of their kinship still waves!"—Paula Fox, author of Borrowed Finery

"What makes Like Family so remarkable are not the peculiar circumstances of Paula McLain's childhood but the depth of understanding that she brings to those circumstances, and the beautiful prose in which she renders that understanding. Seldom have I seen so vividly evoked the need to belong to some, any, kind of family and the painful negotiations that time brings to even our closest intimacies."—Margot Livesey, author of Mercury and The Flight of Gemma Hardy


"Like Family is a personal triumph... McLain's story is one of nobility and of the strength of a young woman's spirit."—Wisconsin State Journal

"A powerful and haunting memoir."—Anne Martino, Ann Arbor News