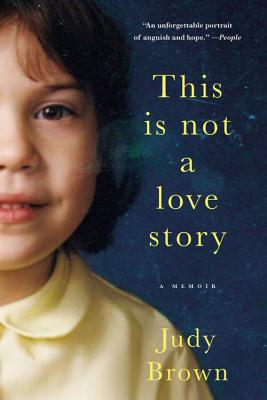 This Is Not a Love Story (Paperback)
A Memoir
Back Bay Books, 9780316400701, 352pp.
Publication Date: July 26, 2016
Other Editions of This Title:
Digital Audiobook (7/27/2015)
Hardcover (7/28/2015)
* Individual store prices may vary.
Description
"An instant classic.... With echoes of Scout Finch, the feisty Menuchah guides readers on an unforgettable journey." --Leah Vincent, author of Cut Me Loose.

In this tender and hilarious memoir of an ultraorthodox girlhood, Judy Brown reveals a closed world, a loving family, a troubled brother, and the lore and faith that have sustained her people for generations.

But what happens when a young woman in this community starts asking questions: Why isn't she supposed to talk to gentiles? Why should a nice girl never wear denim? And if God performed all those miracles in the desert, why can't He cure her brother of his strange and frightening affliction?

With warmth, honesty, and razor-sharp humor, Judy Brown tells the story of a family whose faith and fierce love for each other pulls them through their darkest time.
About the Author
Judy Brown wrote the controversial novel Hush--a finalist for the 2011 Sydney Taylor Award for outstanding book on the Jewish experience--under a pseudonym because of feared backlash from the
Chassidic world. Brown's identity has since been revealed and she has left Chassidism. She has been profiled in The New York Times Magazine and has written for the Huffington Post and the Jewish Daily Forward. She holds a master's in creative writing and lives in New York City.
Praise For This Is Not a Love Story: A Memoir…
"I love books about families and this one is so warm and funny that I couldn't put it down....This Is Not a Love Story actually is one."—Nina Stibbe, author of Man at the Helm and Love, Nina

"An instant classic....With echoes of Scout Finch, the feisty Menuchah guides readers on an unforgettable journey of love, justice and compassion."—-Leah Vincent, author of Cut Me Loose: Sin and Salvation After My Ultra-Orthodox Girlhood

"In this thoughtful and engaging memoir, Judy Brown offers a fascinating glimpse into a world, a family, a life....I was utterly absorbed."—Jennifer Traig, author of Devil in the Details and Well Enough Alone

"Vividly capturing the voice of her younger self, Brown portrays an ultra-Orthodox Jewish community marked by piety, prejudice, and superstition, and her loving family roiled by the mystifying, often terrifying, affliction of her younger brother.... A tender story gently told."—-Kirkus Reviews