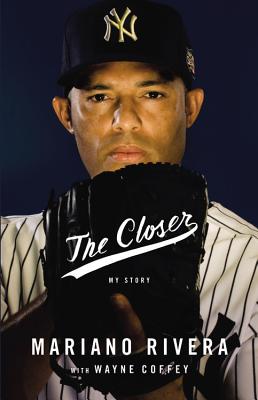 The Closer
Hardcover

* Individual store prices may vary.
Other Editions of This Title:
Digital Audiobook (9/1/2014)
Digital Audiobook (5/5/2014)
Hardcover, Large Print (5/6/2014)
Paperback (2/16/2016)
Paperback (5/5/2015)
Digital Audiobook, Spanish, Castilian (9/22/2014)
CD-Audio (5/6/2014)
Compact Disc (5/6/2014)
Description
The greatest relief pitcher of all time shares his extraordinary story of survival, love, and baseball.

Mariano Rivera, the man who intimidated thousands of batters merely by opening a bullpen door, began his incredible journey as the son of a poor Panamanian fisherman. When first scouted by the Yankees, he didn't even own his own glove. He thought he might make a good mechanic. When discovered, he had never flown in an airplane, had never heard of Babe Ruth, spoke no English, and couldn't imagine Tampa, the city where he was headed to begin a career that would become one of baseball's most iconic.

What he did know: that he loved his family and his then girlfriend, Clara, that he could trust in the Lord to guide him, and that he could throw a baseball exactly where he wanted to, every time. With astonishing candor, Rivera tells the story of the championships, the bosses (including The Boss), the rivalries, and the struggles of being a Latino baseball player in the United States and of maintaining Christian values in professional athletics.

The thirteen-time All-Star discusses his drive to win; the secrets behind his legendary composure; the story of how he discovered his cut fastball; the untold, pitch-by-pitch account of the ninth inning of Game 7 in the 2001 World Series; and why the lowest moment of his career became one of his greatest blessings. In The Closer, Rivera takes readers into the Yankee clubhouse, where his teammates are his brothers. But he also takes us on that jog from the bullpen to the mound, where the game -- or the season -- rests squarely on his shoulders.

We come to understand the laserlike focus that is his hallmark, and how his faith and his family kept his feet firmly on the pitching rubber. Many of the tools he used so consistently and gracefully came from what was inside him for a very long time -- his deep passion for life; his enduring commitment to Clara, whom he met in kindergarten; and his innate sense for getting out of a jam. When Rivera retired, the whole world watched -- and cheered. In The Closer, we come to an even greater appreciation of a legend built from the ground up.
Praise For The Closer…
An "engaging memoir.... His tale transcends team loyalties. It even transcends baseball. It is the story of a humble man of deep faith doing great things under enormous pressure. 'I am an imperfect man on an imperfect journey,' he writes. And what a journey it's been."—Steven V. Roberts, Washington Post

"A warmhearted, charmingly frank baseball memoir.... 'The Closer' describes such a devout, decent and admirable guy that 'Happy Father's Day' might as well be its subtitle."—Janet Maslin, New York Times

"Even Babe Ruth as a slugger doesn't have Rivera's kind of consensual clout.... Rivera was known as perhaps baseball's classiest act. He keeps up that reputation here.... Rivera emerges on these pages as a wordsmith.... It's the kind of baseball odyssey that leaves readers with a sense of the Homerian that later extends to the stuff of clutch strikeouts, 'Casey at the Bat'-style grandeur and fallen records."—Colin Fleming, Los Angeles Times

"Over his 19-year career with the Yankees, Rivera became the all-time saves leader and won five World Series. Along the way, he conducted himself with such humility that he earned the love of his teammates, the deep respect of opponents and the admiration of fans. This memoir demonstrates why.... Will be devoured by Yankees loyalists and happily sampled by all baseball fans."—Kirkus Reviews

"For readers seeking inspiration from the tale of the son of a Panamanian fisherman who rose from humble beginnings to the top of the baseball world, The Closer will satisfy.... [The book] is a reflection of Rivera -- calm, focused and workmanlike."—Bob D'Angelo The Tampa Tribune

"Rivera has stepped off the pitcher's mound and picked up the pen, writing a new memoir called The Closer. He recounts his journey with humor and humility."—Ben Teitelbaum, The Daily Beast

"Even if you're not a Yankees fan (or you're even a Yankees hater), you can't deny that Mariano Rivera is one of the nicest guys in the game and easily the greatest closer of all time. The Closer... is the story fans have been wanting to read for a long time and one Dad will definitely dig."—Parade

Rivera "comes across as a fellow who's made the transition from poverty in Panama to spectacular wealth and success in New York without abandoning the humility that has apparently characterized him almost since childhood."—Bill Littlefield, Boston Sunday Globe

"It is rare to find so humble a person as Mariano Rivera.... [A] straight-ahead look at Rivera's impoverished childhood in Panama and his improbable rise to stardom.... Yankees -- and baseball -- fans should appreciate on numerous levels."—BookReporter.com

"A deeply personal tale about hard work, perseverance and an unbridled passion for baseball.... For baseball fans, and casual observers, Mr. Rivera's 19-year career is a marvel to behold. Every page of The Closer reveals another layer of this surprisingly humble man with an incredible talent he only discovered in adulthood. Yankees fans like me are eternally glad that he did, and thank him for all the wonderful memories he gave us."—Michael Taube, The Washington Times

"Recently retired closer Mariano Rivera talks about his journey from Panama to the Bronx, the ups and downs, his faith and so much more. The Closer -- quick, simple, to the point. Just like the way he pitched."—Yankees Magazine
Little, Brown and Company, 9780316400732, 288pp.
Publication Date: May 6, 2014
About the Author
Mariano Rivera was a New York Yankee for nineteen seasons. He is Major League Baseball's all-time saves and ERA leader, a thirteen-time All-Star, and a five-time World Champion.

Wayne Coffey is one of the country's most acclaimed sports journalists. A writer for the New York Daily News, he cowrote R. A. Dickey's bestselling Wherever I Wind Up and is the author of the New York Times bestseller The Boys of Winter.
Coverage from NPR
or
Not Currently Available for Direct Purchase