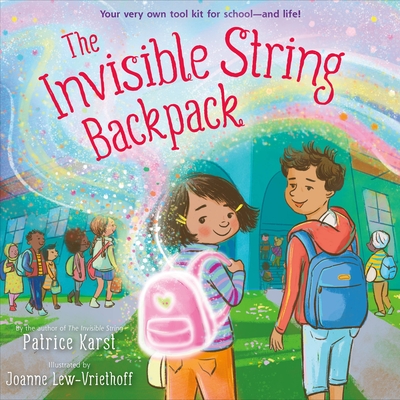 The Invisible String Backpack
Hardcover

* Individual store prices may vary.
Description
This companion book to The Invisible String—which has sold over a million copies to date—offers a complete socio-emotional toolkit for back-to-school—and your whole life!

It's Mila's first day of school, but mixed with excitement is worry. What if she can't find her classroom? What if no one likes her? What if she's too nervous to speak up? With a little advice from her brother, she learns that she has everything she needs right in her Invisible Backpack: an Invisible Microphone to help her find her voice, an Invisible Flashlight for when she's feeling lost, an Invisible Net to catch her if she falls, and much more. Her pack is bottomless! The Invisible String is the very first thing that she puts in her pack—and each time she uses it, it gets bigger and better.

Patrice Karst, the bestselling author of the modern classic The Invisible String, gives readers the tools to confront every obstacle by teaching them to always hold onto their inner strength, to put on their Invisible Wings…and fly.
Praise For The Invisible String Backpack…
Praise for The Invisible String:
 "An excellent book for children to read with their loved ones…. The message of Patrice Karst's book is powerful: No matter what, you're always connected to your loved ones." —
The Huffington Post
"Delivers a particularly compelling message in today's uncertain times that though we may be separated from the ones we care for, love is the unending connection that binds us all." —
The American Academy of Pediatrics
 "A wonderful storybook for children experiencing separation anxiety." —
Today's Parent
"Children of all ages (and yes, adults too!) feel a great sense of peace and joy realizing that we are all connected to the ones we love through The Invisible String." —
The National Association of School Psychologists
"[Promotes] a vision of global unity and empathy...effective." —
Kirkus Reviews
Praise for The Invisible Leash:

"This title will likely appeal to the pet-owning fans of The Invisible String and will find a place in collections in need of pet loss books."—School Library Journal

"An empathy-driven resource for children reckoning with the loss of a pet." —Publishers Weekly

"The stages of grief are clearly written and illustrated...helpful for grieving children." —Kirkus Reviews
Little, Brown Books for Young Readers, 9780316402286, 32pp.
Publication Date: July 11, 2023
About the Author
Patrice Karst is the author of the bestselling, contemporary classic The Invisible String, which has sold over 1 million copies and been translated into fifteen languages. Patrice has also written The Invisible Leash: An Invisible String Story Celebrating Love After the Loss of a Pet, The Invisible Web: An Invisible String Story Celebrating Love and Our Universal Connection, You Are Never Alone: An Invisible String Lullaby, The Invisible String Workbook: Creative Activities to Comfort, Calm and Connect, a therapeutic activity book co-written with Dana Wyss, Ph.D. She has also written The Smile that Went Around the World. Patrice has been on a lifelong mission to spread the message that love transcends time and space and is the most powerful force in the universe. Born in London, England, she now lives in Southern California where she is working on her memoir and is the mother of one grown son, Elijah. She invites you to learn more at www.patricekarst.com.

Joanne Lew-Vriethoff is the acclaimed illustrator of many children's books, including the new edition of The Invisible String, The Invisible Leash, The Invisible Web, You Are Never Alone: An Invisible String Lullaby, and the Invisible String Workbook, as well as Stacy McAnulty's Beautiful and Brave. Born in Malaysia, she grew up in Los Angeles, studied at the ArtCenter College of Design in Pasadena, and now lives in Malaysia. Her website is joannelewvriethoff.com.