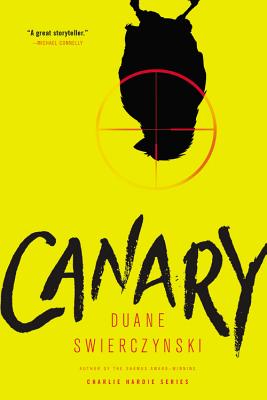 Canary
Paperback

* Individual store prices may vary.
Other Editions of This Title:
Digital Audiobook (2/23/2015)
Hardcover (2/24/2015)
Description
It's dangerous enough when an ordinary college girl turns confidential informant. Even more dangerous when she's smarter than the killer, kingpins, and cops who think they control her.

Honors student Sarie Holland is busted by the local police while doing a favor for her boyfriend. Unwilling to betray him but desperate to avoid destroying her future, Sarie has no choice but to become a "CI" -- a confidential informant.

Philly narcotics cop Ben Wildey is hungry for a career-making bust. The detective thinks he's found the key in Sarie: her boyfriend scores from a mid-level dealer with alleged ties to the major drug gangs.

Sarie turns out to be the perfect CI: a quick study with a shockingly keen understanding of the criminal mind. But Wildey, desperate for results, pushes too hard and inadvertently sends the nineteen-year-old into a death trap, leaving Sarie hunted by crooked cops and killers alike with nothing to save her -- except what she's learned during her harrowing weeks as an informant.

Which is bad news for the police and the underworld. Because when it comes to payback, CI #1373 turns out to be a very quick study...
Praise For Canary…
"A cunning, zippy, plot-twister... both entertaining and dark... Swierczynski keeps the action pulsating along [with] an array of compelling characters, crisp dialogue, and pop culture references... It's those touches [that] make Canary sing."—Daneet Steffens, Boston Globe

"Duane Swierczynski writes the 'new noir,' full of bad choices, courage, and sudden disaster, all delivered at a break-neck pace."
—Charlaine Harris, author of the bestselling Sookie Stackhouse novels, including Dead Ever After

"This guy is a great storyteller. I never know what he is going to come up with or where he is going to take me."—Michael Connelly

"Compulsive, written with wry humanity and a deft and thrilling touch for the unexpected."—Geoffrey Wansell, Daily Mail

"Swierczynski can set a constant, wicked pace."—Al Lubrano, Philadelphia Inquirer

"Swierczynski's dialogue pops and drives the story through the landscape of Philly, a city he clearly knows, and loves."—Naben Ruthnum, National Post

"Riveting . . . Sarie is a luminous character . . . Memorable characters, suspense, a native's portrait of a fascinating city, eruptions of spectacular violence--fans of hard-edged crime will love this one."—Booklist (starred review)

"Swierczynski has Philly down cold: his characters prowl the bivouacs and dens of its suburbs and the needle-strewn drug corners and grimy alleyways of the inner city....I can barely tear myself away from this book."

—Liz French, Library Journal

"Inventive . . . Breathes fresh life into a familiar plot with shifting perspectives, sly humor [and] a crackerjack pace."—Kirkus Reviews

"Swierczynski knows how to write people. They could be life-long mobsters, crazy drug lords, or college freshmen women, Duane makes each one unique and each character has their own voice."—Crimespree magazine

"Swierczynski's writing is sharp, and his plotting is topnotch, but it's his feel for his characters, and Sarie in particular, that sets Canary apart from other thrillers."—Mystery Scene Magazine
Mulholland Books, 9780316403191, 400pp.
Publication Date: January 19, 2016
About the Author
Duane Swierczynski is the Edgar-nominated author of nine novels including Canary, Severance Package, and the Shamus Award-winning Charlie Hardie series (Fun and Games, Hell and Gone, Point and Shoot). He's written over 250 comics for Marvel, DC, Dark Horse, Valiant and IDW, including The Black Hood, the first comic for Archie's Dark Circle imprint. Swierczynski has also collaborated with CSI creator Anthony E. Zuiker on the bestselling Level 26 series. He lives in Burbank with his wife and children.
or
Not Currently Available for Direct Purchase