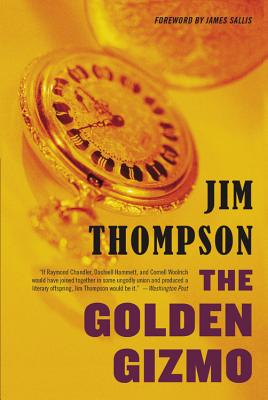 The Golden Gizmo (Mulholland Classic) (Paperback)
Mulholland Books, 9780316403986, 240pp.
Publication Date: August 5, 2014
Other Editions of This Title:
Paperback (5/26/1998)
* Individual store prices may vary.
Description
"Gizmo" is the GI term for the unidentifiable--and that's the way that Toddy Kent has begun to think of the reasons behind the rapid swing of his days. Somehow, Kent seems always to find himself regularly confronted with The Big Break every man would kill for--only to see it slip through his fingers.

Kent's grinding out a paycheck buying gold on the cheap and selling it for the slimmest of profits when he stumbles into his latest, almost mythical discovery--pure, unadulterated gold in the form of a priceless watch he didn't exactly mean to steal.

Soon Kent finds himself at the center of a whirlwind of danger involving everyone from the woman he can't seem to shake, bail bondsmen who get word of Kent's discovery, the Treasury Department, his pawnbroker, and a devious old man with a dog that may or may not be able to speak English, in a rip-roaring comedy of errors and would-you-believe-it bad luck unlike anything you've ever read.

Who ever knew one lousy watch could bring so much trouble? And how many times can Kent avoid getting killed before his luck runs out for good?
About the Author
Jim Thompson was born in Anadarko, Oklahoma. He began writing fiction at a very young age, selling his first story to True Detectivewhen he was only fourteen. Thompson eventually wrote twenty-nine novels, all but three of which were published as paperback originals. Thompson also co-wrote two screenplays (for the Stanley Kubrick films The Killing and Paths of Glory). Several of his novels have been filmed by American and French directors, resulting in classic noir including The Killer Inside Me (1952), After Dark My Sweet(1955), and The Grifters (1963).