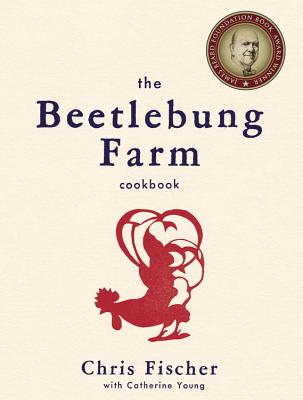 The Beetlebung Farm Cookbook
A Year of Cooking on Martha's Vineyard
Hardcover

* Individual store prices may vary.
Description
A year of fresh, simple, seasonal cooking from a rising-star chef running his grandfather's five-acre farm on Martha's Vineyard.

This is the heartfelt declaration of a new American way of food, celebrating a year of cooking and farming on the island of Martha's Vineyard.

Chris Fischer is a chef, farmer, and writer whose roots on the island run twelve generations deep. His cooking combines practical, rural ingenuity with skill acquired in the world's leading kitchens. The result is singular and exciting.

Beetlebung Farm, his grandparents' five-acre parcel in the town of Chilmark, is both Fischer's inspiration and the source for the fine raw materials he showcases. These recipes express the unique understanding of ingredients that comes from a life spent hauling in lobster pots, cultivating vegetables, tracking game in the woods, and butchering his own meat.

In this beautifully illustrated homage to the family and community that raised him, Fischer weaves seasonal menus through stories of growing up on the island, conjuring the smoke of oak-wood fires, the brine of Great Pond oysters, and the satisfaction of a well-earned meal. The Beetlebung Farm Cookbook is a clear and essential record of contemporary New England cuisine.
Praise For The Beetlebung Farm Cookbook: A Year of Cooking on Martha's Vineyard…
"This book does what so many attempt and subsequently fail at: celebrating seasonal, fresh, local food in a way that's simple and elegant and realistic for home cooks. Chef Chris Fischer is a man who loves raw ingredients as much as he loves the finished dishes, and that's what makes the book so much fun to read."—Bon Appétit

"Whether it's a simple grilled corn and potato salad or a menu for a full-on lobster feast, this beautiful book and its envy-inducing photographs will bring a little New England-style rustic chic to any outdoor dinner party (and indoor ones, too)."—Wall Street Journal

"[Beetlebung Farm is] the perfect place . . . A little slice of Eden, right here in New England."—Saveur

"A perfect postcard of all things Martha's Vineyard."—The Boston Globe

"This delightful collection of simply cooked meals is a year-long culinary journal that celebrates the seasons of the farm and the abundance that it produces. His dishes are immensely appealing and will inspire longing for the summer harvest...a must-have for every cook interested in simple yet flavorful food that's guaranteed to please."—Publisher's Weekly

"Chris Fischer is a cook who farms, a grower who is a talented chef-an unusual but brilliant combination. His recipes are pared down. They elegantly celebrate ingredients without getting preachy or precious. He writes straightforward directions for dishes you want to eat, and writes his stories in this deeply personal journal of his year in the unique place he calls home." —April Bloomfield, from the Foreword

"As both farmer and cook, Chris Fischer connects his stewardship of the land directly to the kitchen with beautiful, real food." —Alice Waters

"At Beetlebung Farm on Martha's Vineyard, my friend Chris Fischer transforms nature's bounty into unforgettable yet accessible meals-the elevated simple food I love to eat."
—Mario Batali, Chef, Restauranteur, Entrepreneur

"Fischer has a knack for using ingredients to their best advantage, as well as for making small, subtle tweaks that transform ordinary dishes."—Tasting Table

"Beautiful... The recipes are simple and clean, easy to execute with confidence."—Edible Boston

"This is a magical book about coming home to Martha's Vineyard in time to savor the last years of a beloved grandfather's farming life. Chris Fischer's stories of fishing, hunting, farming, and cooking evoke the simplicity and the complexity of a rural life, and how the quiet sophistication of this natural world follows him in his pursuit of memorable meals. As in the books of M.F.K. Fisher, these recipes emerge from the stories, and you feel the presence of the cook at the table. Chris is an out of the box talent: a true individual, a fine chef, and a resonant writer. This is a book to cherish and read again and again." —Michael Van Valkenburgh, award-winning landscape architect
Little, Brown and Company, 9780316404075, 320pp.
Publication Date: June 2, 2015
About the Author
Chris Fischer grew up on Martha's Vineyard, a member of the twelfth generation of his family to inhabit the island. After cooking in some of the leading kitchens in the world -- Babbo in New York City; the American Academy in Rome; St. John Bread and Wine and The River Cafe in London -- he returned to Beetlebung, where he currently serves as both the chef and farmer. He is also a chef at the renowned Beach Plum Inn on Martha's Vineyard.