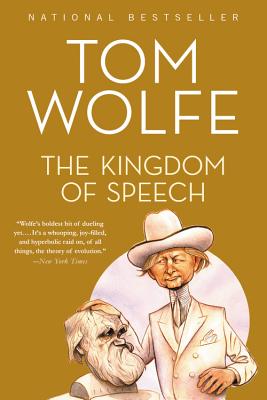 The Kingdom of Speech (Paperback)
Back Bay Books, 9780316404631, 192pp.
Publication Date: December 5, 2017
Other Editions of This Title:
Digital Audiobook (8/29/2016)
Hardcover (8/30/2016)
Hardcover, Large Print (8/30/2016)
CD-Audio (8/30/2016)
Compact Disc (8/30/2016)
* Individual store prices may vary.
Description
The maestro storyteller and reporter provocatively argues that what we think we know about speech and human evolution is wrong.
"A whooping, joy-filled and hyperbolic raid on, of all things, the theory of evolution." (Dwight Garner, New York Times)

Tom Wolfe, whose legend began in journalism, takes us on an eye-opening journey that is sure to arouse widespread debate. THE KINGDOM OF SPEECH is a captivating, paradigm-shifting argument that speech--not evolution--is responsible for humanity's complex societies and achievements.

From Alfred Russel Wallace, the Englishman who beat Darwin to the theory of natural selection but later renounced it, and through the controversial work of modern-day anthropologist Daniel Everett, who defies the current wisdom that language is hard-wired in humans, Wolfe examines the solemn, long-faced, laugh-out-loud zig-zags of Darwinism, old and Neo, and finds it irrelevant here in the Kingdom of Speech.

About the Author
Tom Wolfe is the author of more than a dozen books, among them The Electric Kool-Aid Acid Test, The Right Stuff, The Bonfire of the Vanities, A Man in Full, I Am Charlotte Simmons, and Back to Blood. A native of Richmond, Virginia, he earned his B.A. at Washington and Lee University and a Ph.D. in American Studies at Yale. He received the National Book Foundation's 2010 Medal for Distinguished Contribution to American Letters. He lives in New York City.
Praise For The Kingdom of Speech…
Praise for The Kingdom of Speech:

"The author's own prose is, as ever, a marvelous mix of gleeful energy and whip-around-the-neck control, and his book is a gas to read."
—Charles C. Mann, Wall Street Journal


"....a hundred years from now, the one whose work will still be read - whose work will remain imperishable in the face of any new discoveries - is Wolfe. In the long game, the kingdom belongs to him."
—Caitlin Flanagan, New York Times Book Review


"Tom Wolfe aims his unparalleled wit at evolution, arguing that complex language is the singular superpower that allows humans to rule the planet."
—Harper's Bazaar


"This being Tom Wolfe, the ponderous debate over language and evolution takes on a kind of pop-art pizzazz....A curiously entertaining little book."
—James Sullivan, Boston Globe


"Mr. Wolfe, now 85, shows no sign of mellowing. His new book, The Kingdom of Speech, is his boldest bit of dueling yet. It's a whooping, joy-filled and hyperbolic raid on, of all things, the theory of evolution....a provocation rather than a dissertation. The sound it makes is that of a lively mind having a very good time, and enjoying the scent of its own cold-brewed napalm in the morning."
—Dwight Garner, New York Times


"(Wolfe's) trademark rich reporting is unmistakable throughout.... he brings to this academic debate the same irreverence and entertaining quality that lit up Electric Kool-Aid Acid Test.... You'll find here the same manic prose, the hip rhythms and cleverly crafted arguments of the genius Tom Wolfe. Which you must read."
—Don Oldenburg, USA Today


"In this mettlesome, slyly funny takedown, Wolfe spotlights two key scientific rivalries, each pitting a scrappy outsider against the academy....Wolfe's pithy and stirring play-by-play coverage of compelling lives and demanding science transforms our perception of speech....As always, white-suited Wolfe will be all over the media...stirring things up and sending readers to the shelves."—Donna Seaman, Booklist

"A fresh look at an old controversy, as a master provocateur suggests that human language renders the theory of evolution more like a fable than scientific fact....Wolfe throws a Molotov cocktail at conventional wisdom in a book that won't settle any argument but is sure to start some."—Kirkus Reviews

"In lively, irreverent, and witty prose, Wolfe argues that speech, not evolution, sets humans apart from animals and is responsible for all of humankind's complex achievements....Wolfe's vibrant study manages to be clever, funny, serious, satirical, and instructive."—Publishers Weekly

"With his usual sharp wit and style, Wolfe's return to his roots is a thrilling journey into the who, what, where, when, why, and how of speech that will undoubtedly provoke stimulating conversations."
—Library Journal


"Wolfe, still a master at using language, is another claimant for the throne. The Kingdom of Speech is best read, then, with Wolfe not just as a narrator-historian but as a character. One who, after critiquing theorists who rule from insulated rooms, depicts himself in that exact setting for his book's final vision."
—Nate Hopper, Time

"Stimulating, clever and witty, Wolfe's little book is sure to provoke discussion about the role language plays in making us human."
—Henry L. Carrigan Jr., BookPage


"Barely a dull sentence."
—John McWhorter, Vox


"An entertaining and informative romp, thanks to Wolfe's patented stylistic hijinks. It may raise more questions than it answers, but that may well be its greatest virtue....very funny."
—Frank Wilson, Philadelphia Inquirer


"Come for the big ideas, stay for the terrific stories. Wolfe's bracing and witty style redeems a subject that in other hands might have you hitting the snooze button."
—Clarke Crutchfield, Richmond Times-Dispatch


"Head-hopping nonfiction....slick narrative storytelling alongside heaps of documentary evidence."—Mark Lundy, Pittsburgh Post-Gazette


"The most savage and entertaining of all "new journalists" has found one of the most unlikely subjects to stimulate his lifelong penchant for mocking naked emperors whom the world considers the epitome of regal splendor. Of eminent B.S. in this world, there will always be a surplus. Which is why we always need Wolfe."
—Jeff Simon, The Buffalo News


"Linguistics is famously boring, but Tom Wolfe is fun....beautifully written."
—Chris Knight, Counterpunch

"Wolfe doesn't mince words, and his comments are convincing and captivating."
—Ina Hughs, Knoxville News Sentinel


If you thought every question pertaining to evolution has been solved, think again: Wolfe explains in his typically high-energy prose how the development of speech is still an area in which science has far more questions than answers."
—New York Post