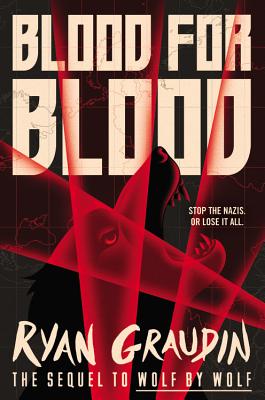 Blood for Blood (Wolf by Wolf #2)
Hardcover

* Individual store prices may vary.
Other Editions of This Title:
Digital Audiobook (10/31/2016)
Paperback (9/12/2017)
Description
The action-packed, thrilling sequel to Ryan Graudin's Wolf by Wolf.

There would be blood.

Blood for blood.

Blood to pay.

An entire world of it.

For the resistance in 1950s Germany, the war may be over, but the fight has just begun.

Death camp survivor Yael, who has the power to skinshift, is on the run: The world has just seen her shoot and kill Hitler. But the truth of what happened is far more complicated, and its consequences are deadly. Yael and her unlikely comrades dive into enemy territory to try to turn the tide against the New Order, and there is no alternative but to see their mission through to the end, whatever the cost.

But in the midst of the chaos, Yael's past and future collide when she comes face-to-face with a ghost from her past, and a spark with a fellow rider begins to grow into something more. Dark secrets reveal dark truths, and one question hangs over them all--how far can you go for the ones you love?

This gripping, thought-provoking conclusion to Wolf by Wolf will grab readers by the throat with its cinematic writing, fast-paced action, and relentless twists.

"Wild and gorgeous, vivid and consuming. I loved it! I can't wait for the sequel."--Laini Taylor, New York Times bestselling author of the Daughter of Smoke & Bone trilogy, on Wolf by Wolf


Praise For Blood for Blood (Wolf by Wolf #2)…
* "Graudin's writing is beautiful, her story exciting and consuming all at once, and this sequel to Wolf by Wolf (2015) is not to be missed."—Booklist, starred review

* "Gripping and intricately plotted...this haunting, historical what-if fantasy balances the atrocities of this alternate world with touches of innocent romance."—VOYA, starred review

"Graudin has crafted a fast-paced historical fantasy that movingly transports readers into a world of hard choices, great injustice, and daring acts of love."—School Library Journal

Praise for Wolf by Wolf:"Wild and gorgeous, vivid and consuming. I loved it! I can't wait for the sequel."—Laini Taylor, New York Times bestselling author of the Daughter of Smoke & Bone trilogy

"A haunting portrayal of one girl's courage in the face of a vicious world. I was racing along with Yael until the book's heart-pounding conclusion. A triumph."—Megan Shepherd, author of The Madman's Daughter

"Ryan Graudin opens one of the darkest chapters in history and spins a what if into an incredible tale of survival, identity, and purpose. This is the kind of book you can't put down, and the kind that follows you long after you have. It is, quite simply, a masterpiece."—Victoria Schwab, author of The Archived, Vicious, and A Darker Shade of Magic

"The rush of an action movie combined with a flawlessly executed history, this is the book I've been waiting for. I loved Wolf by Wolf, and I'm not speaking to my friends till they've read and loved it too."—Jackson Pearce, author of Sisters Red and Tsarina

"Wolf by Wolf completely immerses the reader in a story they'll never forget. Filled to the brim with tension and intrigue, nonstop action, and a vivid cast of characters, you'll feel every bump in the road they ride. I simply couldn't stop reading--and wherever Ryan Graudin rides next, I'll follow."—Amie Kaufman, New York Times bestselling author of These Broken Stars

*"Graudin (The Walled City) crafts another fast-paced, enthralling tale of sacrifice and dogged determination as she fuses alternate history and spy-thriller suspense. A provocative rumination on self-preservation, the greater good, and the boundaries that keep heroes from becoming as cruel as those they fight."—Publishers Weekly (starred review)

*"Beyond its breath-taking climax, the novel provokes deeper questions about the 'moreness' Yael begins to see in her competitors' identities, and in her own."—VOYA (starred review)

"Graudin's prose is artful and addictive."—School Library Journal

"Alternate histories can be risky gambits, but in Graudin's capable hands, it pays off in spades. Yael is a compelling protagonist, both strong and flawed, and, even imbued as it is with sci-fi elements, seeing both WWII and the concentration camp experience through her eyes is a terrifying adventure."—Booklist

"Give this to fans of espionage novels, and strong female protagonists; some dystopian fans may even take to the resistance storyline."
—School Library Connection

"With this complex and well-crafted mix of action, emotion, and alternate history, Graudin provides something new and notable for readers of historical and dystopian fiction."
—The Bulletin
Little, Brown Books for Young Readers, 9780316405157, 496pp.
Publication Date: November 1, 2016
About the Author
Ryan Graudin was born in Charleston, SC with a severe case of wanderlust. When she's not traveling, she's busy photographing weddings, writing, and spending time with her husband and wolf-dog. She is the author of The Walled City, Wolf by Wolf, and Blood for Blood. You can visit her online at ryangraudin.com.
1. The sequel structure includes a prelude, four parts, and two interludes. What did the prelude and interlude provide? How do they inform the story in the four parts?
2. Luka hears Yael's name for the first time on page 67. Why is the name so unfamiliar and unique to him? Why does he not realize until page 188 when he hears Miriam's name why the names sound so different? Why are names so important throughout the book?
3. On page 193 when Yael asks Luka why he didn't join the resistance, he asks, "Why choose to get crushed when you can survive?" and Yael responds, "Some of us never had that choice." How has fear affected Luka's life and Yael's life differently?
4. On page 332, Luka realizes the enormous differences between his childhood struggles and Yael's. He tells Yael, "It must seem so small to you." And Yael responds, "No person's life is small." Why is this sentence so important to the meaning of the overall book?
5. When Yael visits the artist for her final two tattoos, he tells her not to pay: "What are two more wolves compared to a new start?" How do you think Yael feels about the sacrifices and deaths that were made for this "new start"? He also says, "It will take time to heal just like all the others." What else does this relate to besides the physical tattoos?
or
Not Currently Available for Direct Purchase