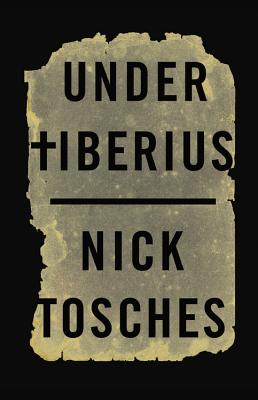 Under Tiberius (Hardcover)
Little, Brown and Company, 9780316405669, 336pp.
Publication Date: August 4, 2015
Other Editions of This Title:
Digital Audiobook (8/3/2015)
Paperback (8/2/2016)
* Individual store prices may vary.
Description
A work of dangerous and haunting beauty by America's last real literary outlaw.

Under Tiberius is a thrilling story of crime and deceit involving the man who came to be called Jesus Christ. Deep in the recesses of the Vatican, Nick Tosches unearths a first-century memoir by Gaius Fulvius Falconius, foremost speechwriter for Emperor Tiberius. The codex is profound, proof of the existence of a Messiah who was anything but the one we've known -- a shabby and licentious thief.

After encountering him in the streets of Judea, Gaius becomes spin doctor to Jesus, and the pair schemes to accrue untold riches by convincing the masses that Jesus is the Son of God. As their marriage of truth and lies is consummated, friendship and wary respect develop between these two grifters.

Outrageous and disturbing, Under Tiberius is as black as the ravishing night, shot through with fierce and brilliant light.
About the Author
Nick Tosches is from Newark, New Jersey. He is the author of four previous novels, Me and the Devil, In the Hands of Dante, Cut Numbers, and Trinities. His nonfiction works include Where Dead Voices Gather, The Devil and Sonny Liston, Dino, Power on Earth, Hellfire, Country, and Unsung Heroes of Rock 'n' Roll. He lives in New York City.
Praise For Under Tiberius…
Praise for Under Tiberius:

"Tosches gets points for a book that is joyfully irreverent in a way that books simply aren't anymore. The philandering, scoundrel version of Jesus is jarring, but Under Tiberius is engaging as a narrative. At the very least, Under Tiberius will definitely spice up your book club."—GQ

"Nick Tosches is the kind of writer who can turn readers into fakers.... Where the 65-year-old author's celebrated nonfiction books shone light into American culture's morally murky depths, the cult favorite's audacious and haunting new novel, Under Tiberius, goes even deeper."
—New York Magazine


"Those of you who take your religion seriously, beware. All others read on for a novel that is extremely clever, historically sound and, in its strange way, fun."
—The Globe and Mail


"Tosches's novel takes the form of a translation of an eyewitness account of Jesus's ministry, a brilliant, dark journey that takes the well-worn gospel stories and turns them on their heads . . . Not since The Last Temptation of Christ (1960) has there been a book with so much potential for offending believers. But there's far more to it than shock value. This is also a meditation on the extraordinary strength of both lies and belief, and it shows how truth can sometimes grow in the shadows between them. Disturbing, audacious, and powerful."—Booklist, starred review

"Tosches blows the doors off the historical novel with an unflinchingly blasphemous, mirthfully vulgar, and ultimately brilliant story of Jesus . . . [He] is taking eloquent aim at the way history, religion, and political fantasy obscure the persistent realities of humanity. This novel succeeds where every neutered passion play-depiction of Jesus fails, simply by showing us a man."—Publisher's Weekly


Praise for Nick Tosches:

"Tosches can't write a dull book. He sets his foot firmly on your throat from the start; he won't let up , and you won't want him to."
—Washington Post


"The sheer audaciousness of Tosches's writing makes most other fiction seem phony by comparison."—San Francisco Chronicle


"Tosches makes an extraordinarily compelling language out of expletive and insult. Through it, the seedy lowlife almost becomes heroic."—The Times (London)


"A writer of rare humanity."—GQ

"[Tosches writes] without illusion and yet with real sympathy, call it a form of love. That is a real achievement of writing and feeling."—David Remnick


"I'm an admirer of anything and everything Nick Tosches writes."—Tom Robbins

Coverage from NPR
or
Not Currently Available for Direct Purchase