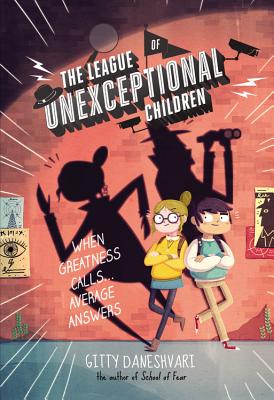 The League of Unexceptional Children (Hardcover)
Little, Brown Books for Young Readers, 9780316405706, 240pp.
Publication Date: October 20, 2015
* Individual store prices may vary.
Description
Are you average? Normal? Forgettable? If so, the League of Unexceptional Children is for you! This first book in a hilarious new adventure series is for anyone who's struggled to be noticed in a sea of above-average overachievers.
What is the League of Unexceptional Children? I'm glad you asked. You didn't ask? Well, you would have eventually and I hate to waste time. The League of Unexceptional Children is a covert network that uses the nation's most average, normal, and utterly unexceptional children as spies. Why the average kids? Why not the brainiacs? Or the beauty queens? Or the jocks? It's simple: People remember them. But not the unexceptionals. They are the forgotten ones. Until now!
About the Author
Gitty Daneshvari is the author of the middle grade series School of Fear and Monster High: Ghoulfriends. At the ripe old age of ten, a school IQ test determined she was neither gifted nor talented. Decades later, Gitty realized that more important than being "talented" is finding what you love and working hard at it.
Praise For The League of Unexceptional Children…
"Daneshvari recognizes that far more powerful than a dork becoming cool is the ignored finally being heard, the invisible seen. Here's hoping we will be witnessing much more of Jonathan and Shelley's kind of transformation, on the page and in life."—The New York Times


"Delivers hilarious shenanigans...This humorous new series is sure to appeal to fans of Daneshvari and other lovers of the ludicrous."—Kirkus

"Pokes sly fun at the pressure to raise future valedictorians and CEOs, by turning the tables on the classic trope of an average kid discovering greatness...Daneshvari's fast-paced, twisty story is chock-full of clever humor."—Publishers Weekly

"This...amusing chapter book goes down easy. Even with the fate of the world resting on their 'slightly hunched' shoulders, the main characters are so disarmingly upfront about their inadequacies that they'll definitely have readers on their side."—Booklist

"Keeps readers giggling."—SLJ

"It will hook readers and have them anxiously awaiting the next adventure."—School Library Connection