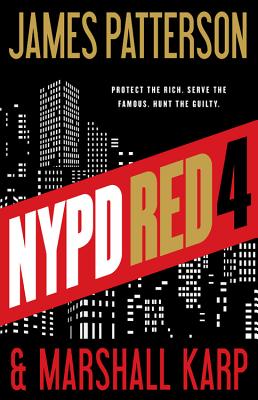 NYPD Red 4 (Hardcover)
Little Brown and Company, 9780316407069, 368pp.
Publication Date: January 25, 2016
* Individual store prices may vary.
Description

NYPD Red chases a ruthless murderer with an uncontrollable lust for money--and blood.
It's another glamorous night in the heart of Manhattan: at a glitzy movie premiere, a gorgeous starlet, dressed to the nines and dripping in millions of dollars' worth of jewelry on loan, makes her way past a horde of fans and paparazzi. But then there's a sudden loud noise, an even louder scream, and a vicious crime with millions of witnesses and no suspect--and now NYPD Red has a new case on its hands.
NYPD Red: the elite task force assigned to protect the rich, famous, and connected in the city where crime never sleeps. Detective Zach Jordan and his partner, Kylie MacDonald--a former girlfriend from the police academy who he hasn't quite gotten over--are the best that Red has to offer, brilliant and tireless investigators who will stop at nothing to crack a case, even if it means putting their own complicated lives on the back burner.
From celebrity penthouses to the depths of Manhattan's criminal underworld, Zach and Kylie are soon in hot pursuit of a cold-blooded killer with everything to lose, and millions to gain if he can just shake the detectives on his trail. With the city on edge, the mayor out of patience, and the flames of their personal relationship threatening to reignite and ruin everything, Zach and Kylie are facing down their worst fears--and their worst enemy yet.

About the Author
James Patterson has had more "New York Times" bestsellers than any other writer, ever, according to "Guinness World Records." Since his first novel won the Edgar Award in 1977 James Patterson's books have sold more than 300 million copies. He is the author of the Alex Cross novels, the most popular detective series of the past twenty-five years, including "Kiss the Girls "and "Along Came a Spider." He writes full-time and lives in Florida with his family.