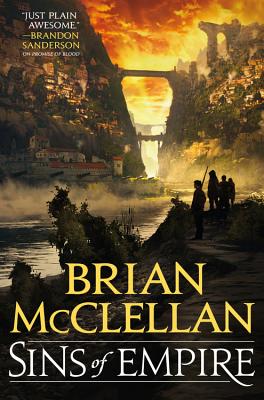 Sins of Empire (Gods of Blood and Powder #1)
Paperback

* Individual store prices may vary.
Other Editions of This Title:
Digital Audiobook (3/6/2017)
Compact Disc (3/7/2017)
Compact Disc (3/7/2017)
Description
A new epic fantasy trilogy about a young nation at odds with the ancient forces that have begun to stir as fortune seekers and sorcerers flock to the frontier. Set in of Brian McClellan's Powder Mage trilogy.

A world on the cusp of a new age. . .

The young nation of Fatrasta is a turbulent place -- a frontier destination for criminals, fortune-hunters, brave settlers, and sorcerers seeking relics of the past. Only the iron will of the lady chancellor and her secret police holds the capital city of Landfall together against the unrest of an oppressed population and the machinations of powerful empires.

Sedition is a dangerous word. . .

The insurrection that threatens Landfall must be purged with guile and force, a task which falls on the shoulders of a spy named Michel Bravis, convicted war hero Mad Ben Styke, and Lady Vlora Flint, a mercenary general with a past as turbulent as Landfall's present.

The past haunts us all. . .

As loyalties are tested, revealed, and destroyed, a grim specter as old as time has been unearthed in this wild land, and the people of Landfall will soon discover that rebellion is the least of their worries.
Praise For Sins of Empire (Gods of Blood and Powder #1)…
"Skillful worldbuilding and nuanced characters."—Library Journal (starred review)

"Fans of McClellan's Powder Mage trilogy will be happy to return to this fascinating fantasy world, where magic and technology come together in the midst of complicated relationships and unsure alliances . . . . [A] compelling read."—RT Book Reviews

"Furious, visceral, and relentlessly thrilling action."—Kirkus

"McClellan continues to expand and build on the interesting and engaging world of his previous trilogy while also providing an exciting and fast-paced new story that even those new to the series will enjoy immensely."—Booklist

"In Sins of Empire, Brian McClellan returns to the world of his Powder Mage trilogy for a novel that is equal parts military adventure and spy tale, and succeeds wildly on both counts."—Barnes and Noble Sci-Fi & Fantasy Blog

"This book is just plain awesome. I found myself enjoying every moment of it. Innovative magic, quick-paced plot, interesting world. I had a blast."—New York Times bestselling author, Brandon Sanderson on Promise of Blood

"Promise of Blood is a hugely promising debut. Guns, swords, and magic together? What more could you want? How about tense action, memorable characters, rising stakes, and cool, cool magic? Not only the finest flintlock fantasy I've read, but also the most fun. Brian McClellan is the real thing."—New York Times bestseller Brent Weeks on Promise of Blood

"Brings a welcome breath of gunpowder-tinged air to epic fantasy."—Anthony Ryan on Promise of Blood

"The world of the privileged sorcerers and the strange abilities of the powder mages who can manipulate gunpowder are just as well drawn in this captivating universe."—RT Book Reviews (4 1/2 stars) on Promise of Blood

"McClellan's debut packs some serious heat.... A thoroughly satisfying yarn that should keep readers waiting impatiently for further installments."—Kirkus (Starred Review) on Promise of Blood

"McClellan's debut is a lot of fun --- a historically influenced fantastical romp filled with machismo, intrigue and magic."—SciFi Now (UK) on Promise of Blood

"McClellan neatly mixes intrigue and action... in a society where new forces like labor unions, gunpowder-armed soldiers, and explosion-causing 'powder mages' clash with traditional magics, more, and beliefs."—Publishers Weekly on Promise of Blood

"War, magic, shape shifters, a few haunting pasts, swords, muskets and a cook... err.... chef... who thinks he's a reincarnated god. Not just another epic fantasy but the McClellan debut fantasy and the first of a trilogy. Ripping!"—thebookbag.co.uk on Promise of Blood

"Brian McClellan has penned a gripping fantasy novel about a military coup and its bloody aftermath in Promise of Blood... McClellan's writing expertly allows the reader to visualize the action, understand each character's psyche and motivation, and keep turning the pages well into the night."—Deseret News on Promise of Blood
Orbit, 9780316407229, 640pp.
Publication Date: November 28, 2017
About the Author
Brian McClellan is an American epic fantasy author from Cleveland, Ohio. He is known for his acclaimed Powder Mage novels and essays on the life and business of being a writer. Brian now lives in Utah with his wife, Michele.