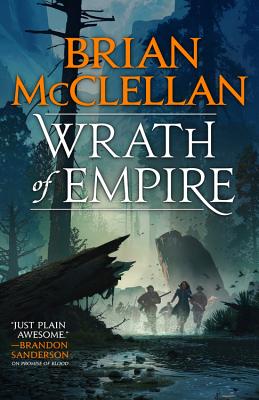 Wrath of Empire (Gods of Blood and Powder #2)
Hardcover

* Individual store prices may vary.
Other Editions of This Title:
Digital Audiobook (5/14/2018)
Paperback (12/4/2018)
Compact Disc (5/15/2018)
Compact Disc (5/15/2018)
Description
As war rages, both sides are in a race to find the one thing that could turn the tides to their favor -- a stone with the power to turn humans into gods -- in the second book of Brian McClellan's epic fantasy tale of magic and gunpowder.

The country is in turmoil. With the capital city occupied, half a million refugees are on the march, looking for safety on the frontier, accompanied by Lady Flint's soldiers. But escaping war is never easy, and soon the battle may find them, whether they are prepared or not.

Back in the capital, Michel Bravis smuggles even more refugees out of the city. But internal forces are working against him. With enemies on all sides, Michel may be forced to find help with the very occupiers he's trying to undermine.

Meanwhile, Ben Styke is building his own army. He and his mad lancers are gathering every able body they can find and searching for an ancient artifact that may have the power to turn the tides of war in their favor. But what they find may not be what they're looking for.

Continue the pistol-packing fantasy series by the author whose debut novel Brandon Sanderson called "just plain awesome!"

Gods of Blood and PowderSins of EmpireWrath of Empire
For more from Brian McClellan, check out:
Powder MagePromise of BloodThe Crimson CampaignThe Autumn Republic
Praise For Wrath of Empire (Gods of Blood and Powder #2)…
"Top-notch epic fantasy fare."—Publishers Weekly (starred review)

"A brisk and engaging narrative complete with fast-paced action and memorable characters... McClellan's explosive fantasy world will satisfy both established fans of the series and newcomers."—Booklist

"McClellan continues to add depth and richness to his characters and backdrop, swirls in some intriguing plot twists and complications, and sprinkles enough desperate fighting to satisfy the most insistently sanguineous readers...[his] design and construction grow steadily more impressive with each fresh installment."—Kirkus

"Skillful worldbuilding and nuanced characters."—Library Journal (starred review) on Sins of Empire

"Fans of McClellan's Powder Mage trilogy will be happy to return to this fascinating fantasy world, where magic and technology come together in the midst of complicated relationships and unsure alliances . . . . [A] compelling read."—RT Book Reviews on Sins of Empire

"Furious, visceral, and relentlessly thrilling action."—Kirkus on Sins of Empire

"McClellan continues to expand and build on the interesting and engaging world of his previous trilogy while also providing an exciting and fast-paced new story that even those new to the series will enjoy immensely."—Booklist on Sins of Empire

"In Sins of Empire, Brian McClellan returns to the world of his Powder Mage trilogy for a novel that is equal parts military adventure and spy tale, and succeeds wildly on both counts."—Barnes and Noble Sci-Fi & Fantasy Blog on Sins of Empire

"Promise of Blood is a hugely promising debut. Guns, swords, and magic together? What more could you want? How about tense action, memorable characters, rising stakes, and cool, cool magic? Not only the finest flintlock fantasy I've read, but also the most fun. Brian McClellan is the real thing."—New York Times bestseller Brent Weeks on Promise of Blood
Orbit, 9780316407267, 656pp.
Publication Date: May 15, 2018
About the Author
Brian McClellan is an American epic fantasy author from Cleveland, Ohio. He is known for his acclaimed Powder Mage novels and essays on the life and business of being a writer. Brian now lives in Utah with his wife, Michele.
or
Not Currently Available for Direct Purchase