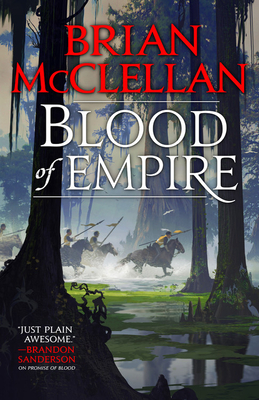 Blood of Empire (Gods of Blood and Powder #3) (Paperback)
Orbit, 9780316407281, 688pp.
Publication Date: June 23, 2020
Other Editions of This Title:
Digital Audiobook (3/16/2020)
Hardcover (12/3/2019)
Compact Disc (3/17/2020)
* Individual store prices may vary.
Description
As their final battle approaches, a sellsword, a spy, and a general must find unlikely and dangerous allies in order to turn the tides of war in the final book of Brian McClellan's epic fantasy trilogy.
The Dynize have unlocked the Landfall Godstone, and Michel Bravis is tasked with returning to Greenfire Depths to do whatever he can to prevent them from using its power; from sewing dissension among the enemy ranks to rallying the Palo population.
Ben Styke's invasion of Dynize is curtailed when a storm scatters his fleet. Coming ashore with just twenty lancers, he is forced to rely on brains rather than brawn -- gaining new allies in a strange land on the cusp of its own internal violence.
Bereft of her sorcery and physically and emotionally broken, Lady Vlora Flint now marches on Landfall at the head of an Adran army seeking vengeance against those who have conspired against her. While allied politicians seek to undo her from within, she faces insurmountable odds and Dynize's greatest general.
Continue the epic fantasy series by the author whose debut novel Brandon Sanderson called "just plain awesome!"
Gods of Blood and Powder
Sins of Empire
Wrath of Empire
Blood of Empire
For more from Brian McClellan, check out:
Powder Mage
Promise of Blood
The Crimson Campaign
The Autumn Republic
About the Author
Brian McClellan is an American epic fantasy author from Cleveland, Ohio. He is known for his acclaimed Powder Mage novels and essays on the life and business of being a writer. Brian now lives in Utah with his wife, Michele.
Praise For Blood of Empire (Gods of Blood and Powder #3)…
"Top-notch epic fantasy fare."—Publishers Weekly (starred review) on Wrath of Empire

"A brisk and engaging narrative complete with fast-paced action and memorable characters... McClellan's explosive fantasy world will satisfy both established fans of the series and newcomers."—Booklist on Wrath of Empire

"McClellan continues to add depth and richness to his characters and backdrop, swirls in some intriguing plot twists and complications, and sprinkles enough desperate fighting to satisfy the most insistently sanguineous readers...[his] design and construction grow steadily more impressive with each fresh installment."—Kirkus on Wrath of Empire


p.p1 {margin: 0.0px 0.0px 0.0px 0.0px; font: 13.0px Arial; color: #444444; -webkit-text-stroke: #444444}
span.s1 {font-kerning: none}



"Skillful worldbuilding and nuanced characters."—Library Journal (starred review) on Sins of Empire

"Fans of McClellan's Powder Mage trilogy will be happy to return to this fascinating fantasy world, where magic and technology come together in the midst of complicated relationships and unsure alliances . . . . [A] compelling read."—RT Book Reviews on Sins of Empire

"Furious, visceral, and relentlessly thrilling action."—Kirkus on Sins of Empire

"McClellan continues to expand and build on the interesting and engaging world of his previous trilogy while also providing an exciting and fast-paced new story that even those new to the series will enjoy immensely."—Booklist on Sins of Empire

"In Sins of Empire, Brian McClellan returns to the world of his Powder Mage trilogy for a novel that is equal parts military adventure and spy tale, and succeeds wildly on both counts."—Barnes and Noble Sci-Fi & Fantasy Blog

"This book is just plain awesome. I found myself enjoying every moment of it. Innovative magic, quick-paced plot, interesting world. I had a blast."—New York Times bestselling author, Brandon Sanderson on Promise of Blood

"Promise of Blood is a hugely promising debut. Guns, swords, and magic together? What more could you want? How about tense action, memorable characters, rising stakes, and cool, cool magic? Not only the finest flintlock fantasy I've read, but also the most fun. Brian McClellan is the real thing."—New York Times bestseller Brent Weeks on Promise of Blood