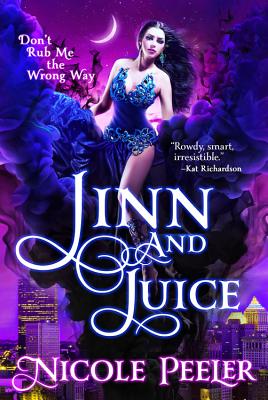 Jinn and Juice (Paperback)
Orbit, 9780316407359, 384pp.
Publication Date: April 7, 2015
* Individual store prices may vary.
Description
In this rowdy and raunchy urban fantasy, Lyla escaped an arranged marriage by accepting a deal from a jinni -- to live a thousand years as a jinni herself. Now, with her millennia nearly up, she's hiding out in a seedy Pittsburgh swarming with vampires, jinni and magical beings.
Meet Lyla, a thousand-year-old Jinn, a belly dancer, and the hottest new urban fantasy heroine in town.
With her thousand-year-long servitude ending, Lyla faces a few serious obstacles to freedom. A Magi intent on binding her again, a jinni bent on vengeance, and not to mention the nightmare from her past that threatens to make her curse permanent -- and claim her very soul.
"Jinn and Juice is a raucous, raunchy tale well told. One thing's certain: you'll never look at Pittsburgh the same way after you've taken Nicole Peeler's mythic joyride up, down, and sideways in pursuit of an abducted teenage girl and freedom from a thousand-year curse. Legend and history, betrayal and love intertwine as the story moves from lascivious sex clubs to the unraveling of a mystery to a magical jinni throw-down which will leave you panting for more. Jinn and Juice is Urban Fantasy at its smartest, naughtiest, funniest best." --Juliet Blackwell
About the Author
Nicole Peeler writes urban fantasy and is an associate professor at Seton Hill University, where she co-directs their
MFA in Writing Popular Fiction
. Having recently finished her award-winning
Jane True series
, she is looking forward to the publication of
Jinn and Juice
, the first book in a series about a cursed jinni living in Pittsburgh. Nicole also lives in Pittsburgh, although she's neither cursed nor a jinni.
Praise For Jinn and Juice…
"Peeler is perfect. Jinn and Juice is her best urban fantasy yet with vibrant characters that leap off the page fully formed from the first line. Fast-paced, rowdy, smart, irresistible, and tender, there's just no one who hits the urban fantasy marks as well as Peeler. Buy this book! Read it! Love it!"—Kat Richardson on Jinn and Juice

"Peeler has done it again! Jinn and Juice is a delightful read filled with action, humor, heart, and a heroine to cheer for. And it doesn't hurt that there are also sirens, trolls, bugbears, and plenty of Pittsburgh steel."—Kevin Hearne, author of Hounded, on Jinn and Juice

"Jinn and Juice is a raucous, raunchy tale well told. One thing's certain: you'll never look at Pittsburgh the same way after you've taken Nicole Peeler's mythic joyride up, down, and sideways in pursuit of an abducted teenage girl and freedom from a thousand-year curse. Legend and history, betrayal and love intertwine as the story moves from lascivious sex clubs to the unraveling of a mystery to a magical jinni throw-down which will leave you panting for more. Jinn and Juice is Urban Fantasy at its smartest, naughtiest, funniest best."—Juliet Blackwell

"Snarky, sexy! Beautifully descriptive and painstakingly plotted. Lyla is a smart, sly and just this side of scary. Peeler's world-building is clever and complete with every possible fairy folk character! The other-worldly seems familiar and glamorous all at the same time. And I learned how to curse in a few new languages, so it was educational!"—Molly Harper on Jinn and Juice

"Nicole Peeler is a master at weaving humor and romance together to create addictive stories and characters!"—Richelle Mead on Jinn and Juice

"Rising star Peeler returns with a new Pittsburgh-set urban fantasy series featuring a cursed jinni... The supremely gifted Peeler adeptly builds her alternate Pittsburgh by making it a funky and magically polluted refuge for non-pureblood supernaturals. Fabulous characterization, witty dialogue and a clever plot make for a magically mixed-up tale that is both fun and thrilling!"—RT Book Reviews on Jinn and Juice

"This series is urban fantasy at its best!"—RT Book Reviews Top Pick! (4.5 stars) on Tempest Reborn

"Grounded equally in ancient myth and the challenges of modern life, Jane True lives up to her name ... true, and truly unique! A fascinating, fast-paced, sexy storm of a book."—Rachel Caine on Tempest Rising

"Witty and fun, with a dash of dark suspense."—Scifichick.com on Tempest Rising

"A new star is rising in the urban fantasy world. With her Jane True character, Peeler launches a first-person series that's an exciting journey of self-discovery and murder mystery."—RT Book Reviews (4-1/2 Stars) on Tempest Rising