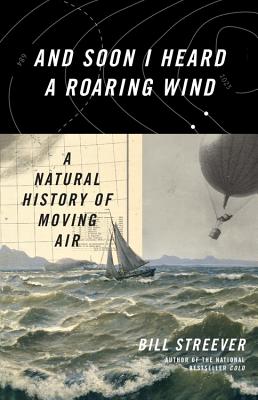 And Soon I Heard a Roaring Wind (Hardcover)
A Natural History of Moving Air
Little, Brown and Company, 9780316410601, 320pp.
Publication Date: July 26, 2016
* Individual store prices may vary.
Description
A thrilling exploration of the science and history of wind from the bestselling author of Cold.

Scientist and bestselling nature writer Bill Streever goes to any extreme to explore wind--the winds that built empires, the storms that wreck them--by traveling right through it. Narrating from a fifty-year-old sailboat, Streever leads readers through the world's first forecasts, Chaos Theory, and a future affected by climate change. Along the way, he shares stories of wind-riding spiders, wind-sculpted landscapes, wind-generated power, wind-tossed airplanes, and the uncomfortable interactions between wind and wars, drawing from natural science, history, business, travel, as well as from his own travels.

AND SOON I HEARD A ROARING WIND is an effortless personal narrative featuring the keen observations, scientific rigor, and whimsy that readers love. You'll never see a breeze in the same light again.
About the Author
Bill Streever wrote the national bestseller Cold and the award-winning Heat. As a biologist, he has worked on issues ranging from climate change to the restoration of Arctic tundra to underwater noise to the evolution of cave crayfish. With his wife and co-captain, he splits his time between Alaska and their cruising sailboat, currently in Central America.
Praise For And Soon I Heard a Roaring Wind: A Natural History of Moving Air…
Praise for And Soon I Heard a Roaring Wind

One of USA Today's "NEW AND NOTEWORTHY" Selections

"The wind is always changeable, whether it's a brisk nor'easter or the shifting tempests of intellectual history. And Soon I Heard Roaring Wind proves that Bill Streever is a master at navigating both."—Sam Kean, author of The Disappearing Spoon

"Science, history, and personal adventure come together in a wild and witty exploration of wind. When Streever deals with a natural phenomenon, he does so with aplomb...[he] has a knack for blending his research and personal experience into an easy-to-read account that is hard to put down."—Kirkus Reviews (starred review)

"Streever covers the science of wind and weather and the history of weather forecasting in an authoritative, well-researched, and engrossing text.... A riveting, detailed look at the power of wind, along with the pleasures and perils of sailing....This page-turning work of narrative nonfiction will appeal to readers interested in the history of science, the history and science of meteorology, the science of wind, and memoirs of life at sea."—Sue O'Brien, Library Journal

"Streever's ability to make complex concepts easy to understand while still capturing the awe and mystery of nature is spot-on."—Sarah Grant, Booklist

"Clear prose animated by deadpan humor and enthusiasm for all things meteorological.... Streever absorbingly explains the processes that make air move...."—Publishers Weekly

"Streever intertwines scientific histories in terms palatable even for laymen. When the going gets technical, Streever is there with an analogy to clarify....He brings the reader an understanding of what's important [about wind, and] along the way, Streever sprinkles in surprises and makes historical connections."—John B. Saul, Seattle Times Sunday

Although "few things in life are more ubiquitous than wind," Streever argues that it's "a problem not only for scientists but for the global economy."—Sarah Begley, Time Magazine

"Rather than simply being a book about the wind, this is more of a journey through our understanding of weather and our attempts to try to predict what the skies will do...Steever intersperses this historical journey of weather prediction with personal experiences gained during a 43-day journey by sailboat around the Gulf of Mexico, giving readers a feel of the real world impact of winds and storms."—Kit Gillet, Geographical

"Streever's voyage under sail from Texas to Guatemala [gives] a breezy immediacy to the story of how we learned to decode 'moving air.'"—Barbara Kiser, Nature Magazine

"A biologist and nature writer, Streever approaches meteorology in a way that brings to mind John McPhee's writings about geology, belaboring the text with no more scientific jargon than necessary....This book chronicles key discoveries in meteorology, [and Streever's] gale-force inquiry leads to some fascinating asides....As he unfurls Rocinante's sails, he muses on the development of wind-powered boats, he sails past Portuguese man-of-wars, and through all of this, we meet a motley crew of characters-theorists, philosophers, scientists, inventors, mathematicians-who puzzled and often disagreed bitterly as they sailed into the unknown mysteries of our atmosphere."—Kim Cross, The Dallas Morning News

"This is no dry academic text. Rather, [Streever] brings a fresh take on the history of weather forecasting and that devil wind."—The Baltimore Sun

"Streever does a fabulous job... a good read"—Captain Bob Solliday, American Sailing Association

Praise for Heat

2014 Nautilus Award Silver Winner

"An illuminating romp sure to delight connoisseurs of extreme geography and ignite everyone's inner pyromaniac."—David R. Montgomery, author of The Rocks Don't Lie: A Geologist Investigates Noah's Flood

"In this worthy companion to Cold, Streever is able to mix the pop science, personal experiences, and historic asides into a fun and informative commentary on a subject that few people think about despite its inherent life and death implications."—Publishers Weekly (starred review)

"This book, equally engaging and filled with fascinating facts, will appeal to old and young, and likely sell like superheatedcakes."—The Huffington Post

"Streever's book is rangy and free-form.... Evocative scientific explanations also punctuate his exploits.... He clearly has an affinity for extremes and a gutsy, undaunted spirit that enlivens both his inquiries and his writing."—Smithsonian Magazine
Coverage from NPR