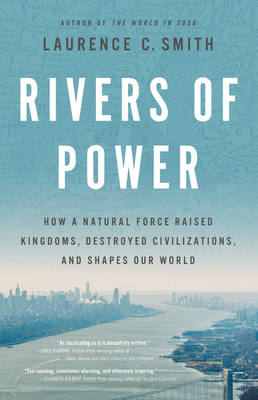 Rivers of Power
How a Natural Force Raised Kingdoms, Destroyed Civilizations, and Shapes Our World
Hardcover

* Individual store prices may vary.
Other Editions of This Title:
Digital Audiobook (4/20/2020)
Paperback (3/1/2025)
Description
An "eye-opening, sometimes alarming, and ultimately inspiring" natural history of rivers and their complex and ancient relationship with human civilization (Elizabeth Kolbert, Pulitzer Prize-winning author of The Sixth Extinction).

Rivers, more than any road, technology, or political leader, have shaped the course of human civilization. They have opened frontiers, founded cities, settled borders, and fed billions. They promote life, forge peace, grant power, and can capriciously destroy everything in their path. Even today, rivers remain a powerful global force -- one that is more critical than ever to our future.

In Rivers of Power, geographer Laurence C. Smith explores the timeless yet underappreciated relationship between rivers and civilization as we know it. Rivers are of course important in many practical ways (water supply, transportation, sanitation, etc). But the full breadth of their influence on the way we live is less obvious. Rivers define and transcend international borders, forcing cooperation between nations. Huge volumes of river water are used to produce energy, raw commodities, and food. Wars, politics, and demography are transformed by their devastating floods. The territorial claims of nations, their cultural and economic ties to each other, and the migrations and histories of their peoples trace back to rivers, river valleys, and the topographic divides they carve upon the world. And as climate change, technology, and cities transform our relationship with nature, new opportunities are arising to protect the waters that sustain us.

Beautifully told and expansive in scope, Rivers of Power reveals how and why rivers have so profoundly influenced our civilization and examines the importance this vast, arterial power holds for the future of humanity.

"As fascinating as it is beautifully written."---Jared Diamond, Pulitzer Prize-winning author of Guns, Germs, and Steel, Collapse, and Upheaval

Praise For Rivers of Power: How a Natural Force Raised Kingdoms, Destroyed Civilizations, and Shapes Our World…
"What do rivers give us? Among many other things: cheap transport, dam disasters, fish, floods, highways, hydroelectric power, inspiration for art and music, irrigation water, national boundaries, and the reason for Stalingrad. This book about rivers is as fascinating as it is beautifully written."—Jared Diamond, Pulitzer Prize-winning author of Guns, Germs, and Steel, Collapse, and Upheaval

"Laurence C. Smith takes readers on a tour of the world's great rivers -- past, present, and future. The result is fascinating, eye-opening, sometimes alarming, and ultimately inspiring."—Elizabeth Kolbert, Pulitzer Prize-winning author of The Sixth Extinction

"Rivers of Power transforms something quite common and often unappreciated into a compelling subject of critical importance to humanity. With scholarship, literary flair, and a personal touch, Smith takes the reader on a fascinating and surprising voyage of discovery, illuminating the myriad ways in which rivers have molded the course of history. He also sounds a clarion call for all of us to invest in understanding, revitalizing, and protecting our rivers as a means of improving our own lives."—Eric Jay Dolin, bestselling author of Black Flags, Blue Waters

"In Rivers of Power, Laurence C. Smith brings gentle humor and a gift for storytelling to the task of explaining a force that has shaped the earth for over three billion years. The result is an eye-opening and occasionally chilling account of the past, present, and future of both rivers and the humans that depend on them. An important new read."
—David Frye, author of Walls: A History of Civilization in Blood and Brick

"Smith has written a tour de force -- a narrative as powerful as the rivers he documents. He is up there with Jared Diamond -- a storyteller with real craft, and an academic career that makes him an important part of the modern revival of geography. Rivers determine where we live and often how we live, too. From Herodotus musing on the Nile to the dam makers of modern China, this is their story."
—Fred Pearce, author of When the Rivers Run Dry and The New Wild

"Rivers of Power speaks compellingly to the intersection of geography and history and its significance for the development of the world as we know it."
—Professor Julian Dowdeswell, Director of the Scott Centre for Polar Research, University of Cambridge

"A valuable, well-observed work of history and geography."
—Kirkus

"This engagingly panoramic and truly global discussion of the connection between rivers and human civilization serves as an important reminder of our dependence upon the planet's arteries of fresh water."—Booklist
Little, Brown Spark, 9780316412001, 368pp.
Publication Date: April 21, 2020
About the Author
Laurence C. Smith is the John Atwater and Diana Nelson University Professor of Environmental Studies and Professor of Earth, Environmental and Planetary Sciences at Brown University. Previously, he was Professor and Chair of Geography at the University of California, Los Angeles. He is a Fellow of the American Geophysical Union and of the John S. Guggenheim Foundation, and his scientific research has appeared in the New York Times, the Wall Street Journal, The Economist, the Los Angeles Times, and the Washington Post, and on NPR, CBC Radio, and BBC, among others. His first book, The World in 2050, won the Walter P. Kistler Book Award and was a Nature Editor's Pick of 2012.
or
Not Currently Available for Direct Purchase