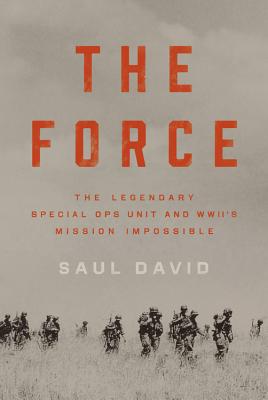 The Force
The Legendary Special Ops Unit and WWII's Mission Impossible
Hardcover

* Individual store prices may vary.
Other Editions of This Title:
Digital Audiobook (9/2/2019)
Paperback (11/2/2021)
Compact Disc (9/3/2019)
Compact Disc (9/3/2019)
Description
Hailed as "masterly" (Wall Street Journal) and a "monumental achievement" (Douglas Brinkley), this book tells the riveting, true story of the group of elite US and Canadian soldiers who sacrificed everything to accomplish a crucial but nearly impossible WWII mission.

In December of 1943, as Nazi forces sprawled around the world and the future of civilization hung in the balance, a group of highly trained U.S. and Canadian soldiers from humble backgrounds was asked to do the impossible: capture a crucial Nazi stronghold perched atop stunningly steep cliffs. The men were a rough-and-ready group, assembled from towns nested in North America's most unforgiving terrain, where many of them had struggled through the Great Depression relying on canny survival skills and the fearlessness of youth. Brought together by the promise to take part in the military's most elite missions, they formed a unique brotherhood tested first by the crucible of state-of-the-art training—including skiing, rock climbing, and parachuting—and then tragically by the vicious fighting they would face.

The early battle in the Italian theatre for the strategic fort cost the heroic U.S.-Canadian commando unit—their first special forces unit ever assembled—enormous casualties. Yet the victory put them in position to continue their drive into Italy, setting the stage for the Allies' resurgence toward victory in WWII. The unit, with its vast range of capabilities and mission-specific exercises, became a model for the "Green Berets" and other special forces groups that would go on to accomplish America's most challenging undertakings behind enemy lines.

Knitting first-hand accounts seamlessly into the narrative-drawing on interviews with surviving members and their families; the memoirs, letters, and diaries of Forcemen; and declassified documents in the American, Canadian, British, and German archives—The Force tells a story that is as deeply personal as it is inspiring.
Praise For The Force: The Legendary Special Ops Unit and WWII's Mission Impossible…
"A very fine book...Saul David has both a knack with the pen and a nose for a thrilling tale....Masterly [in] style...Readers should exult in The Force, whose heroic subjects deserve to be forever remembered."—Alexander Rose, Wall Street Journal

"The Forcebrilliantly recounts the heroic exploits of the first U.S. and Canadian Special Operations team, tasked with decommissioning a supposedly impregnable Nazi stronghold. Every chapter is filled with harrowing adventure, life and death struggle, and bedrock patriotism. The amount of new cutting-edge research is impressive. A monumental achievement!"—Douglas Brinkley, #1 New York Times bestselling author of American Moonshot: John F.Kennedy and the Great Space Race

"A riveting and harrowing account...An important, highly engaging work that is, as novelist Raymond Chandler once wrote of a book he was reviewing, unputdownable."—Washington Independent, Books of the Month

"With impeccable research and a keen eye for detail, Saul David has brought to life the surprising story of the original band of brothers. You can draw a vivid line from the make-or-break WWII battles of these daring soldiers to today's US Army Special Forces...Saul David does us -- and history -- a service by dramatizing how and why that 'tip of the spear' was forged. These brave citizen-soldiers did the impossible, and The Forcehonors their brotherhood, triumph, and ultimate sacrifices. An essential part of anyone's library."—Doug Stanton, #1 New York Times bestselling author of Horse Soldiers and In Harm'sWay

"A mesmerizing read that blends strategy with tactics and traditions, narrating in gritty detail the 1943 mountain battle by a small, dauntless American-Canadian force. This was the battlefield birth of our special Operations Forces. A compelling tale of human valor, doubts, mistakes, and victory, honestly told."—Bing West, former U.S. Assistant Secretary of Defense, New York Times bestselling author of The Village and coauthor with Jim Matthis of Callsign Chaos

"If you love the Navy SEALS, Green Berets, and Special Ops throughout the military, you're going to love this book."—Fox & Friends

"This remarkable story of the most unique special operations unit in Allied service during World War II throws you into battle during the meat grinder campaign in Italy, where the men of the Force displayed exceptional loyalty to each other and courage under fire all while undertaking some of the most difficult missions of the war. Told at soldier's-eye level, The Force is a gripping and awe-inspiring account of a storied unit and a legendary battle."—John R. Bruning, bestselling author of Raceof Aces and Indestructible

"With this riveting story of an unlikely group of men becoming elite soldiers and contributing to the Allied victory, Saul David brings us a superb tale, well told."
—Gregory A. Freeman, bestselling author of The Forgotten 500

"The Force provides incredible insight into the formation, development, and performance of the U.S. Army Special Forces Group, which traces its lineage to these fearless men. With his incomparable gift for storytelling, Saul David captures the brotherhood forged in war, the tragedy and chaos of battle, and the rich tradition of American tactical brilliance that these elite soldiers helped to launch."—David M. Reel, Executive Director, West Point Museum

"Action packed...This thrilling tale will captivate readers."—Publishers Weekly

"The First Special Service Force created in 1942 was a unique elite unit...As Saul David makes clear in this stirring account of their heroics, they did much more than their share and established precedents for the U.S. and Canadian Special Forces of today."—James M. McPherson, Pulitzer Prize-winning author of TheBattle-Cry of Freedom

"Compelling and well-researched, The Force is an uplifting story of bravery, duty, and honor, an account of men who found the courage to take on an impossible mission -- and prevail against all odds."—Howard Blum, New York Times bestselling author of Dark Invasion and The Last Goodnight

"Poignant, highly readable...a fitting tribute to the heroism of these soldiers....Brings wartime experience -- the grueling training, the ferocity of combat -- vividly to life with an immediacy that is breathtaking."—Winnipeg Free Press

"A real page-turner [about] a remarkable military unit whose story ought to be better known."—Kirkus Review
Hachette Books, 9780316414531, 368pp.
Publication Date: September 3, 2019
About the Author
Saul David is a military historian and broadcaster. He is the author of The Indian Mutiny, which was shortlisted for the Duke of Westminster's Medal for Military Literature, Military Blunders, Zulu: the Heroism and Tragedy of the Zulu War of 1879 (a Waterstone's Military History Book of the Year), Victoria's Wars, and Operation Thunderbolt: Flight 139 and the Raid on Entebbe Airport, the Most Audacious Hostage Rescue Mission in History, an Amazon History Book of the Year. He lives outside of Bath, England, where he is a professor of military history at the University of Buckingham.