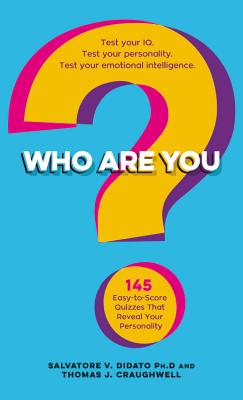 Who Are You? (Paperback)
Black Dog & Leventhal, 9780316414753, 408pp.
Publication Date: April 10, 2018
* Individual store prices may vary.
Description
For the millions of quiz-lovers who want to know themselves better, this comprehensive collection enables you to self-assess your IQ, personality, and emotional intelligence.
With 51 IQ, 40 Personality, and 54 EQ tests, you'll learn more about every facet of yourself in this big book of quizzes. The collection of tests is designed to answer who you are, how you got that way, and what, if anything, you can do to change. Entertaining and enlightening, WHO ARE YOU? reveals your personality and emotions with quizzes that include "Are You Socially Anxious" to "Are You an Unbiased Voter?" to "Are You Over Your Ex?" as well as determining your numerical, linguistic, and spacial proficiency.
Pop it in your a handbag, briefcase, or knapsack, WHO ARE YOU? is perfect take-along for a long commute, a doctor's waiting room, or just an evening at home. Each quiz can be taken in just a few minutes and is easily scored. This attractive, take-anywhere, write-in quiz book will offer a daily dose of self-discovery no matter where you go!
About the Author
Salvatore V. Didato is a psychologist and media commentator. He is the author of Psychotechniques and The Big Book of Personality Tests and has been published in Parade, Harper's Bazaar, Cosmopolitan, and the New York Times. He lives in Stamford, Connecticut.
Thomas J. Craughwell is the author of several nonfiction books including
Fandex Family Field Guides: 50 States, Saints for Every Occasion, Thomas Jefferson's Creme Brûlée
, and
Stealing Lincoln's Body
, which was adapted into a documentary by the History Channel. He lives in Bethel, Connecticut.