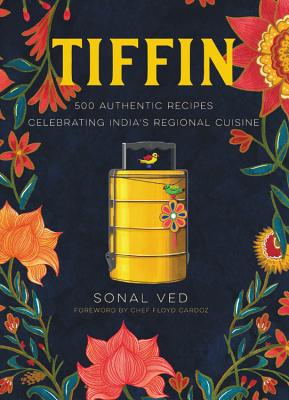 Tiffin (Hardcover)
500 Authentic Recipes Celebrating India's Regional Cuisine
Black Dog & Leventhal, 9780316415767, 496pp.
Publication Date: October 23, 2018
* Individual store prices may vary.
Description
Explore the vast scope of Indian cooking in this comprehensive collection of regional recipes from renowned Indian chefs, named for the traditional Indian lunch pail.
Opening Tiffin unlocks for readers the diverse flavors of India. More than 500 recipes are organized by region and further by course, including vegetarian dishes, hearty meat-filled dinners, seafood, 10-minute appetizers, impossibly easy homemade breads, desserts, and drinks. Ingredients vary from coconut to tamarind to curry to masala and everything in between.
Chef Floyd Cardoz writes in the foreword, "I love Indian cuisine, the variety it offers, the cooking techniques, and the use of flavor and texture. I want the world to enjoy and celebrate this multiplicity in food that India has to offer."
Compiled by an Indian food editor from the collections of chefs who specialize in regional cuisine, these authentic dishes are rarely found in other cookbooks. With vibrant illustrations that represent the regional style and tempting photography of the dishes, Tiffin makes Indian cooking more accessible and authentic than ever before.
About the Author
Editor Sonal Ved, an accomplished food writer, is currently the food editor at Vogue India. She has also written food features for various newspapers and publications in India, including Times of India, TimeOut (Mumbai), Uppercrust magazine, Verve magazine, Hindustan Times, Sunday Midday. In 2017, Sonal also published her first regional Indian cookbook, Gujju Goes Gourmet. She lives in Mumbai.




Chef Floyd Cardoz is a celebrated Indian-American chef with restaurants in both India and the United States. He was the chef at Tabla before opening Bombay Bread bar in Manhattan and The Bombay Canteen in Mumbai. A Top Chef Masters winner, he has written two cookbooks, most recently Flavorwalla. He lives in New York City.




Anshika Varma

is a photographer who has been featured in

National Geographic, People Magazine, The Rolling Stone, Travel and Leisure, Time Out

, and in the books

Tehzeeb, The Mainland China Cookbook, and Oh! Calcutta Cookbook.

Her work has been in exhibitions in New York, India, and Florence. She organizes art workshops for disadvantaged children.


Abhilasha Dewan

is the illustrator and believes design is the universal language. Her work appears in short films, illustrations, and graphic design.



Praise For Tiffin: 500 Authentic Recipes Celebrating India's Regional Cuisine…
"A vast and vivid compendium of Indian cuisine. . . . a beautifully designed and inclusively written account of modern Indian cuisine that embraces a multiplicity of tastes and techniques."—The New York Times, one of 'The Best Cookbooks of Fall 2018'

"The care and dedication [Sonal Ved] took when creating this cookbook shines through each illustration and brightly colored photograph.... Tiffin is the cookbook for those who are looking to delve deeper into the diversity of India."—Saveur

"Tiffin, with its encyclopedia-like heft and colorful illustrations by Abhilasha Dwan, is my new coffee table fixture. It's the kind of book I'll keep picking up and referring back to, learning something new about Indian cuisine every time."—Bon Appetit, All the Cookbooks and Regular Books We Adored in 2018

"Tiffin is more than just a cookbook. It's a tour through India that sheds light on the country's regional specialties and nuanced flavor combinations to demonstrate the culinary diversity of the country."—The Reference and User Services Association (RUSA), a division of the American Library Association