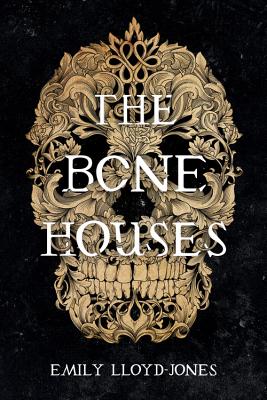 The Bone Houses (Hardcover)
Little, Brown Books for Young Readers, 9780316418416, 352pp.
Publication Date: September 24, 2019
* Individual store prices may vary.
Description
Buffy the Vampire Slayer meets Sky in the Deep in this bewitching, historical horror novel, perfect for fans of Holly Black and V.E. Schwab.
Seventeen-year-old Aderyn ("Ryn") only cares about two things: her family and her family's graveyard. And right now, both are in dire straits. Since the death of their parents, Ryn and her siblings have been scraping together a meager existence as gravediggers in the remote village of Colbren, which sits at the foot of a harsh and deadly mountain range that was once home to the fae. The problem with being a gravedigger in Colbren, though, is that the dead don't always stay dead.
The risen corpses are known as "bone houses," and legend says that they're the result of a decades-old curse. When Ellis, an apprentice mapmaker with a mysterious past, arrives in town, the bone houses attack with new ferocity. What is it that draws them near? And more importantly, how can they be stopped for good?
Together, Ellis and Ryn embark on a journey that will take them into the heart of the mountains, where they will have to face both the curse and the deeply-buried truths about themselves. Equal parts classic horror novel and original fairytale, The Bone Houses will have you spellbound from the very first page.
About the Author
Emily Lloyd-Jones grew up on a vineyard in rural Oregon, where she played in evergreen forests and learned to fear sheep. After graduating from Western Oregon University with an English degree, she enrolled in the publishing program at Rosemont College just outside of Philadelphia. She currently resides in Northern California, working as the children's buyer for Gallery Bookshop by day and writing by night. She is the author of Illusive, Deceptive, The Hearts We Sold, and The Bone Houses.
Praise For The Bone Houses…
Praise for The Bone Houses:
"...a new and magical journey, filled with the best parts of a fairy tale. Monsters, curses, love--both slow-burn and familial--beautiful descriptions of an eerie mythical Welsh setting, and a streak of humor make this stand-alone novel a must-read."—
SLJ
"This Welsh-inspired story is haunting and compelling...A stand-alone dark fantasy that readers will want to sink their teeth into..."
—
Kirkus Reviews
"The Bone Houses is a dark and beautiful book, full of magic, as quiet as death and as powerful as love. Lloyd-Jones gives us a beautiful setting full of vibrant characters that's resonant with gorgeously eerie mythology, plus my absolute favorite literary goat. I loved this book."
—
Kat Howard, author of An Unkindness of Magicians and A Cathedral of Myth and Bone
"A deliciously monstrous novel, full of the magic of ancient Wales. Reminiscent of Juliet Marillier and Marion Zimmer Bradley. Expect the unexpected in this funny, scary, mysterious, and ultimately unputdownable story!"—
Dawn Kurtagich, author of Teeth in the Mist
"Throw excellent world-building, action-packed prose, and incredible representation for chronic pain into a cauldron, and you'll get The Bone Houses, a masterclass on the epic journey archetype with plenty of surprises in store."
—
Sami Thomason, Square Books
"The Bone Houses
is the adventure of a gravedigger and a mapmaker, the story of the place where fable and rumor intersect with real-life danger and quest. Mysterious, earthy, utterly magical."—
Anna Bright, One More Page Books
"
The Bone Houses
is an atmospheric and enthralling tale about life after death that mixes thoughtful characterization with whimsy, horror, and a dash of magic. Emily Lloyd-Jones instantly transports you to a northern Wales of old where the dead rise and legends may turn out to be histories. It pulled me -- and every bone I possess -- in from the start and refused to loosen its hold. It's a book best consumed with the lights on and a hand to hold. You'll definitely need them!"—
Kalie Young, Barnes & Noble at the Grove, Los Angeles, CA
"I immediately fell into the world Emily Lloyd-Jones created, and then I barely came up for air! This is the most original, mythical-magical, undead story I have ever read. I mean, there's a dead goat -- and you're gonna fall in love with her. The feisty, axe-swinging gravedigger's daughter found a place in my heart, too. The imagination and wit astound me. I am a lifelong reader of Lloyd-Jones' books. What's next?"—
Alena Deerwater, Gallery Bookshop
Praise for The Hearts We Sold:
* "Beautifully written and elegantly characterized, this is a thoughtful, melancholy tale of love and redemption, magic and choice. Lloyd-Jones tracks Dee's Faustian journey without ever falling out of step, and the story itself will ensnare readers as surely as any bargain."
—
Booklist (starred review)
* "Emily Lloyd-Jones's (
Illusive
) depictions of the emotional abuse Dee faces are nuanced and subtle, so truthful that the reader comes to understand the depth and destruction of the abuse only in the final pages. The world-building is outstanding, but it is the smaller, true things--how Dee keeps her circle of people small, how a new, loving partner is patient with her while she navigates love and PTSD--that make
The Hearts We Sold
such a superb (and heartfelt) work."—
Shelf Awareness (starred review)
"The slowly revealed lore of the demons coupled with Dee's adventures make for a whirlwind of a page-turner. Readers will devour this romantic, Faustian fable. A dark fantasy brimming with passion and peril."—
Kirkus Reviews
Praise for Illusive and Deceptive:
*"Boasting a complex plot, heart-stopping bursts of action, and questions regarding human nature, Lloyd-Jones' thought-provoking, multifaceted narrative neatly sidesteps categorization as just another superhero or dystopian novel--though fans of both will be drawn to the material and be pleasantly surprised. An impressive debut guaranteed to disappear from the shelves before your very eyes."
—
Booklist (starred review)