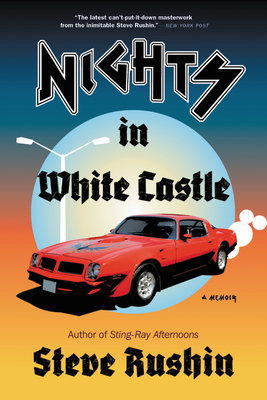 Nights in White Castle
A Memoir
Paperback

* Individual store prices may vary.
Other Editions of This Title:
Digital Audiobook (8/19/2019)
Hardcover (8/20/2019)
Compact Disc (8/20/2019)
Compact Disc (8/20/2019)
Description
Picking up where he left off in his acclaimed memoir Sting-Ray Afternoons, Steve Rushin brilliantly captures a bygone era, and the thrills of new adulthood in the early 80s.
It begins in Bloomington, Minnesota, with a 13-year-old kid staging his own author photo that he hopes will someday grace the cover of a book jacket. And it ends at a desk in the legendary Time & Life building, with that same boy-now in his early 20s and writing professionally-reflecting on how the hell he got there from what seems like a distant universe. In between, Steve Rushin whisks us along on an extraordinarily funny, tender, and altogether unforgettable journey.
From a menial summer job at suburban Bennigan's, to first-time college experiences in Milwaukee, to surviving early adulthood in seedy New York City, this deeply touching odyssey will remind any reader of those special moments when they too went from innocence to experience.
Praise For Nights in White Castle: A Memoir…
"Rushin's strength is his descriptive and playful prose."—The Minneapolis Star Tribune

"A joyful romp down memory lane."—Publishers Weekly

"A fun and nuanced coming-of-age story, Nights in White Castle offers a
rollicking ride down memory lane."—Booklist

"Rushin's account captures many slices of life in a time fast receding into
the depths of nostalgia. Survivors and fans of the era will find this to be a
pleasing book of meaningful touchstones."—Kirkus

"[Rushin's] childhood, from the ages of 3 to 13, was perfectly encapsulated in the 1970s, and he celebrates the excesses and excitement of the decade with ardor.... Rushin's everykid upbringing and the touchstones of childhood he recounts make Sting-Ray Afternoons a fun-filled and charming trip."—Booklist

"In his funny, elegiac memoir Sting-Ray Afternoons, Rushin mines...ineffably familiar terrain with a sense of irony and deep affection, working hard to capture the look and feel of the 1970s...Much of what Rushin writes about - the Sears Christmas Wish Book, leaded gasoline, Johnny Carson's many vacations - will strike a chord with anyone who, like me, grew up in that era. What makes the book more than just late-baby-boomer nostalgia is the writing, which is knowing and funny."—Jim Zarroli, NPR

"Magnificent... You will not read a better book this summer - and maybe well into the fall and winter, too."—New York Post

"Sting-Ray Afternoons is [Rushin's] story of growing up in Bloomington in the 1970s. It's a lighthearted, sentimental look back at a Minnesota childhood with a twist of wryness... Rushin's told-with-a-smile stories of childhood are worth the trip: bundling into a snowmobile suit in winter, piling into the Ford LTD Country Squire for a cross-country summer vacation, making mild mischief with neighborhood friends, and one memorable disaster when nature called and wouldn't be kept waiting. All seen through that gauzy, yellowish filter that blurs memory with Dad's Super 8 movies."—Casey Common, Minneapolis Star Tribune
Back Bay Books, 9780316419390, 320pp.
Publication Date: August 11, 2020
About the Author
Steve Rushin is the author of Road Swing, which was named "Top 100 Sports Books of All Time". He previously worked for Sports Illustrated and has filed stories for the magazine from all seven continents, including Antarctica. His work has been anthologized in TheBest American Sports Writing, The Best American Travel Writing and The Best American Magazine Writing collections, with essays appearing in Time magazine and The New York Times. He lives in Minnesota.