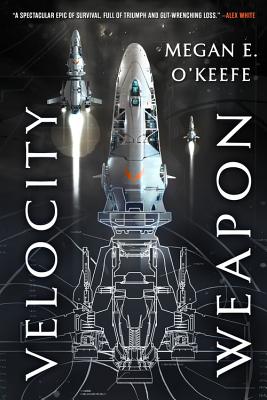 Velocity Weapon (The Protectorate #1) (Paperback)
Orbit, 9780316419598, 544pp.
Publication Date: June 11, 2019
Other Editions of This Title:
Compact Disc (6/11/2019)
Pre-Recorded Audio Player (8/11/2019)
Compact Disc (6/11/2019)
* Individual store prices may vary.
Description
NOMINATED FOR THE PHILIP K. DICK AWARD FOR BEST NOVEL * Dazzling space battles, intergalactic politics, and rogue AI collide in Velocity Weapon, the first book in this epic space opera trilogy by award-winning author Megan O'Keefe.
Sanda and Biran Greeve were siblings destined for greatness. A high-flying sergeant, Sanda has the skills to take down any enemy combatant. Biran is a savvy politician who aims to use his new political position to prevent conflict from escalating to total destruction.
However, on a routine maneuver, Sanda loses consciousness when her gunship is blown out of the sky. Instead of finding herself in friendly hands, she awakens 230 years later on a deserted enemy warship controlled by an AI who calls himself Bero. The war is lost. The star system is dead. Ada Prime and its rival Icarion have wiped each other from the universe.
Now, separated by time and space, Sanda and Biran must fight to put things right.
The Protectorate
Velocity Weapon
About the Author
Megan E. O'Keefe was raised amongst journalists, and as soon as she was able joined them by crafting a newsletter which chronicled the daily adventures of the local cat population. She has worked in both arts management and graphic design, and has won Writers of the Future and the Gemmell Morningstar Award.
Megan lives in the Bay Area of California.
Praise For Velocity Weapon (The Protectorate #1)…
"O'Keefe delivers a complicated, thoughtful tale that skillfully interweaves intrigue, action, and strong characterization. Themes of found family, emotional connection, and identity run throughout, backed up by strong worldbuilding and a tense narrative. This series opener leaves multiple plot threads open for further development, and readers will look forward to the next installments."—
Publishers Weekly
"Meticulously plotted, edge-of-your-seat space opera with a soul; a highly promising science-fiction debut."—
Kirkus
"Outstanding space opera where the politics and world building of The Expanse series meets the forward-thinking AI elements of
Ancillary Justice
."—
Michael Mammay, author of Planetside
"Velocity Weapon is a spectacular epic of survival, full of triumph and gut-wrenching loss."
—
Alex White, author of The Salvagers Series
"Full of twists, feints, and deception, O'Keefe's latest presents a visionary world rife with political intrigue and space adventure."—
Booklist (starred review)
"A well-crafted interplanetary adventure full of twists and turns, compelling characters, and irresistible teases of an expanded terrain for the chapters to come... a satisfying stand-alone book while also promising really intriguing things to come for the remainder of the series. I recommend diving into it now."—
Skiffy & Fanty
"
Velocity Weapon
is a roller-coaster ride of pure delight. Furious action sequences, funny dialog, and touching family interactions all wrapped up in a plot that will keep you guessing every step of the way. This is one of the best science fiction novels of 2019."—
K. B. Wagers, author of the Indranan War Trilogy
"Velocity Weapon
is fast-paced, twisty, edge-of-your-seat fun. Space opera fans are in for a massive treat!"—
Marina J. Lostetter, author of Noumenon
A brilliantly plotted yarn of survival and far-future political intrigue—
Guardian (UK)
"This is a sweeping space opera with scope and vision, tremendously readable. I look forward to seeing where O'Keefe takes this story next."—
Locus