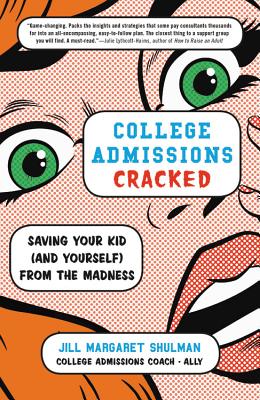 College Admissions Cracked
Saving Your Kid (and Yourself) from the Madness
Paperback

* Individual store prices may vary.
Other Editions of This Title:
Digital Audiobook (8/5/2019)
Compact Disc (8/6/2019)
Compact Disc (8/6/2019)
Description
How to help your kid navigate the college admissions process -- from scheduling standardized tests to writing essays -- month by month, girlfriend's-guide style.
So, your child is a high school junior. You've heard other parents with kids older than yours whisper the word "college" like it was a terminal disease. You've seen their taut, maniacal grins as they try to hold it together. The process of weathering and conquering the college admissions process with a teenager is a daunting affair for many. Advice will pour in through friends, your child's guidance counselor, and your mother's neighbor's cousin.

Thankfully, Jill Margaret Shulman, a college admissions coach, application evaluator, college writing instructor, essayist, author, and empathetic parent, is here to be your fiercest ally. She'll guide you through the entire crazy ritual that college admissions has become, month by month, breath by deep, cleansing breath, until you drop your kid off at college where she will ignore your phone calls and texts.
Come as you are -- whether chill or roiling with anxiety -- and Shulman, along with a platoon of experts and fellow parents, will help you maintain your strength and sense of self-worth, so easily lost somewhere between your teenager's screaming, "I hate you! You're ruining my life!" and typing your credit card number into the College Board's website for the twentieth time.
You've got college admissions cracked, and now, this book has got your back.
Praise For College Admissions Cracked: Saving Your Kid (and Yourself) from the Madness…
"As a fun, practical, and, best of all, panic-free guide to a common rite of passage, Jill Margaret Shulman's College Admissions Cracked could not be more timely. Why our society insists on taking what should be just another step on the road to adulthood and turning it into an agonizing gauntlet is perhaps a question for another time. For now, take heart: if it is possible for a book to be a chill pill, pep talk, and roadmap all in one, this lively work certainly fills the bill."—Madeleine Blais, Pulitzer-prize winning journalist and author of In These Girls, Hope Is a Muscle

"Into the breach of the college admissions mania steps Jill Margaret Shulman with a game-changing guide to navigating and surviving the process. It packs the insights and strategies some pay a consultant thousands for into an all-encompassing, easy-to-follow plan. As comforting as it is comprehensive, it's the closest thing to a support group you will find. A must-read for parents wanting to help their college-bound student, while not losing their minds!"—Julie Lythcott-Haims, author of How to Raise an Adult

"Shulman's book is an invaluable resource for the parents and guardians of college-bound kids. In addition to practical, step-by-step considerations of the research, application, and financial aid processes, she offers a sanctuary of sanity in the often chaotic and stressful ethos of the world of college admission. Readers will benefit from her strategic tools, clarity, and good humor as they work to successfully support their children's best fit for college. It is the one book every parent embarking on the college journey with their child should read."—Katie Fretwell, Former Dean of Admission and Financial Aid, Amherst College

"Sharp, wise, and witty, College Admissions Cracked is the crystal clear roadmap through chaos that you have been looking for and the welcome relief that you didn't realize was possible. If you have a kid who's on the path to college, this book is indispensable."—Daniel Lerner, coauthor of U Thrive
Little, Brown Spark, 9780316420525, 320pp.
Publication Date: August 6, 2019
About the Author
Jill Margaret Shulman is the founder of In Other Words, a college essay coaching service. She has spent nearly a decade shepherding high school students and their parents through the college admissions process and reading and evaluating applications at Amherst College and Williams College. Jill has also taught writing at The New School and City University of New York and written for the New York Times, Family Circle, Parents, Good Housekeeping, and O, The Oprah Magazine, among others. She lives with her husband and two children (whenever they are home from college) in the higher education mecca of Amherst, Massachusetts.