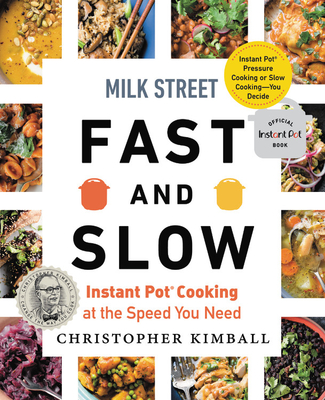 Milk Street Fast and Slow (Hardcover)
Instant Pot Cooking at the Speed You Need
Voracious, 9780316423076, 304pp.
Publication Date: April 7, 2020
* Individual store prices may vary.
Description
Cook it fast or cook it slow: 150 flexible, flavorful Instant Pot and multicooker recipes designed for your schedule, from the James Beard Award-winning team of cooks at Milk Street.
Instant Pots and other multicookers can transform your cooking, turning day-long simmers and braises into quick dishes that are achievable even on a busy weeknight. But did you know that the same pot is also a top-notch slow cooker, delivering make-ahead flexibility alongside the option for speed?
Milk Street Fast and Slow shows you how to make the most of your multicooker's unique capabilities with a host of one-pot recipes that show how to prepare the same dish two ways. For the quickest meals, use the pressure cooker setting to cut down on cooking time. And if you prefer the flexibility of a slow cooker, you can start your cooking hours ahead.
These dishes take advantage of the Milk Street approach to cooking: fresh flavor combinations and a few new techniques from around the world. The result is a compelling new approach to pressure cooking and slow cooking every day.
Vegetables take center stage and shine in dozens of hearty vegetarian mains and sides like Potato and Green Pea Curry and Eggplant, Tomato, and Chickpea Tagine.
Slow-cooking grains like steel-cut oats and polenta can now get on the table fast, along with Risotto with Sausage and Arugula-no standing and stirring required.
Beans cooked from scratch now join the weeknight line-up. We skip the overnight soak and load up on flavor in dishes like Black Beans with Bacon and Tequila.
One-pot pastas mean more flavor and less cleanup. We cook Lemony Orzo with Chicken and Arugula right in the sauce-no boiling, no draining, no problem.
Chicken gains a world of flavor, from Chicken in Green Mole to Chicken Soup with Bok Choy and Ginger.
Ordinarily tough cuts of pork become everyday ingredients-from Filipino Pork Shoulder Adobo and Hoisin-Glazed Baby Back Ribs to Carnitas with Pickled Red Onions
Beef becomes affordable by coaxing cheap (but flavorful) cuts to tenderness. Even all-day pot roasts and Short Rib Ragu turn Tuesday night-friendly with little hands-on effort.
Praise for Christopher Kimball's Milk Street
"Kimball is nothing if not an obsessive tester, so every recipe has an implicit guarantee . . . Scanning the streamlined but explicit instructions, you think: easy, quick, works, boom."
--The Atlantic
About the Author
Christopher Kimball's Milk Street is located in downtown Boston--at 177 Milk Street--and is home to a cooking school, a bimonthly magazine, and public television and radio shows. They are the authors of Milk Street: The New Rules, The Milk Street Cookbook, and Milk Street: Tuesday Nights, which won both the IACP and James Beard Awards for General Cooking.