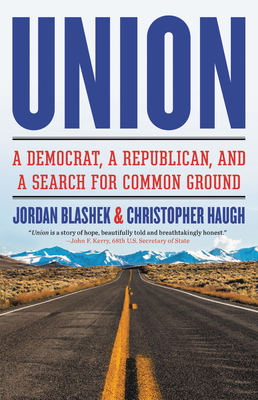 Union
A Democrat, a Republican, and a Search for Common Ground
Hardcover

* Individual store prices may vary.
Other Editions of This Title:
Digital Audiobook (7/20/2020)
Paperback (6/29/2021)
Compact Disc (7/21/2020)
Description
Two friends—a Democrat and a Republican—travel across America "on a deeply personal journey through the heart of a divided nation . . . to find growth, hope and fundamental strength in their own lives" (Bob Woodward) and the country they love, in good times and bad.

In the year before Donald Trump was elected president, Jordan Blashek, a Republican Marine, and Chris Haugh, a Democrat and son of a single mother from Berkeley, CA, formed an unlikely friendship. Jordan was fresh off his service in the Marines and feeling a bit out of place at Yale Law School. Chris was yearning for a sense of mission after leaving Washington D.C.

Over the months, Jordan and Chris's friendship blossomed not in spite of, but because of, their political differences. So they decided to hit the road in search of reasons to strengthen their bond in an era of strife and partisanship. What follows is a three-year adventure story, across forty-four states and along 20,000 miles of road to find out exactly where the American experiment stands at the close of the second decade of the twenty-first century.

In their search, Jordan and Chris go from the tear gas-soaked streets of a Trump rally in Phoenix, Arizona to the Mexican highways running between Tijuana and Juarez. They witness the full scope of American life, from lobster trawlers and jazz clubs of Portland and New Orleans to the streets of Tulsa, Oklahoma and the prisons of Detroit, where former addicts and inmates painstakingly put their lives back together.

Union is a road narrative, a civics lesson, and an unforgettable window into one epic friendship. We ride along with Jordan and Chris for the whole journey, listening in on front-seat arguments and their conversations with Americans from coast to coast. We also peer outside the car to understand America's hot-button topics, including immigration, mass incarceration, and the military-civilian divide.

And by the time Jordan and Chris kill the engine for the last time, they answer one of the most pressing questions of our time: How far apart are we really?
Praise For Union: A Democrat, a Republican, and a Search for Common Ground…
"In their cross-country drives and the book Union that documents them, they sought common ground — ways to connect with people regardless of their beliefs."—New and Noteworthy, New York Times Book Review

"Union takes readers on a deeply personal journey through the heart of a divided nation. Haugh and Blashek discover an instinct to endure and improve that is shared by the left, the right, and the ever-narrowing center, and detail Americans' abilities to find growth, hope, and fundamental strength in their own lives."—Bob Woodward, Pulitzer Prize-winning journalist and bestselling author

"In the great tradition of American road trip sagas, Chris and Jordan set out across America. Two young people with different politics and outlooks, they were able to see the cool and inspiring things that bind us as a nation. Now more than ever, this is an important book-and also an enjoyable one!"—Walter Isaacson, author of Steve Jobs

"Union is a story of hope, beautifully told, and breathtakingly honest. It's honest about our differences, and it's revealing about all we can find in common if we take the time to look. Chris and Jordan bridge divides between each other and between Americans in a journey that's part de Tocqueville, and part Steinbeck's "Travels with Charley in Search of America." These two young Americans remind us that our country is complicated, and they find richness in the mosaic that is our fragile union. For anyone turned off by the shouting matches on cable news, open up Union and remind yourself that from the front seat of an eighteen-wheeler or the bow of a lobster boat, there's a better way to see our country and find ourselves."—John F. Kerry, 68th U.S. Secretary of State and author of Every Day is Extra

"Chris and Jordan's odyssey across America is rich with lessons for us all. Giving hope to those who want to believe 'there's more to America than gladiatorial politics,' -that a collective and singular identity exists among Americans - this account provides a foundation for national purpose absent the scorching rhetoric of our time."—General Jim Mattis, U.S. Marines (ret.)

"What our country needs right now is Union. Americans might not always get along-or see things the same way-but that doesn't have to be our undoing. Jordan and Chris capture our current moment of upheaval, yet leave readers with reasons to hold fast to what we have. This book is a unique tale told through two pairs of eyes-one that offers not just a sense for where we are, but who we are and why that still matters."—Amy Chua, Yale Law Professor and author of Battle Hymn of Tiger Mother and Political Tribes

"More than ever, America needs people like Chris and Jordan to teach and inspire us to build our own bridges across the diverse experiences and perspectives that make up our great country. Union is a book for anyone who believes in the future of America, despite this moment of polarization and divided politics. This beautiful travel log gives us hope for a more optimistic shared future."—Kerry Healey, President of the Center for the Advancement of the American Dream, former Lt. Governor of Massachusetts (R)

"Union is a lively, funny, honest and original approach to the too-familiar problem of American political divides. Blashek and Haugh offer fresh insights on the roots of division, and point to positive paths ahead."—James Fallows, co-author of Our Towns

"Blashek and Haugh's portrait of their friendship reveals both the challenges and benefits of 'argu[ing] passionately while respecting the other side.' Readers dismayed by today's hyper-partisanship will find solace in this sober-minded yet hopeful account."—Publishers Weekly

"An insightful look at contemporary America."—Kirkus Reviews

"Readers are left with a message of hope, that despite differences we are more alike than different, as Americans coming to grips with the challenges of our contemporary world. Spanning political science, memoir, and travelog, this deeply personal account should find a broad audience."—Library Journal

"At a time when it feels like partisanship has begun to undermine patriotism, Union is about how two friends came to understand each other, and our entire country, more deeply . . . It is a little uncanny how much the conversations they have on the road reflect the current situation in our streets. What emerges in their conversations, and those they had with others on their journey, is the power of our shared values even in the presence of competing beliefs, a similar hope for progress even if we have different ideas about how to achieve it."—Porchlight Books Blog
Little, Brown and Company, 9780316423793, 304pp.
Publication Date: July 21, 2020
About the Author
Jordan Blashek is a businessman, military veteran, and attorney from Los Angeles, California. After college, Jordan spent five years in the US Marine Corps as an infantry officer, serving two combat tours overseas. He holds degrees from Yale Law School, Stanford Graduate School of Business, and Princeton University. Jordan is based in New York, where he invests in entrepreneurial efforts to grow the American middle class as a part of Schmidt Futures, a philanthropic initiative founded by Eric and Wendy Schmidt.

Christopher Haugh is a writer from Kensington, California. After graduating with highest honors from the University of California, Berkeley, Chris attended Oxford University and started speechwriting as an intern in the Obama White House. He went on to join the U.S. Department of State's Policy Planning Staff where he served as a speechwriter to the Secretary. In 2018, Chris graduated from Yale Law School where he was a Yale Journalism Scholar. Chris is based in the San Francisco Bay Area and New York.