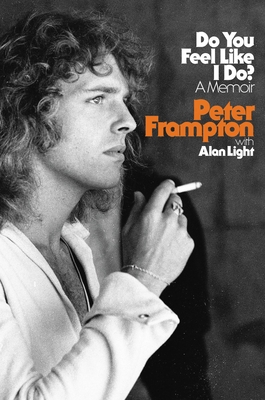 Do You Feel Like I Do?
A Memoir
Hardcover

* Individual store prices may vary.
Other Editions of This Title:
Digital Audiobook (10/19/2020)
Paperback (10/5/2021)
Compact Disc (10/20/2020)
Compact Disc (10/20/2020)
Description
From his early rise to fame to battles with his health, this revelatory memoir by legendary guitarist Peter Frampton celebrates the life of a rock icon.

Do You Feel Like I Do? is the incredible story of Peter Frampton's positively resilient life and career told in his own words for the first time. His monu-mental album Frampton Comes Alive! spawned three top-twenty singles and sold eight million copies the year it was released (more than seventeen million to date), and it was inducted into the Grammy Hall of Fame in January 2020.

Frampton was on a path to stardom from an early age, first as the lead singer and guitarist of the Herd and then as cofounder—along with Steve Marriott—of one of the first supergroups, Humble Pie. Frampton was part of a tight-knit collective of British '60s musicians with close ties to the Rolling Stones, the Beatles, and the Who. This led to Frampton playing on George Harrison's solo debut, All Things Must Pass, as well as to Ringo Starr and Billy Preston appearing on Frampton's own solo debut. By age twenty-two, Frampton was touring incessantly and finding new sounds with the talk box, which would become his signature guitar effect.

Frampton remembers his enduring friendship with David Bowie. Growing up as schoolmates, crossing paths throughout their careers, and playing together on the Glass Spider Tour, the two developed an unshakable bond. Frampton also shares fascinating stories of his collaborative work with Harry Nilsson, Stevie Wonder, B. B. King, and members of Pearl Jam. He reveals both the blessing and curse of Frampton Comes Alive!, opening up about becoming the cover boy he never wanted to be, his overcoming sub-stance abuse, and how he has continued to play and pour his heart into his music despite an inflammatory muscle disease and his retirement from the road.

Peppered throughout his narrative is the story of his favorite guitar, the Phenix, which he thought he'd lost in a fiery plane crash in 1980. But in 2011, it mysteriously showed up again—saved from the wreckage. Frampton tells of that unlikely reunion here in full for the first time, and why the miraculous reappearance is emblematic of his life and career as a quintessential artist.
Praise For Do You Feel Like I Do?: A Memoir…
"Peter Frampton lets loose with a killer solo memoir....Do You Feel Like I Do? is as much fun as hearing a talking box guitar solo for the first time."—Den of Geek

"This is Peter Frampton's story, and he tells it with refreshing candor in his wildly entertaining memoir."—The Wall Street Journal

"Peter Frampton looks back in a gentle memoir. It's a tale of talent…loss and redemption."—The Associated Press

"Frampton's renowned gift for songwriting translates to storytelling, and his vivid, conversational style lends this memoir the intimacy of a coffee shop chat -- just you, Peter Frampton, and the pressing question: 'Do you feel like I do?'"—Nashville Scene

"Many fascinating tidbits and tales."
—Magzter

"A rollickingly fun read….Frampton unflinchingly takes the reader behind the scenes, strips away the veneer of stardom, and is able to give insight into what it's been like to be this kid from South London who became a rock giant. There's loads of humor, as well as naivete…you're left with the feeling Frampton cannot believe the bonkers journey life has taken him on. An articulate autobiography from someone obviously in love with music."—Classic Rock Review

"[A] bracing new memoir."
—The Guardian

"Frampton's optimistic attitude comes through..., making it a case study in what happens when dogged determination is paired with immense talent."
—American Songwriter

"It's a fascinating read that takes you at a steady clip from Frampton's childhood memories through his days as a teen prodigy to the moment he first realized being cute could be the bane of his existence, meeting Jimi Hendrix, forming Humble Pie, cutting Frampton Comes Alive!, and every high and low along the way to his farewell tour."—USA Today

"Peter Frampton's chatty, cheerful memoir Do You Feel Like I Do? looks back on his many decades of making music with humor and insight."—Columbus Dispatch

"The memoir isn't so much a window into Frampton's life as it is a wide-open front door and a magnifying glass."—Under the Radar

"[Frampton is] an engaging storyteller....As pop memoirs go, this one could show plenty the way."
—Uncut

"Cleverly framed."
—PopMatters

"[Frampton's] unique voice and style leave you feeling the way you do after one of his guitar solos, as if it's absolutely right and distinctly his. Frampton's self-deprecation and willingness to take responsibility for his choices win readers over....[Do You Feel Like I Do] is full of appealing anecdotes involving the many musical favorites with whom Frampton has played... his determination is inspiring. Frampton provided a soundtrack for a generation; here's the story...Entertaining and rousing, on the stage and now on the page, Frampton Comes Alive."—Library Journal

"The book reads as if Frampton is speaking right to the reader, making it an easy and conversational read. For readers who love classic rock and who have read other memoirs by musicians, this book is a must-have for your collection."—That Music Mag

"A frank, hilarious, entertaining and honest read…very genuine."—Zoomer

"This is Frampton's story, sure, but it's also a trip back into '70s and '80s rock 'n' roll and a nod to Frampton's resilience."—The Toronto Star

"Fantastic."—Rock Cellar

"The incredible story of Peter Frampton's positively resilient life and career."—That Eric Alper

"A gentle, warm-hearted memoir."—MOJO

"Inspiring… [it] is not only introspective; at times, it is raw in its acknowledgment of the author's own shortcomings."—Niagara Gazette

"In a new life-spanning memoir… Frampton chronicles with a warm touch."—Tennessean

"Reads like a dream come true, albeit with a sting in the tail...Frampton's story is told well."—Irish Times

"[A] charming memoir. Frampton's story is a low-key epic without any self-aggrandizing….There's a gracefulness and kindness to Frampton's story, although it has its dark chapters. It's a rock solid memoir that, from beginning to end, is a lively journey. Few rocker memoirs portray childhoods and parents that are every bit as fascinating as the career highs, but from the beginning, Frampton lived a grand life."—Grit Daily

"A rare behind the scenes look at a man destined for stardom and musical greatness…. Frampton's bio reads like a who's who from the 1960's British Invasion…. Do You Feel Like I Do is not a dark expose, but the revelations are rather candid…. Much like his cherished 'Phenix', Frampton's life story is about resurrection, overcoming adversity, beating the odds, and finding balance in his life. Show us the way, Peter!"—Holy City Sinner

"Every once in a while, a book falls in your lap that makes you laugh, makes you cry, and leaves you feeling utterly inspired….Do You Feel Like I Do?…is an intriguing, yet supremely humble, assemblage of a life….It's quite fun to read this cleverly written book and shift through the multiple collaborations and friendships Peter Frampton developed over the years….There is a conversational air to how Frampton writes, making you feel as though he's telling these stories, from childhood to coronavirus, to you and only you….Little seemed to be off the table….Peter Frampton comes across as your next door neighbor who you chat with over tea after you've found yourself locked out of your house during a snowstorm: inviting, transparent, and easygoing. And, of course, a musician through and through."—The Aquarian

"[A] pull-no-punches autobiography….Fun stories are plentiful." —Vintage Guitar

"[Peter Frampton] writes about his peaks and valleys in rock 'n roll and beyond with both candor and grace."—High Times

"Chock full of anecdotes and interesting factoids, Do You Feel Like I Do? is an entertaining read all the way through."—Antimusic
Hachette Books, 9780316425315, 352pp.
Publication Date: October 20, 2020
About the Author
Peter Frampton is among the most celebrated guitarists in rock history. His 1976 album, Frampton Comes Alive!, remains one of the top-selling live records of all time. He co-founded one of the first supergroups, the seminal rock act Humble Pie, and he has collaborated with such legends as George Harrison, David Bowie, Jerry Lee Lewis, Bill Wyman, and Ringo Starr, among many others. 
In 2007 he won the Grammy Award for Best Pop Instrumental Album for Fingerprints, and in 2014 he was inducted into the Musicians Hall of Fame. Frampton has toured with the likes of Stevie Nicks, Gregg Allman, Lynyrd Skynyrd, Cheap Trick, Steve Miller Band, and many others. 
Frampton's latest release, All Blues, was number one for fifteen weeks on Billboard's Blues Album Chart. He has voiced himself in The Simpsons and Family Guy, and he's appeared on The Colbert Report and Madam Secretary. For Cameron Crowe's film, Almost Famous, Frampton wrote songs, served as an advisor, and played the role of Reg.
or
Not Currently Available for Direct Purchase