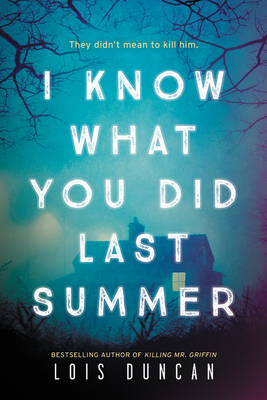 I Know What You Did Last Summer (Paperback)
Little, Brown Books for Young Readers, 9780316425353, 240pp.
Publication Date: May 5, 2020
Other Editions of This Title:
Digital Audiobook (10/4/2010)
Paperback (10/5/2010)
Pre-Recorded Audio Player (10/15/2010)
Prebound (10/5/2010)
Prebound (10/5/2010)
Paperback (3/1/2011)
(1/1/1999)
* Individual store prices may vary.
Description
Four teens fight to outsmart a killer who intends to avenge a young boy's death in this suspenseful thriller that inspired the classic horror film.
After a party, four teens are in a hit-and-run accident that results in a young boy's death. Unable to deal with the consequences, they leave the body behind and make an anonymous phone call to the police, tipping them off.
The group makes a secret pact to bury the memory of that night and never speak of it again, but when one of the girls receives a note that reads "I know what you did last summer," their dark lie is unearthed. With twists and turns at every corner, they'll have to fight to stay steps ahead of a killer determined to make them pay.
About the Author
Lois Duncan was an acclaimed suspense author for young adults. She published nearly fifty books for children, including I Know What You Did Last Summer and Down a Dark Hall, which were both adapted into movies, and Who Killed My Daughter?, a non-fiction book about the harrowing experience of her daughter's murder.
Praise For I Know What You Did Last Summer…
Praise for Lois Duncan:
"Lois Duncan is the patron saint of all things awesome."
—
Jenny Han, New York Times bestselling author of To All the Boys I've Loved Before series
"Lois Duncan has always been one of my biggest inspirations. I gobbled up her novels, reading them again and again and scaring myself over and over. She's a master of suspense, so prepare to be dazzled and spooked!"—
Sara Shepard, New York Times bestselling author of the Pretty Little Liars series
"I couldn't be more pleased that Lois Duncan's books will now reach a new generation of readers."—
Judy Blume, New York Times bestselling author of Forever and Tiger Eyes
"She knows what you did last summer. She knows how to find that secret evil in her characters' hearts, evil that she turns into throat-clutching suspense in book after book. Does anyone write scarier books than Lois Duncan? I don't think so."—
R.L. Stine, New York Times bestselling author of the Goosebump and Fear Street series
"There are a lot of smart authors, and a lot of authors who right reasonably well. Lois Duncan is smart, writes darn good books and is one of the most entertaining authors in America."—
Walter Dean Myers, Printz award-winning author of Monster and Dope Sick
"Lois Duncan's books kept me up many a late night reading under the covers with a flashlight!"—
Wendy Mass, author of Leap Day and Heaven Looks a Lot Like the Mall