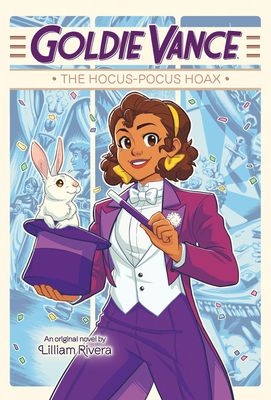 Goldie Vance (Hardcover)
The Hocus-Pocus Hoax
Little, Brown Books for Young Readers, 9780316427593, 256pp.
Publication Date: January 5, 2021
* Individual store prices may vary.
Description
Move over, Nancy Drew--there's a new detective in town! Inspired by the beloved comic series, Goldie Vance is ready to sleuth her way through never-before-seen mysteries in this second original novel by Lilliam Rivera featuring 16 full-color comic pages!
Marigold "Goldie" Vance lives and works at the Crossed Palms Resort Hotel in Florida with a whole slew of characters: her dad, Art, the manager of the joint; Cheryl Lebeaux, the concierge and Goldie's best friend; and Walter Tooey, the hired hotel detective. Her mom, Sylvie, works nearby at the Mermaid Club.
Prepare to be amazed by Goldie's second middle-grade adventure! The Crossed Palms is hosting the first ever League of Magical Arts Convention, bringing the world's most renowned and emerging magicians to the resort, including an overeager part-time magician and detective named Derek Von Thurston. When some of the magic starts to go awry, Goldie--and Derek--are on the case! Can Goldie uncover the saboteur before the final act goes live?
Based on Hope Larson and Brittney Williams's critically acclaimed Goldie Vance comic, this thrilling novel explores a never-before-seen caper and features 16 full-color comic pages essential to unraveling the mystery.
Text and Illustration copyright: © 2021 BOOM! Studios
Goldie Vance(TM) and © 2021 Hope Larson & Brittney Williams
About the Author
Lilliam Rivera is the award-winning author of Dealing in Dreams and The Education of Margot Sanchez. She was nominated for a 2019 Rhode Island Teen Book Award, a 2017 Best Fiction for Young Adult Fiction by the Young Adult Library Services Association (YALSA), and has been featured on NPR, New York Times Book Review, New York magazine, MTV.com, and Teen Vogue, among others. Lilliam lives in Los Angeles.
Praise For Goldie Vance: The Hocus-Pocus Hoax…
Praise for Goldie Vance: The Hotel Whodunit:
"Goldie's endless optimism and belief in herself inspire while creating amusing moments in this satisfying gumshoe mystery. Comic book inserts by animator Power further enliven action-packed segments."
—
Publishers Weekly
"[...] [S]he [Rivera] shows herself to be skilled at combining noir language conventions with contemporary sensibilities in a way that doesn't feel anachronistic but is just a gas! [...] This biracial, LGBTQ protagonist seamlessly shifts from comics to prose in a winner of a series opener."—
Kirkus
"Readers will love Goldie, an ambitious female lead who challenges gender roles, is gay, and is not to be underestimated. [...] A great purchase for middle grade collections, especially those whose readers are looking for their next boisterous supersleuth."—
School Library Journal