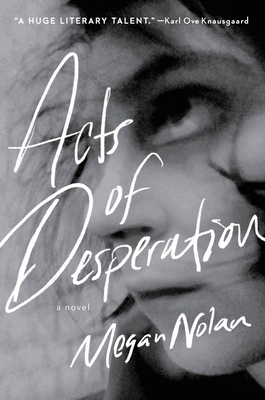 Acts of Desperation
Hardcover

* Individual store prices may vary.
Other Editions of This Title:
Compact Disc (3/9/2021)
Description
Heralding the arrival of "a huge literary talent" (Karl Ove Knausgaard), Megan Nolan's riveting debut is "a blistering anti-romance" (Catherine Lacey) about love addiction and what it does to us.

Wouldn't I do anything to reverse my loss, the absence of him?

In the first scene of this provocative gut-punch of a novel, our unnamed narrator meets a magnetic writer named Ciaran and falls, against her better judgment, completely in his power. After a brief, all-consuming romance he abruptly rejects her, sending her into a tailspin of jealous obsession and longing. If he ever comes back to her, she resolves to hang onto him and his love at all costs, even if it destroys her…
 
Part breathless confession, part lucid critique, Acts of Desperation renders a consciousness split between rebellion and submission, between escaping degradation and eroticizing it, between loving and being lovable. With unsettling, electric precision, Nolan dissects one of life's most elusive mysteries: Why do we want what we want, and how do we want it?
 
Combining the intellectual excitement of Rachel Cusk with the emotional rawness of Elena Ferrante, Acts of Desperation interrogates the nature of desire, power, and toxic relationships, challenging us to reckon honestly with our own insatiability.
Praise For Acts of Desperation…
"Megan Nolan is a huge literary talent, and her first novel, Acts of Desperation, is a love story like no other. The writing is intense and honest, with a rare access to real life, but it is also reflective and full of insights, and with this combination the novel manages to separate the idea of love and the experience of it, and take the reader to the place where it comes into being."
 —KARL OVE KNAUSGAARD

"Megan Nolan writes with piercing vulnerability and precision. Her debut novel, Acts of Desperation is a blistering anti-romance about the seductive destruction of trying to find self-worth in the gaze of another."—CATHERINE LACEY, author of PEW and THE ANSWERS

"I devoured this book, my heart trilling with equal parts terror and exhilaration. It is an emotional thriller, a portrait of obsession—its pleasures and powerlessness, its inevitable corruption not only of integrity, but even selfhood. Nolan's prose is cool and liquid, her content perfectly scorching. I loved this taut and torturous ode to the parts of us that persist, even as we are wrecked by love."
 —MELISSA FEBOS, author of ABANDON ME and WHIP SMART

"Remarkable…This mesmerizes from the first page."
 —PUBLISHERS WEEKLY (Starred Review)

"Nolan spins romantic obsession into literary gold…It's no surprise that Megan Nolan's ACTS OF DESPERATION is already being called the next Normal People…Nolan, a more bruising writer than Rooney, is also a braver one in many ways—or one with the courage, at least, to let her characters be ugly in a way that Normal rarely does….If Nolan as a novelist weren't so deeply smart and self-aware, you might want to shake her wounded protagonist out of it. Instead there's just the sharp kick of recognition—and sympathy."
 —ENTERTAINMENT WEEKLY

"Acts of Desperation charts the obsession of an unnamed narrator…with forensic focus and biting honesty."
 —THE OBSERVER, 10 Best Debut Novelists of 2021
Little, Brown and Company, 9780316429856, 288pp.
Publication Date: March 9, 2021
About the Author
Megan Nolan lives in London and was born in 1990 in Waterford, Ireland. She has a robust and devoted following for her writing which includes essays, fiction and reviews published widely including in the New York Times, the White Review, the Sunday Times, the Village Voice, the Guardian, and in the literary anthology, Winter Papers. Regular columns of her cultural commentary appear in i newspaper, Huck Magazine and the New Statesman. Acts of Desperation is her first novel.