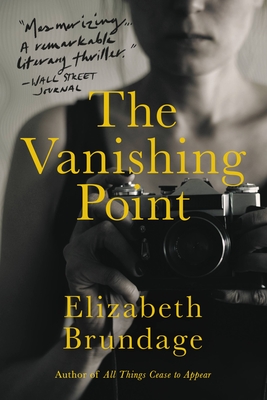 The Vanishing Point
A Novel
Paperback

* Individual store prices may vary.
Other Editions of This Title:
Digital Audiobook (5/17/2021)
Hardcover (5/18/2021)
Compact Disc (5/18/2021)
Description
From the author of the "wrenching and exhilarating" All Things Cease to Appear comes a gripping literary thriller about a man reckoning with the mysterious death of his former roommate (Wall Street Journal).
Julian Ladd and Rye Adler cross paths as photography students in the exclusive Brodsky Workshop.  When Rye needs a roommate, Julian moves in, and a quiet, compulsive envy takes root, assuring, at least in his own mind, that he will never achieve Rye's certain success.  Both men are fascinated with their beautiful and talented classmate, Magda, whose captivating images of her Polish neighborhood set her apart, and each will come to know her intimately – a woman neither can possess and only one can love.   
Twenty years later, long after their paths diverge, Rye is at the top of his field, famous for his photographs of celebrities and far removed from the downtrodden and disenfranchised subjects who'd secured his reputation as the eye of his generation. When Magda reenters his life, asking for help only he can give, Rye finds himself in a broken landscape of street people and addicts, forcing him to reckon with the artist he once was, until his search for a missing boy becomes his own desperate fight to survive.  
Months later, when Julian discovers Rye's obituary, the paper makes it sound like a suicide.  Despite himself, Julian attends the funeral, where there is no casket and no body.  This sudden reentry into a world he thought he left behind forces Julian to question not only Rye's death, but the very foundations of his life.  
In this eerie and evocative novel, Elizabeth Brundage establishes herself as one of the premiere authors of literary fiction at work today.
Praise For The Vanishing Point: A Novel…
"This mesmerizing and unpredictable saga unspools in crisp sequences that shift back and forth in time, with love and jealousy bubbling throughout. Elizabeth Brundage, author of the stunning 2017 novel "All Things Cease to Appear," has written yet another masterpiece."—Wall Street Journal

"Ms. Brundage, author of the superb All Things Cease to Appear (2016), has written another remarkable literary thriller…in this emotionally powerful work [she] leads us to an unforgettable truth, through scenes of searing intensity and luminous prose."—Tom Nolan, Wall Street Journal

"A dark and moody literary mystery, centered on three photographers caught in a love triangle, Brundage's stylish novel probes the relentless demands of real-world problems on artists and their work."—The New York Times Book Review

"An ambitious, literary novel, The Vanishing Point is distinguished by its characterizations, its pervasive air of melancholy, and its beautiful style. Not surprisingly, there is a great deal of thought-provoking attention given to the meaning and aesthetics of photography, and, like great photography, the novel is ultimately a work of memorable art."—Booklist (starred review)

"Elizabeth Brundage's The Vanishing Point proves that she's one of the very best novelists writing today. It touches on crises that are politically immediate, of the moment, from climate change to income inequality to drug addiction. It gifts the reader with wisdom and insight. The novel brings into the sharpest focus how precious this thing is called life."—Adam Ross, author of Mr. Peanut

"In this dark-toned mystery, Brundage develops an engrossing story about a love triangle involving three photographers. . . . The first half of the novel brilliantly dissects the competitive and erotic entanglements that mark the characters, and Brundage is particularly good at using photographic theory to describe how each sees the world."—Publishers Weekly

"The interwoven lives of artists, failed and successful. . . . Brundage's characters are convincing . . . well-written and affecting."—Kirkus Reviews

"A novel about what is seen, but also what remains unseen in our lives. The interplay between the two is what makes great photography, a great story, and what makes The Vanishing Point a beautiful work of art."—Elliot Ackerman, author of Red Dress in Black and White

Praise for All Things Cease to Appear
A 2016 Thriller of the Year (Wall Street Journal)

"Lyrically written, frequently shocking and immensely moving . . . It was, perhaps, for such extraordinary books that the term 'literary thriller' was coined."—Wall Street Journal

"A marriage, a sociopath, a family destroyed by the economy, the things we do for love -- all finely drawn. . . . In the end, justice is done and redemption found, though not at one might expect, which makes the book all the more satisfying."—Vanessa Friedman, New York Times Book Review
Back Bay Books, 9780316430388, 336pp.
Publication Date: October 25, 2022
About the Author
Elizabeth Brundage is the author of four previous novels, including All Things Cease to Appear, which was a WSJ best mystery of 2016, and was the basis for the Netflix film Things Heard and Seen. She is a graduate of the Iowa Writers' Workshop where she received a James Michener Award, and attended the American Film Institute in Los Angeles. Her writing has appeared in The New York Times Book Review, Witness, New Letters, Greensboro Review and elsewhere. She has taught at several colleges and universities and lives with her family in Albany, New York.