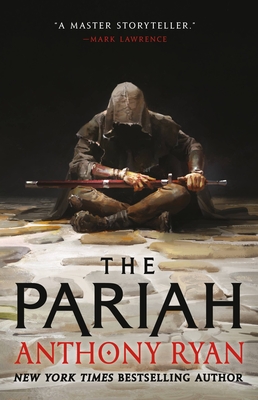 The Pariah (The Covenant of Steel #1)
Paperback

* Individual store prices may vary.
Other Editions of This Title:
Digital Audiobook (8/23/2021)
Compact Disc (8/24/2021)
Description
"A gritty, heart-pounding tale of betrayal and bloody vengeance. I loved every single word." —John Gwynne

The Pariah begins a new epic fantasy series of action, intrigue and magic from Anthony Ryan, a master storyteller who has taken the fantasy world by storm.
 Born into the troubled kingdom of Albermaine, Alwyn Scribe is raised as an outlaw. Quick of wit and deft with a blade, Alwyn is content with the freedom of the woods and the comradeship of his fellow thieves. But an act of betrayal sets him on a new path - one of blood and vengeance, which eventually leads him to a soldier's life in the king's army.
 
Fighting under the command of Lady Evadine Courlain, a noblewoman beset by visions of a demonic apocalypse, Alwyn must survive war and the deadly intrigues of the nobility if he hopes to claim his vengeance. But as dark forces, both human and arcane, gather to oppose Evadine's rise, Alwyn faces a choice: can he be a warrior, or will he always be an outlaw?

"This makes a rich treat for George R.R. Martin fans." —Publishers Weekly (starred review)
 For more from Anthony Ryan, check out: Raven's Shadow TrilogyBlood SongTower LordQueen of Fire Raven's Blade DuologyThe Wolf's CallThe Black Song The Draconis Memoria TrilogyThe Waking FireThe Legion of FlameThe Empire of Ashes
Praise For The Pariah (The Covenant of Steel #1)…
"Gritty and well-drawn, this makes a rich treat for George R.R. Martin fans."—Publishers Weekly (starred review)

"A gritty, heart-pounding tale of betrayal and bloody vengeance. I loved every single word."—John Gwynne

"A master storyteller."—Mark Lawrence

"In The Pariah Ryan creates a wonderfully slow burn and a protagonist who resonates in spite of – or because of — his flaws. I loved wandering with Alwyn from one scrape to the next, and I'm ready for more."—Django Wexler

"The Pariah is Anthony Ryan at his best. A fast-paced, brutal fantasy novel with larger than life characters and a plot full of intrigue and suspense. With bloody twists and turns aplenty, this novel is destined to become a favorite of the grimdark community."—Grimdark Magazine

"Fans of broadscale epic fantasy along the lines of Robert Jordan's Wheel of Time series and George R. R. Martin's Song of Ice and Fire novels should find this debut much to their liking."—Library Journal on Blood Song

"[Blood Song] certainly has it all: great coming-of-age tale, compelling character and a fast-paced plot. If [Ryan's] first book is any indication of things to come, then all fantasy readers should rejoice."—Michael J. Sullivan on Blood Song

"Ryan hits all the high notes of epic fantasy--a gritty setting, ancient magics, ruthless intrigue, divided loyalties and bloody action."—Publishers Weekly on Blood Song

"A page-turner."—Booklist on Blood Song

"Readers who enjoy their fantasy fast and furious will find Ryan's latest to be an immensely satisfying, top-notch adventure fantasy."—Kirkus on Wolf's Call

"Robin Hobb meets Joe Abercrombie in a story that delivers so many gut-wrenching blows. This is fantasy with a totally legendary feel; it's epic in every regard."—Fantasy Book Review on The Wolf's Call

"[A] thrilling deep dive into fantasy warfare."—Publishers Weekly on The Wolf's Call
Orbit, 9780316430760, 608pp.
Publication Date: August 24, 2021
About the Author
Anthony Ryan lives in London and is the New York Times bestselling author of the Raven's Shadow and Draconis Memoria series. He previously worked in a variety of roles for the UK government, but now writes full time. His interests include art, science and the unending quest for the perfect pint of real ale.