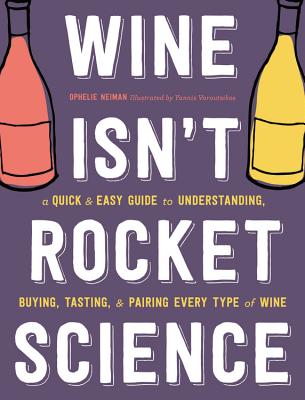 Wine Isn't Rocket Science (Hardcover)
A Quick and Easy Guide to Understanding, Buying, Tasting, and Pairing Every Type of Wine
Black Dog & Leventhal, 9780316431309, 272pp.
Publication Date: April 4, 2017
* Individual store prices may vary.
Description
Rocket science is complicated, wine doesn't have to be! With information presented in an easy, illustrated style, and chock-full of the fool-proof and reliable knowledge of a seasoned oenophile,
Wine Isn't Rocket Science
is the guide you always wished existed. From how grapes are grown, harvested and turned into wine, to judging the color, aroma, and taste of the world's most popular varietals, to understanding terroir and feeling confident ordering and serving wine at any occasion, this book explains it all in the simplest possible way. Every page, every piece of information, and every detail is illustrated in charming and informative four-color drawings that explain concepts at a glance.
Includes detailed information on the following varietals (wine made from a particular grape) in the order in which they're presented in the book:
White
Chardonnay
Sauvignon Blanc
Chenin
Gewürztraminer
Viognier
Semillon
Riesling
Marsanne Blend
Rolle-Vermentino
Muscat
Pinot Grigio/Gris
Pinot Blanc
Albarino
Torrontes
Gruner Veltliner
Assyrtiko
Champagne
Cava
Prosecco
Red
Pinot Noir
Cabernet-Sauvignon
Merlot
Cabernet-Franc
Malbec
Petit Verdot
Bordeaux Blend
Syrah
Grenache
Mourvedre
Carignan
Rhone/GSM Blend
Gamay
Nebbiolo
Sangiovese
Barbera
Valpolicella Blend
Aglianico
Montepulciano
Nero D'Avola
Negroamaro
Zinfandel
Petit Sirah
Carmenere
Tempranillo
Mencia
Touriga Nacional
Pinotage
Blaufrankisch
Dessert
Port
Sherry
Marsala
Madeira
Vin Santo
Sauternes
Tokaji
Ice Wine
About the Author
Ophelie Neiman is the author of the wine blog Miss GlouGlou. Hosted on the LeMonde website, it's one of the most popular wine blogs in France. Wine Isn't Rocket Science is her first book and it has been translated into 11 languages. She lives in France.
Yannis Varoutsikos
is an illustrator and graphic designer. He is artistic director at Woll Beer and founder of the website Good Manners, which sells bags and accessories for men. He lives in France.