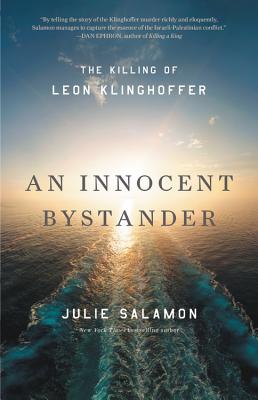 An Innocent Bystander (Hardcover)
The Killing of Leon Klinghoffer
Little, Brown and Company, 9780316433105, 368pp.
Publication Date: June 11, 2019
Other Editions of This Title:
Paperback (4/21/2020)
Compact Disc (6/11/2019)
Pre-Recorded Audio Player (8/11/2019)
Compact Disc (6/11/2019)
* Individual store prices may vary.
Description
The definitive story of one American family at the center of a single, shocking act of international terrorism that "manages to capture the essence of the Israeli-Palestinian conflict" (Dan Ephron).
On October 3, 1985, Leon Klinghoffer, a disabled Jewish New Yorker, and his wife boarded the Achille Lauro to celebrate their 36th wedding anniversary with a Mediterranean cruise. Four days later, four Palestinian fedayeen hijacked the Italian luxury liner and took the passengers and crew hostage. Leon Klinghoffer was shot in the head, his body and wheelchair thrown overboard. His murder became a flashpoint in the intractable struggle between Israelis and Arabs and gave Americans a horrifying preview of what it means when terrorism hits home.
In this richly reported book, drawing on multiple perspectives, Julie Salamon dispels the mythology that has grown around that shattering moment. What transpired on the Achille Lauro left the Klinghoffer family in the grip of irredeemable sorrow, while precipitating tragic reverberations for the wives and sons of Abu al-Abbas, the Palestinian mastermind behind the hijacking, and the family of Alex Odeh, a Palestinian-American murdered in Los Angeles in a brutal act of retaliation.
Through intimate interviews with almost all living participants, including one of the hijackers, Julie Salamon brings alive the moment-by-moment saga of the hijacking and the ensuing U.S.-led international manhunt; the diplomatic wrangling between the United States, Egypt, Italy, and Israel; the long agonizing search for justice; and the inside story of the controversial opera about the Klinghoffer tragedy that provoked a culture war.
An Innocent Bystander is a masterful work of journalism that moves between the personal and the global with the pace of a geopolitical thriller and the depth of a psychological drama. Throughout lies the tension wrought by terrorism and its repercussions today.
About the Author
Author and journalist Julie Salamon has written notable nonfiction books about show business, philanthropy, the Holocaust, the insanity defense, and modern medical care. Her ten previous works include several bestsellers and two novels for children. She was a reporter and critic for the Wall Street Journal and the New York Times.
Praise For An Innocent Bystander: The Killing of Leon Klinghoffer…
"[Salamon's] book's greatest contribution is the way that it humanizes the political ordeal...her book offers valuable insight. "—The New York Times Book Review

"Salamon provides a
360-degree view of the tragic, endless cycle of the killing of innocents."—Minneapolis Star Tribune

"Leon Klinghoffer's death became a symbol for
many of the costs and fears of terrorism. Julie Salamon has written a book
about that moment and the human threads that followed in a way that depicts the
Israeli-Palestinian conflict."—NPR

"An Innocent Bystander tells the awful story of
Palestinian terrorists hijacking an Italian cruise ship. It also explains how
competing governments, complicated treaties and outright lies kept the four
attackers from ever facing American justice...Julie Salamon strives to be
scrupulously fair. Her book focuses not only on the captives but also on the
captors."—New York Daily News

"In a book that reads like a spy thriller and a closely-observed
narrative of the Israeli-Palestinian conflict, Julie Salamon asserts that
Klinghoffer was shot not because he was a Jew but because he was an American. An Innocent Bystander: The Killing of Leon Klinghoffer is
based on Salamon's access to newly-unclassified material and interviews with
many of the key figures who are still alive - including several who hadn't
spoken out previously.—Jewish Week

"By telling the story of the Klinghoffer murder richly and elegantly, Salamon manages to capture the essence of the Israeli-Palestinian conflict-the injustice, the desperation, the horror, and the folly. Her book sparkles with insight."—Dan Ephron, author of Killing a King: The Assassination of Yitzhak Rabin and the Remaking of Israel

"A gripping, profoundly moving and insightful examination of the Achille Lauro tragedy from multiple perspectives."—Saul David, author of Operation Thunderbolt: Flight 139 and the Raid on Entebbe Airport, the Most Audacious Hostage Rescue Mission in History

"Julie Salamon's An Innocent Bystander is an empathetic and deeply researched account of how families across the globe deal with the loss and pain borne out of the Israel-Palestine conflict."—Moustafa Bayoumi, author of How Does It Feel To Be a Problem?: Being Young and Arab in America

"The wise and fearless Julie Salamon has once again used her astounding journalistic gifts to excavate an essential story. Her elegantly constructed account of the Achille Lauro hijacking and its bitter aftermath illuminates how the specter of modern terrorism has sown hostility throughout the world. Yet the book is at its most poignant when exploring the personal rather than political: Salamon's ingenious storytelling deepens our understanding of how human beings find the strength to cope with the incomprehensible."—-Brendan I. Koerner, author of The Skies Belong to Us and Now the Hell Will Start

"Salamon plucks the story of the killing of one man out of the rush of history and holds it up for nuanced consideration. In so doing, she shows us how the events around a single murder continue to ripple outward, through the families of both the murder victim and the man who set that murder in motion. An illuminating, necessary book."
—J T Rogers, Oslo

"Researching the events, repercussions and the search for justice, Salamon interviews most of the participants who are still living, including one of the hijackers, and creates a powerful and provocative narrative."—The Jewish News

"This moving story stands as the most in-depth look at the hijacking to date. Salamon reinforces her place as one of today's foremost chroniclers of American politics and culture."—Publishers Weekly, Starred Review

"In this gripping account, former Wall Street Journal and New York Times reporter and critic Salamon adeptly reveals the parallel lives of the well-educated and privileged wife of the leader of the Palestinian Liberation Front and the successful, New York City-bred daughters of abductees Marilyn and Leon Klinghoffer. Salamon's account of the strategizing of Palestinian, Israeli, and American diplomats, followed by the soldiers' captures and subsequent escapes, are as engaging as a spy novel... An engrossing narrative of a notorious act of terror."—Kirkus