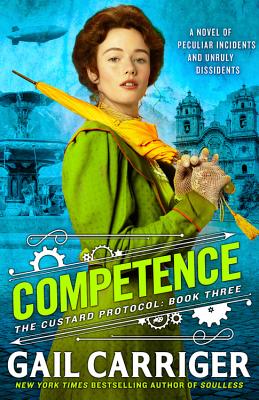 Competence (Custard Protocol #3) (Paperback)
Orbit, 9780316433853, 352pp.
Publication Date: February 5, 2019
Other Editions of This Title:
Digital Audiobook (7/16/2018)
Hardcover (7/17/2018)
CD-Audio (7/17/2018)
Compact Disc (7/17/2018)
* Individual store prices may vary.
Description
From New York Times bestselling author Gail Carriger comes the delightful sequel to Imprudence.
Accidentally abandoned!
All alone in Singapore, proper Miss Primrose Tunstell must steal helium to save her airship, the Spotted Custard, in a scheme involving a lovesick werecat and a fake fish tail.
When she uncovers rumors of a new kind of vampire, Prim and the Custard crew embark on a mission to Peru. There, they encounter airship pirates and strange atmospheric phenomena, and are mistaken for representatives of the Spanish Inquisition. Forced into extreme subterfuge (and some rather ridiculous outfits) Prim must also answer three of life's most challenging questions:
Can the perfect book club give a man back his soul?
Will her brother ever stop wearing his idiotic velvet fez?
And can the amount of lard in Christmas pudding save an entire species?
Custard Protocol
Prudence
Imprudence
Competence
For more from Gail Carriger, check out:
Parasol Protectorate
Soulless
Changeless
Blameless
Heartless
Timeless
About the Author
New York Times bestselling author Gail Carriger writes to cope with being raised in obscurity by an expatriate Brit and an incurable curmudgeon. She escaped small town life and inadvertently acquired several degrees in Higher Learning. Ms. Carriger then traveled the historic cities of Europe, subsisting entirely on biscuits secreted in her handbag. She resides in the Colonies, surrounded by fantastic shoes, where she insists on tea imported from London.

Praise For Competence (Custard Protocol #3)…
"Carriger excels at wry humor and clever phrasing, and her ensemble cast is thoroughly charming and satisfyingly diverse. There's a genuine sense of whimsy and fun running throughout this story."—Publishers Weekly

"Carriger's trademark wit and whimsy are in evidence from the very first sentence, and the result is an inventive madcap adventure."—RT Book Reviews on Imprudence

"Blending steampunk and urban fantasy in a colorful alternate Victorian England, Carriger presents a grand cast of characters on a harrowing adventure that stretches from England to India... Filled with lavish fashions, supernatural high society, and witty dialogue, this story is a fine introduction to a fabulous new series."—Booklist on Prudence

"Carriger maintains a droll, tongue-in-cheek tone, and her protagonists are as concerned with witty banter and fashionable hats as they are with fighting for their lives. Series fans will enjoy this mischievous romp, which revisits old favorites while raising a new crop of charming characters."—Publishers Weekly on Prudence

"Readers who delighted in Carriger's Parasol Protectorate will be entranced by the familiar cast and trademark wit of the new Custard Protocol series...Behind the delightful whimsy and snarky observations, there is a great deal of heart and soul."—RT Book Reviews on Prudence

"The author's humor and affection for her outlandish characters is always appealing. A fun launch."—Library Journal on Prudence

"Soulless has all the delicate charm of a Victorian parasol, and all
the wicked force of a Victorian parasol secretly weighted with brass
shot and expertly wielded. Ravishing."—Lev Grossman

"The dialogue is as smart and snappy as ever, full of intelligent humor and artful verbal sparring."—All Things Urban Fantasy on Changeless

"Changeless is equal to Soulless: witty, sexy, graceful, and unpredictable. With a few more novels, this delightful, Ms. Carriger will be challenging Laurell K. Hamilton and Charlaine Harris for the top of the New York Times bestseller lists."—Fantasy Magazine on Changeless

"Carriger delivers surprises with every book, and this one is no exception. With action, intrigue, and above all, proper manners, this excellent series will have broad appeal to readers of steampunk, urban fantasy, and paranormal and historical romance."—Library Journal on Heartless

"The world of Timeless is a unique recipe of steampunk and fantasy spiced with light sprinkling of romance. Its setting is rich for characters to romp about in, but the unbridled playfulness of the language and dialogue shines brightest."—The Miami Herald