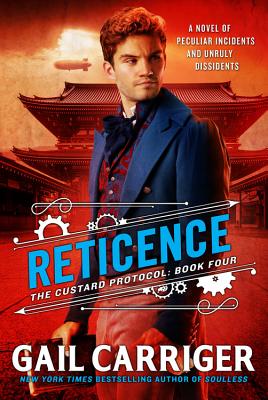 Reticence (The Custard Protocol #4)
Hardcover

* Individual store prices may vary.
Other Editions of This Title:
Digital Audiobook (8/5/2019)
Paperback (2/4/2020)
Compact Disc (8/6/2019)
Description

Bookish and proper Percival Tunstell finds himself out of his depth when floating cities, spirited plumbing, and soggy biscuits collide in this delightful conclusion to NYT bestselling author Gail Carriger's Custard Protocol series.
Percival Tunstell loves that his sister and her best friend are building themselves a family of misfits aboard their airship, the Spotted Custard. Of course, he'd never admit that he belongs among them. He's always been on the outside - dispassionate, aloof, and hatless. But accidental spies, a trip to Japan, and one smart and beautiful doctor may have him renegotiating his whole philosophy on life.
Except hats. He's done with hats. Thank you very much.
Custard ProtocolPrudenceImprudenceCompetenceReticence
For more from Gail Carriger, check out:
Parasol ProtectorateSoullessChangelessBlamelessHeartlessTimeless
Praise For Reticence (The Custard Protocol #4)…
"Charming... Carriger's prose is playful and droll, with frequent laugh-worthy moments, tongue-in-cheek humor, and sparkling repartee."—Publishers Weekly

"Carriger excels at wry humor and clever phrasing, and her ensemble cast is thoroughly charming and satisfyingly diverse. There's a genuine sense of whimsy and fun running throughout this story."—Publishers Weekly on Competence

"Carriger's trademark wit and whimsy are in evidence from the very first sentence, and the result is an inventive madcap adventure."—RT Book Reviews on Imprudence

"Blending steampunk and urban fantasy in a colorful alternate Victorian England, Carriger presents a grand cast of characters on a harrowing adventure that stretches from England to India... Filled with lavish fashions, supernatural high society, and witty dialogue, this story is a fine introduction to a fabulous new series."—Booklist on Prudence

"Carriger maintains a droll, tongue-in-cheek tone, and her protagonists are as concerned with witty banter and fashionable hats as they are with fighting for their lives. Series fans will enjoy this mischievous romp, which revisits old favorites while raising a new crop of charming characters."—Publishers Weekly on Prudence

"Readers who delighted in Carriger's Parasol Protectorate will be entranced by the familiar cast and trademark wit of the new Custard Protocol series...Behind the delightful whimsy and snarky observations, there is a great deal of heart and soul."—RT Book Reviews on Prudence

"The author's humor and affection for her outlandish characters is always appealing. A fun launch."—Library Journal on Prudence
Orbit, 9780316433914, 352pp.
Publication Date: August 6, 2019
About the Author
New York Times bestselling author Gail Carriger writes to cope with being raised in obscurity by an expatriate Brit and an incurable curmudgeon. She escaped small town life and inadvertently acquired several degrees in Higher Learning. Ms. Carriger then traveled the historic cities of Europe, subsisting entirely on biscuits secreted in her handbag. She resides in the Colonies, surrounded by fantastic shoes, where she insists on tea imported from London.