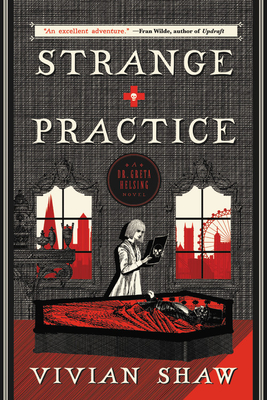 Strange Practice (A Dr. Greta Helsing Novel)
Paperback

* Individual store prices may vary.
Other Editions of This Title:
Digital Audiobook (7/24/2017)
Description
The first book in a delightfully witty fantasy series in which Dr. Greta Helsing, doctor to the undead, must defend London from both supernatural ailments and a bloodthirsty cult

Greta Helsing inherited her family's highly specialized and highly peculiar medical practice. In her consulting rooms, Dr. Helsing treats the undead for a host of ills: vocal strain in banshees, arthritis in barrow-wights, and entropy in mummies. Although she barely makes ends meet, this is just the quiet, supernatural-adjacent life Greta's been groomed for since childhood.

Until a sect of murderous monks emerges, killing human and undead Londoners alike. As terror takes hold of the city, Greta must use her unusual skills to stop the cult if she hopes to save her practice and her life.

Praise for the Dr. Greta Helsing Novels:

"An exceptional and delightful debut, in the tradition of Good Omens and A Night in the Lonesome October."―Elizabeth Bear, Hugo-award winning author

"Shaw balances an agile mystery with a pitch-perfect, droll narrative and cast of lovable misfit characters. These are not your mother's Dracula or demons."―Shelf Awareness

Dr. Greta Helsing Novels
Strange Practice 
Dreadful Company
Grave Importance
Praise For Strange Practice (A Dr. Greta Helsing Novel)…
"An excellent adventure."—Fran Wilde, award-winning author of Updraft, Cloudbound, and Horizon

"Strange Practice is written with elegance, wit, and compassion. The prose is gorgeous, the wit is mordant, and the ideas are provocative. Also, there are ghouls."—Laura Amy Schlitz, Newbery Medal winner

"A satisfying and surprising read, with rich imagery, nuance, and real compassion for its characters--give Strange Practice a shot!"—Elliott James, author of Charming

"An exceptional and delightful debut, in the tradition of Good Omens and A Night in the Lonesome October."—Elizabeth Bear, Hugo-award winning author

"A darkly delicious adventure featuring a quirky new heroine. Strange Practice breathes new life into the undead."—James Bennett, author of Chasing Embers

"Shaw's lively debut introduces a great cast of characters who should sustain this new series for many volumes to come.... Shaw brings her Victorian monsters into the modern age."—Library Journal

"Shaw balances an agile mystery with a pitch-perfect, droll narrative and cast of lovable misfit characters. These are not your mother's Dracula or demons ... Strange Practice is a super(natural) read."—Shelf Awareness

"An appropriately dark breath of fresh air."—Booklist

"Readers will look forward to more of Greta's adventures. An imaginative, delightfully droll debut."—Kirkus

"A book to settle into. A warm quilt of a thing that's made for curling up with ... I miss this newest Helming already."—NPR

"This book is a joy to read, unlocking every bit of delicious promise in the premise."—B&N Sci-Fi & Fantasy Blog

"What a splendid adventure this is - Dr. Greta Helming is a brilliant character, world-weary doctor on-call at all hours, sorting out the ills of the undead and trying to run her Harley Street practice without drawing too much (or any) attention to her patients from the living world ... a splendid new urban fantasy series."—Espressococo

"Strange Practice surprises and delights. It's completely different from anything I've read before. It ticks so many boxes: action, mystery, suspense, an exciting and different world adjacent to our own to name but a few. But the greatest elements of the book are the characters. They shine."—The Bookbag

"Enchanted me from the very first page ... I just couldn't put it down. When I say that there is nothing like this book out there, I mean it, and that's a damn good thing."—Book Worm Blues

"Occasionally I can pick up a book, start to read and know within a couple of pages that I am going to be absolutely hooked. Strange Practice is a splendid case in point. Vampires, demons, ghouls, supernatural cults and all manner of inexplicable jiggery-pokery. What's not to love? I can only hope Vivian Shaw writes many more Greta Helming novels ... I can tell you now that if she does write more I'll be first in line to read them."—The Eloquent Page

"A delightful ensemble mystery featuring some of literature's favorite vampires (and one really great demon)."—NPR

"An absolute delight to read ... this is a remarkably well-realized world and cast of characters; it really isn't very long before you find yourself not only enjoying the story but the world demi-monde Greta moves in, a world where you can take the regular London Bus or Underground but which also has ghouls in the sewers, or Lord Ruthven in his Embankment House grand home."—Forbidden Planet

"For a book filled with creatures who ironically want to suck your blood, by the end it is a radiantly positive, life-affirming tale that won me over surprisingly quickly and with effortless prose that simply engages the reader from the start ... But most of all, and perhaps surprisingly for a book filled with monsters, Strange Practice has a lot of heart. The characters clearly care for each other and their mutual investment in each other's well-being leads to a book where you want to see that all is well. Vivian is to be commended for writing an entertaining book with characters that the reader will love -- even the undead!"—SFFWorld

"Shaw's nifty spin on classic horror literature is fresh and clever.... The author has packed her book with characters who are a pleasure to spend time with."—SciFiNow

"A marvelous new character.... I can't wait for the next one!"—The Williamsport Sun-Gazette
Orbit, 9780316434607, 400pp.
Publication Date: July 25, 2017
About the Author
Vivian Shaw wears way too many earrings and likes edged weapons and expensive ink. She was born in Kenya and has lived in Cardiff, Oxford, and Baltimore. She has a BA in art history, an MFA in creative writing and publishing arts, and currently works as a professional freelance editor and proofreader. She writes about monsters, both in and out of classic horror literature; machines, extant and fantastical; disasters and their causes; and found family. She is the author of the Dr. Greta Helsing contemporary fantasy trilogy, Strange Practice, Dreadful Company, and Grave Importance. Her short fiction/horror fiction has appeared in Uncanny and Pseudopod.