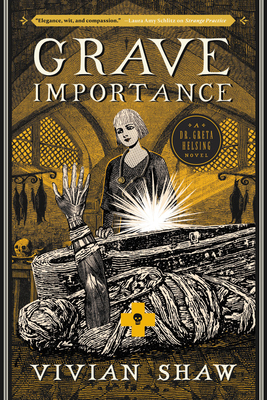 Grave Importance (A Dr. Greta Helsing Novel #3) (Paperback)
Orbit, 9780316434652, 448pp.
Publication Date: September 24, 2019
* Individual store prices may vary.
Description
A charmingly witty fantasy adventure in the world of Strange Practice, starring Dr. Greta Helsing, doctor to the undead, who must solve a dangerous medical mystery at a secret French spa for mummies.
Oasis Natrun: a private, exclusive, highly secret luxury health spa for mummies, high in the hills above Marseille, equipped with the very latest in therapeutic innovations both magical and medical. To Dr. Greta Helsing, London's de facto mummy specialist, it sounds like paradise. But when Greta is invited to spend four months there as the interim clinical director, it isn't long before she finds herself faced with a medical mystery that will take all her diagnostic skill to solve.
A peculiar complaint is spreading among her mummy patients, one she's never seen before. With help from her friends and colleagues -- including Dr. Faust (yes, that Dr. Faust), a sleepy scribe-god, witches, demons, a British Museum curator, and the inimitable vampyre Sir Francis Varney -- Greta must put a stop to this mysterious illness before anybody else crumbles to irreparable dust...
...and before the fabric of reality itself can undergo any more structural damage.
Grave Importance is the third Dr. Greta Helsing Novel - perfect for fans of Neverwhere and V. E. Schwab.
Dr. Greta Helsing novels
Strange Practice
Dreadful Company
Grave Importance
About the Author
Vivian Shaw was born in Kenya and spent her early childhood at home in England before relocating to the US at the age of seven. She has a BA in art history and an MFA in creative writing, and has worked in academic publishing and development while researching everything from the history of spaceflight to supernatural physiology. In her spare time, she writes fan fiction under the name of Coldhope.
Praise For Grave Importance (A Dr. Greta Helsing Novel #3)…
"Shaw's characters, both human and supernatural (ghouls, witches, screaming skulls, oh my!), are genuinely fascinating, and her prose is just as droll and witty as ever, but it's Greta, with her big heart and determination to do the right thing, that makes this series sparkle. Readers will be happy to be pulled along in Greta's bustling wake.... A delightfully gothic contemporary urban fantasy series. "—Kirkus

"Intelligent prose and an intriguing cast of characters enhance the range of story lines, culminating in a breathtaking climax. Shaw's third "Dr. Greta Helsing" novel (after Dreadful Company) blends medical mystery and fantasy adventure to wrap up a delightfully modern undead trilogy."—Library Journal




"In Vivian Shaw's Strange Practice, a charmingly unusual doctor and her charges keep the city of London from grave danger. In the process, they peel back the covers of familiar (and according to them, somewhat "libelous") stories to find that reality - especially with the undead - is more poignant and complex than it seems at first glance. An excellent adventure."— Fran Wilde, award-winning author of Updraft, Cloudbound, and Horizon, on Strange Practice

"Strange Practice is written with elegance, wit, and compassion. The prose is gorgeous, the wit is mordant, and the ideas are provocative. Also, there are ghouls."— Laura Amy Schlitz, Newbery Medal winner, on Strange Practice

"A satisfying and surprising read, with rich imagery, nuance, and real compassion for its characters--give Strange Practice a shot!"—Elliott James, author of Charming, on Strange Practice

"A darkly delicious adventure featuring a quirky new heroine. Strange Practice breathes new life into the undead."—James Bennett, author of Chasing Embers, on Strange Practice

"An exceptional and delightful debut, in the tradition of Good Omens and A Night in the Lonesome October."—Elizabeth Bear, Hugo-award winning author, on Strange Practice

"Shaw balances an agile mystery with a pitch-perfect, droll narrative and cast of lovable misfit characters. These are not your mother's Dracula or demons ... Strange Practice is a super(natural) read."—Shelf Awareness on Strange Practice

"An appropriately dark breath of fresh air."—Booklist on Strange Practice

"Readers will look forward to more of Greta's adventures. An imaginative, delightfully droll debut."—Kirkus on Strange Practice

"A book to settle into. A warm quilt of a thing that's made for curling up with ... I miss this newest Helsing already."—NPR on Strange Practice

"This book is a joy to read, unlocking every bit of delicious promise in the premise."—B&N Sci-Fi & Fantasy Blog on Strange Practice