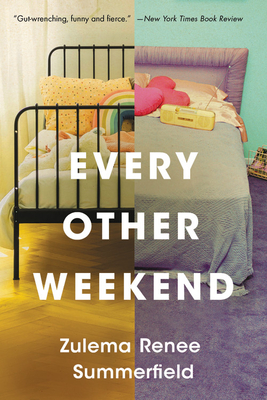 Every Other Weekend
Paperback

* Individual store prices may vary.
Other Editions of This Title:
Digital Audiobook (4/16/2018)
Description
A debut novel about an imaginative girl in the year following her parents' divorce, and what happens when her creeping premonition that something terrible will happen comes true in the most unexpected of ways.

The year is 1988, and America is full of broken homes. Every Other Weekend drops us into the sun-scorched suburbs of southern California, amid Bret Michaels mania and Cold War hysteria, with Nenny, a wildly precocious, nervous nelly of an eight-year-old, as our guide to the newly rearranged life she finds herself leading after her parents split.

Nenny and her mother and two brothers have just moved in with her new stepfather and his two kids. Her old life replaced by this new configuration, Nenny's natural anxieties intensify, and both real and imagined dangers entwine: earthquakes and home invasions, ghosts of her stepfather's days in Vietnam, Gorbachev knocking down the door of her third grade class and recruiting them all into the Red Army. Knock-kneed and a little stormy-eyed, she is far too small for the thoughts that haunt her, yet her fears are not entirely unfounded. Indeed, tragedy does come, but it comes at her sideways, in a way she never had imagined.

With an irresistible voice, Summerfield has managed to tap the very truth of what it is to have been a child of her generation, bottle it, and serve it up in devastating, hilarious, heartfelt doses. Every Other Weekend beautifully and unsettlingly captures the terrible wisdom that children often possess, as well as the surprising ways in which families fracture and reform.
Praise For Every Other Weekend…
"Every Other Weekend comes as close to any novel I've read to capturing post-divorce depletion, and she does so from a child's perspective, which is exactly as gut-wrenching as it sounds. Almost nothing is as sad to witness as a child burnt out by life--and it is this sensation that lends Summerfield's impressive debut its weight.... Every Other Weekend manages to be both funny and fierce as it reminds the reader, through Nenny's charming narration, that children are always paying attention."
—New York Times Book Review

"Zulema Renee Summerfield is among the best new writers I've read in a long, long time. In Every Other Weekend, she tells the truth, but with a beautiful slant, and any reader who comes in contact with this novel will be better for its singular vision."—Peter Orner

"You are about to meet your new favorite author. Zulema Renee Summerfield knows just where the fault lines lie in homes and hearts and families and in EVERY OTHER WEEKEND she leads us to those with a magical compassion. Summerfield's voice is hilarious and scathing and healing. We find ourselves here, inhabitable. In EVERY OTHER WEEKEND, Summerfield brings us home."
—Tupelo Hassman, author of Girlchild

"EVERY OTHER WEEKEND is a sensitive, funny, pitch-perfect tribute to the 80s and that era's loss of innocence, one that speaks with wisdom to the tender complexities of families spliced together in the wake of divorce. By the end of Zulema Renee Summerfield's accomplished debut, every character felt like family--or perhaps they just rem inded me of my own."
—Julie Buntin, author of Marlena

"Let this smart, sparkling debut take you back to the '80s and the land of broken homes... A fascinating look at what being a family is really all about."
—Nylon

"Summerfield creates a sense of time and of place so vivid.... Moving but not precious, a gently hopeful novel steeped in late '80s atmosphere."—Kirkus

"Summerfield's first novel is many things-a nod to late '80s news and culture, a case study of divided and blended homes, and an imaginative exploration of childhood fears. Mostly, though, it's the beautifully tender story of an eight-year-old's broken heart and her journey toward mending it."—Booklist

"Perceptive.... The girl's voice is just right and features an authentically childlike logic.... This slice-of-life story moves clearly and confidently."—Publishers Weekly

"Every Other Weekend is a charming coming-of-age story told from the perspective of Nenny, a slightly neurotic 8-year-old who finds herself splitting time between her dad's run-down apartment and her mom and step-dad's house. I love how Nenny sees and interprets the world and how she makes sense of all the adults dealing with their adult problems. Summerfield captures all the bigness of a young kid's everyday life: how everything means so much; how you wish for the parents you think you should have and how most of the time, they're not that. I just had a real moment with this book, I mean there's a lovable stray dog, a mean nun at Catholic school, and it all takes place in the late '80s. My excitement level for this book: Liz Lemon high-fiving a million angels."—Book Riot

"Summerfield captures childhood with incredible tenderness, and this book is absolutely heart-wrenching."
—Shondaland
Back Bay Books, 9780316434751, 288pp.
Publication Date: September 3, 2019
About the Author
Zulema Renee Summerfield's short fiction has appeared in The Threepenny Review, Guernica, and elsewhere. Her first book, Everything Faces All Ways At Once, is available from Fourteen Hills Press. A MacDowell Colony fellow, she currently lives in Portland, Oregon.