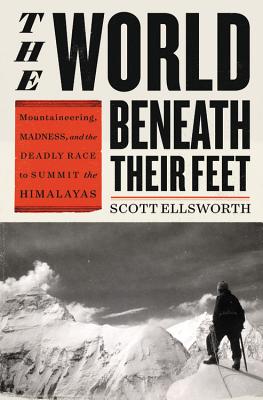 The World Beneath Their Feet
Mountaineering, Madness, and the Deadly Race to Summit the Himalayas
Hardcover

* Individual store prices may vary.
Other Editions of This Title:
Digital Audiobook (2/17/2020)
Compact Disc (2/18/2020)
Compact Disc (2/18/2020)
Description
Winner of the 2020 National Outdoor Book Award for Best History/Biography

A saga of survival, technological innovation, and breathtaking human physical achievement -- all set against the backdrop of a world headed toward war -- that became one of the most compelling international dramas of the 20th century.
 As tension steadily rose between European powers in the 1930s, a different kind of battle was already raging across the Himalayas. Teams of mountaineers from Great Britain, Nazi Germany, and the United States were all competing to be the first to climb the world's highest peaks, including Mount Everest and K2. Unlike climbers today, they had few photographs or maps, no properly working oxygen systems, and they wore leather boots and cotton parkas. Amazingly, and against all odds, they soon went farther and higher than anyone could have imagined.

And as they did, their story caught the world's attention. The climbers were mobbed at train stations, and were featured in movies and plays. James Hilton created the mythical land of Shangri-La in Lost Horizon, while an English eccentric named Maurice Wilson set out for Tibet in order to climb Mount Everest alone. And in the darkened corridors of the Third Reich, officials soon discovered the propaganda value of planting a Nazi flag on top of the world's highest mountains

Set in London, New York, Germany, and in India, China, and Tibet, The World Beneath Their Feet is a story not only of climbing and mountain climbers, but also of passion and ambition, courage and folly, tradition and innovation, tragedy and triumph. Scott Ellsworth tells a rollicking, real-life adventure story that moves seamlessly from the streets of Manhattan to the footlights of the West End, deadly avalanches on Nanga Parbat, rioting in the Kashmir, and the wild mountain dreams of a New Zealand beekeeper named Edmund Hillary and a young Sherpa runaway called Tenzing Norgay.

Climbing the Himalayas was the Greatest Generation's moonshot-one that was clouded by the onset of war and then, incredibly, fully accomplished. A gritty, fascinating history that promises to enrapture fans of Hampton Sides, Erik Larson, Jon Krakauer, and Laura Hillenbrand, The World Beneath Their Feet brings this forgotten story back to life.
 
Praise For The World Beneath Their Feet: Mountaineering, Madness, and the Deadly Race to Summit the Himalayas…
"In his lively new book, The World Beneath Their Feet, Scott Ellsworth profiles the single-minded climbers who scaled the Himalayas' tallest peaks in the 1930s...a gripping history."—The Economist

"Mr. Ellsworth provides a
chronological appendix of expeditions, a glossary of mountaineering terms and a
top-shelf collection of descriptive endnotes. He has done excellent primary
research, particularly with German sources... Mr. Ellsworth's revisionist
touches help 21st-century readers see the Sherpas as individuals and give the
traditional narrative of Himalayan conquest a fairer reading through the lens
of imperialism."—Gregory Crouch, WSJ

"A thrilling new account."—National Geographic

"Like if Jon Krakauer's Into Thin Air met Lauren Hillenbrand's Unbroken, it's an inviting and engrossing read."—Sports Illustrated

"It
is a fine piece of writing, filled with drama, courage, endeavour and, at
times, it is easy to put oneself on the mountainside experiencing the freezing
gales whistling round one's tent."—Soldier Magazine

"Beautifully written."—Michigan Daily

"An exceptional account of trailblazing mountaineers who persevered during a turbulent time in history."—Booklist

"Vivid, novelistic prose."—Kirkus

"An excellent overview of mountaineering
and exploration that will appeal to mountaineers and armchair adventurers."—Library Journal
Little, Brown and Company, 9780316434867, 416pp.
Publication Date: February 18, 2020
About the Author
Scott Ellsworth is the New York Times bestselling author of The Secret Game, which was the winner of the 2016 PEN/ESPN Award for Literary Sports Writing. He has written about American history for the New York Times, the Washington Post, and the Los Angeles Times. Formerly a historian at the Smithsonian Institution, he is the author of Death in a Promised Land, his groundbreaking account of the 1921 Tulsa race riot. He lives with his wife and twin sons in Ann Arbor, where he teaches at the University of Michigan.