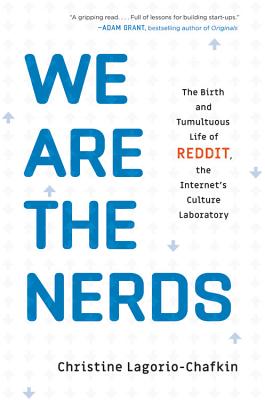 We Are the Nerds
The Birth and Tumultuous Life of Reddit, the Internet's Culture Laboratory
Hardcover

* Individual store prices may vary.
Other Editions of This Title:
Digital Audiobook (10/1/2018)
Paperback (10/1/2019)
Compact Disc (10/2/2018)
Compact Disc (10/2/2018)
Description
Named a Best Book of 2018 by Fast Company, this is a "sharply written and brilliantly reported" (Shelf Awareness) look inside Reddit, the wildly popular, often misunderstood website that has changed the culture of the Internet.

Reddit hails itself as "the front page of the Internet." It's the third most-visited website in the United States -- and yet, millions of Americans have no idea what it is.

We Are the Nerds is an engrossing look deep inside this captivating, maddening enterprise, whose army of obsessed users have been credited with everything from solving cold case crimes and spurring tens of millions of dollars in charitable donations to seeding alt-right fury and landing Donald Trump in the White House. We Are the Nerds is a gripping start-up narrative: the story of how Reddit's founders, Steve Huffman and Alexis Ohanian, rose up from their suburban childhoods to become millionaires and create an icon of the digital age -- before seeing the site engulfed in controversies and nearly losing control of it for good.

Based on Christine Lagorio-Chafkin's exclusive access to founders Ohanian and Huffman, We Are the Nerds is also a compelling exploration of the way we all communicate today -- and how we got here. Reddit and its users have become a mirror of the Internet: it has dingy corners, shiny memes, malicious trolls, and a sometimes heart-melting ability to connect people across cultures, oceans, and ideological divides.
Praise For We Are the Nerds: The Birth and Tumultuous Life of Reddit, the Internet's Culture Laboratory…
"This is the
untold story of how one of the world's most popular websites was hatched--and
how it took on a mind of its own. It's a gripping read, and it's full of
lessons for building startups and organizing communities."—Adam Grant, NewYork Times bestselling author of Originals, Give and Take,and Option B with Sheryl Sandberg

"We Are the Nerds is the best, grittiest, most accurate book yet about what it's like to build a startup and a community from scratch (a struggle I know well). And it's a great story; truly fun to read! Lagorio-Chafkin takes us back to a formative time for the modern web, helping us understand what can go wrong--and right!--when we try to harness the power of online community (and make money along the way)."—John Zeratsky, formerdesign partner, Google Ventures, and New York Times bestselling authorof Sprint and Make Time

"I've heard every
start-up story you can imagine, but Reddit's is as fascinating as it gets.
Christine has captured what it really looks like to start a company and turned
Reddit's struggle for success into a gripping, entertaining book that is a
must-read for every entrepreneur."—Daymond John, star ofABC's Shark Tank, bestselling author of Rise and Grind, andfounder of FUBU

"Lagorio-Chafkin's
book is incisive, witty, and brilliantly written. She gives you a front-row
seat to the world-altering consequences of the decisions made by a cast of
compelling, though sometimes stumbling, humans on the front lines of the
Internet--nerds and all."—Emily Chang, authorof the national bestseller Brotopia

"Christine
Lagorio-Chafkin has stepped into a male-centric genre, the start-up narrative,
and produced a book of monumental power and importance: a rich, thoughtful
chronicle of Reddit that grapples just as brilliantly with the dark side of
tech--its trolls, its problems with gender and diversity--as it does its
culture-shattering innovations. I was wowed by this book."—Liza Mundy, NewYork Times bestselling author of Michelle and Code Girls

"Excellent.... Learn how the internet's front page got its
mojo back."—Business Insider

"A classic 'we were coders once, and young' tale....
Lagorio-Chafkin fearlessly explores Reddit's dark edges."—Wall Street Journal

"Really three tales in one ... that of a scrappy start-up destined for web domination,... [the] technologists, entrepreneurs and iconoclasts seeking to reshape the world, ... [and] the rise of social media from the perspective of one of its most important players.... The reader feels like Forrest Gump, stumbling from one remarkable event or person to the next... We Are the Nerds describes how Reddit began. The real story is how the site and its ilk will change the world. On that, we're still in Act One."—Nature

"Fascinating.... . Drawing on dozens of original interviews with Reddit's founders and employees, old chat logs and photographs and e-mails, Lagorio-Chafkin .... re-creates key moments in novelistic detail.... Sharply written and brilliantly reported, We Are the Nerds is an eye-opening look at how Reddit helped shape contemporary Internet and political culture in the United States."—ShelfAwareness (starred review)

"Lagorio-Chafkin's assured narrative makes even crashing servers the stuff suspense thrillers are made of."—Mental Floss

"[We Are the Nerds] tells the inside story of how Reddit came to be the Internet's 'id.'"—Ars Technica
Hachette Books, 9780316435376, 512pp.
Publication Date: October 2, 2018
About the Author
Christine Lagorio-Chafkin is an award-winning journalist who has covered culture, emerging technologies, and entrepreneurship for the past fifteen years. She is senior writer at Inc. magazine and her work has appeared in many other publications, including the New York Times, the San Francisco Chronicle, and the Washington Post. She was raised on a sheep farm in rural Wisconsin and now lives in New York City with her husband, cats, and toddlers. Her favorite subreddits are r/blep and r/ShowerThoughts.
or
Not Currently Available for Direct Purchase