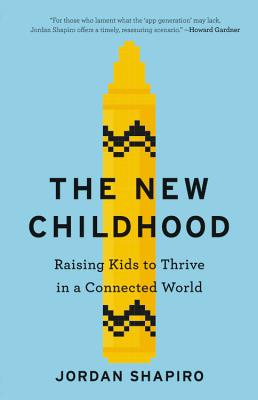 The New Childhood
Raising Kids to Thrive in a Connected World
Hardcover

* Individual store prices may vary.
Description
A provocative look at the new, digital landscape of childhood and how to navigate it.

In The New Childhood, Jordan Shapiro provides a hopeful counterpoint to the fearful hand-wringing that has come to define our narrative around children and technology. Drawing on groundbreaking research in economics, psychology, philosophy, and education, The New Childhood shows how technology is guiding humanity toward a bright future in which our children will be able to create new, better models of global citizenship, connection, and community.

Shapiro offers concrete, practical advice on how to parent and educate children effectively in a connected world, and provides tools and techniques for using technology to engage with kids and help them learn and grow. He compares this moment in time to other great technological revolutions in humanity's past and presents entertaining micro-histories of cultural fixtures: the sandbox, finger painting, the family dinner, and more. But most importantly, The New Childhood paints a timely, inspiring and positive picture of today's children, recognizing that they are poised to create a progressive, diverse, meaningful, and hyper-connected world that today's adults can only barely imagine.
Praise For The New Childhood: Raising Kids to Thrive in a Connected World…
"Timely, essential, and thought-provoking, The New Childhood is the must-read parenting guide for raising 21st century, digitally driven kids. Instead of raising a white flag and giving in to social media and the Internet, Jordan Shapiro tells parents how to embrace technology, stay involved in their children's lives, and prepare them for their future. Read it! I promise you'll rethink your parenting. I couldn't put it down"—Michele Borba, EdD, author of UnSelfie: Why Empathetic Kids Succeed In Our All-About-Me World

"For those who lament what the 'app generation' may lack, Jordan Shapiro offers a timely, reassuring scenario."—Howard Gardner

"The New Childhood is a must-read for parents and educators! It's an incredible resource for developing healthy families and kids in today's technology-enabled world, and pushes us beyond clinging to rules, traditions, and practices developed for a different era."—Wendy Kopp, CEO and co-founder of Teach For All and founder of Teach For America

Placing modern child-rearing in the context of the long story of human cultural adaption, this manual makes the challenges of screens more approachable, and the adult role in meeting them clearer."—Publishers Weekly

"[The New Childhood] offers bearings to parents floundering in the new digital landscape and suggests clear actions they can take to help their children to thrive both in childhood and later life."—Forbes
Little, Brown Spark, 9780316437240, 320pp.
Publication Date: December 31, 2018
About the Author
Jordan Shapiro, PhD, is a world-renowned American thought leader. He's currently Senior Fellow for the Joan Ganz Cooney Center at Sesame Workshop, and Nonresident Fellow in the Global Economic and Development program at the Brookings Institution. He teaches in Temple University's Intellectual Heritage Program, wrote a column for Forbes on global education, digital play, and family life from 2012 to 2017, and is the author of The New Childhood. He lives in Philadelphia with his two sons.

Follow him on twitter: @jordosh Visit his website: www.jordanshapiro.org