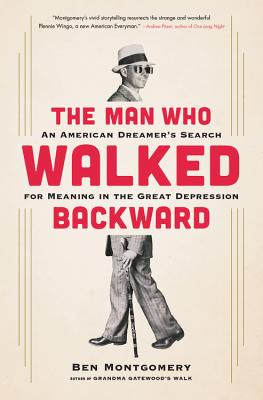 The Man Who Walked Backward
An American Dreamer's Search for Meaning in the Great Depression
Hardcover

* Individual store prices may vary.
Other Editions of This Title:
Digital Audiobook (9/17/2018)
Compact Disc (9/18/2018)
Description
From Pulitzer Prize finalist Ben Montgomery, the story of a Texas man who, during the Great Depression, walked around the world -- backwards.

Like most Americans at the time, Plennie Wingo was hit hard by the effects of the Great Depression. When the bank foreclosed on his small restaurant in Abilene, he found himself suddenly penniless with nowhere left to turn. After months of struggling to feed his family on wages he earned digging ditches in the Texas sun, Plennie decided it was time to do something extraordinary -- something to resurrect the spirit of adventure and optimism he felt he'd lost. He decided to walk around the world -- backwards.

In The Man Who Walked Backward, Pulitzer Prize finalist Ben Montgomery charts Plennie's backwards trek across the America that gave rise to Woody Guthrie, John Steinbeck, and the New Deal. With the Dust Bowl and Great Depression as a backdrop, Montgomery follows Plennie across the Atlantic through Germany, Turkey, and beyond, and details the daring physical feats, grueling hardships, comical misadventures, and hostile foreign police he encountered along the way. A remarkable and quirky slice of Americana, The Man Who Walked Backward paints a rich and vibrant portrait of a jaw-dropping period of history.
Praise For The Man Who Walked Backward: An American Dreamer's Search for Meaning in the Great Depression…
"Wielding both the big brush historical context and fine comb of biographical detail, Montgomery's text reads as good literature, taking a seemingly peculiar stunt and drawing out the humanity of the man and his era. All American history readers should wander and wonder with Wingo, whose tale is elegantly sketched out here."—Jeffrey Meyer, Library Journal (Starred Review)

"Engaging...In clean, briskly paced prose, Montgomery follows Plennie's journey, and he walks the reader backward, too, into the history of America in the 1930s and before."—Colette Bancroft, Tampa Bay Times

"Ben Montgomery is a joy and a wonder, a writer I would happily follow halfway around the world -- backward. In fact, I just did, in the compelling company of Plennie L. Wingo, the retrograde ambulator of Abilene, Texas. What a book!"—David Von Drehl, author of Triangle: The Fire That Changed America and Rise to Greatness: Abraham Lincoln and America's Most Perilous Year

From Rip Van Winkle to Forrest Gump, Americans have fallen in love with quirky individualists who find their true worth by lighting out into the territory. They were fictional. Plennie Wingo, the man who decided to walk across the globe backward, was real. Wingo turned his back on the Great Depression, an adventure brought to life by the vivid narration of Ben Montgomery, a writer so talented I could read him walking backward."—Roy Peter Clark, author of Writing Tools

"In The Man Who Walked Backward, Ben Montgomery lovingly assembles a mosaic of the United States and the world between the wars, told through the life of a small-town Texan who refused to accept his miserable lot during the Depression. Montgomery's vivid storytelling resurrects the strange and wonderful Plennie Wingo, a new American Everyman."
—Andrea Pitzer, author of One Long Night
Little, Brown Spark, 9780316438063, 304pp.
Publication Date: September 18, 2018
About the Author
Ben Montgomery is a former enterprise reporter for the Tampa Bay Times, founder of the narrative journalism website Gangrey.com, and author of Grandma Gatewood's Walk. In 2010, he was a finalist for the Pulitzer Prize in local reporting and won the Dart Award and Casey Medal for a series called "For Their Own Good," about abuse at Florida's oldest reform school. He lives in Tampa with his three children.