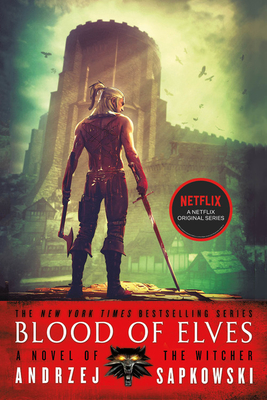 Blood of Elves (The Witcher #1) (Paperback)
Orbit, 9780316438988, 432pp.
Publication Date: May 8, 2018
* Individual store prices may vary.
Description
Geralt the Witcher-revered and hated-holds the line against the monsters plaguing humanity in this NYT bestselling series that inspired the blockbuster Witcher videogames. Soon to be a major Netflix series.
For over a century, humans, dwarves, gnomes, and elves have lived together in relative peace. But times have changed, the uneasy peace is over, and now the races are fighting once again. The only good elf, it seems, is a dead elf.
Geralt of Rivia, the cunning assassin known as The Witcher, has been waiting for the birth of a prophesied child. This child has the power to change the world - for good, or for evil.
As the threat of war hangs over the land and the child is hunted for her extraordinary powers, it will become Geralt's responsibility to protect them all - and the Witcher never accepts defeat.
Blood of Elves is the first full-length Witcher novel, and the perfect follow up if you've read The Last Wish collection.
Witcher novels
Blood of Elves
The Time of Contempt
Baptism of Fire
The Tower of Swallows
Lady of the Lake
Season of Storms
Witcher collections
The Last Wish
Sword of Destiny
The Malady and Other Stories: An Andrzej Sapkowski Sampler (e-only)
Translated from original Polish by Danusia Stok
About the Author
Andrzej Sapkowski was born in 1948 in Poland. He studied economy and business, but the success of his fantasy cycle about the sorcerer Geralt of Rivia turned him into a bestselling writer. He is now one of Poland's most famous and successful authors.
Praise For Blood of Elves (The Witcher #1)…
"One of the best and most interesting fantasy series I've ever read . . . . Sapkowski is a genuine stylist."—Nerds of a Feather

"The universe of Sapkowski's The Witcher is one of the most detailed and best-explored in modern fantasy, offering endless opportunities for fresh ideas ... Complex character relationships enrich this already complex world; this is the sort of series fantasy fans will cherish."—B&N

"Fantasy, intellectual discourse, and dry humor. Recommended."—Time

"Like Mieville and Gaiman, [Sapkowski] takes the old and makes it new ... fresh take on genre fantasy."—Foundation on The Last Wish

"A breath of fresh air in a well-worn genre. Don't miss it!"— Fantasy Book Review

"Sapkowski has a phenomenal gift for narrative, inventing sensational events, creating a suggestive mood, and building up the suspense along with a dazzling, slightly cynical sense of humor."—Jacek Sieradzki, Polityka on The Last Wish

"It is [his] world-weariness combined with his battle-honed powers that make Geralt such an interesting character. Here's hoping The Last Wish is merely the opening chapter in his English language adventures."—Edge

"I really, really enjoyed this book ... None of the characters in Sapkowski's world are black or white; they are all shades of grey, including Geralt and the monsters."—The Deckled Edge

"Sapkowski is very good at creating interesting, imaginative characters with unusual levels of depth to them ... The Last Wish is an enjoyable book full of stories both melancholy and comic."—The Wertzone

"This beautifully written character-based story from Polish author Andrzej Sapkowski ... a refreshing champion."—The Specusphere

"I have never read a fantasy series like this, and suspect I never will again."—Nerds of a Feather