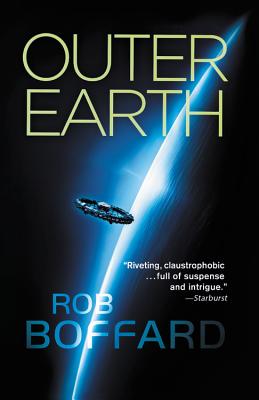 Outer Earth (Paperback)
Orbit, 9780316439077, 1024pp.
Publication Date: February 6, 2018
* Individual store prices may vary.
Description
Welcome to Outer Earth: a vivid, dangerous world where every day is a desperate struggle for survival. Who said in space no one can hear you scream?
Outer Earth is a huge space station orbiting the ruins of our planet. Dirty, overcrowded and inescapable, it's humanity's last refuge . . . and possibly its final resting place.
For there are dark forces at work on the station: forces that seek to unleash chaos. If they succeed, there will be nowhere left to run.
This omnibus edition contains all three of Rob Boffard's adrenaline-fuelled Outer Earth novels: Tracer, Zero-G, and Impact.
About the Author
Rob Boffard is a South African author who splits his time between London, Vancouver and Johannesburg. He has worked as a journalist for over a decade, and has written articles for publications in more than a dozen countries, including the Guardian and Wired in the UK. Tracer is his first novel.


Praise For Outer Earth…
"The literary equivalent of a base jump: fast, exhilarating and unforgettable, and once you start it you can't stop. I loved it."—Sarah Lotz, author of The Three, on Tracer

"Ludicrously fast-paced, with a brilliant sci-fi setting, Tracer is an absolute blast of a read."—David Owen on Tracer

"Reading Tracer is like being on a rocket-propelled roller coaster and trapped in a supersonic pinball machine at one and the same time. The action flies by in a blur and leaves you as breathless and reeling as the protagonists. A stunning debut by Rob Boffard that never lets up, from the nerve-jangling beginning to the explosive end."—James Douglas, author of The Doomsday Machine, on Tracer

"Readers who prize the rush of an action-packed plot will have fun with this."—Publishers Weekly on Tracer

"Ambitious and intriguing."—Kirkus

"Tracer sets a new standard for all-action SF."—Ken MacLeod, author of The Corporation Wars: Dissidence, on Tracer

"Action without letup give the book a can't-put-it-down feel"—AudioFile on Tracer

"Compelling, compulsive . . . Thoroughly entertaining - this one's worth picking up if you're in the mood for some sci-fi action."—Sci-Fi and Fantasy Reviews on Tracer

"Boffard's story moves lightning fast . . . . the action is tense and brisk."—Publishers Weekly on Zero-G